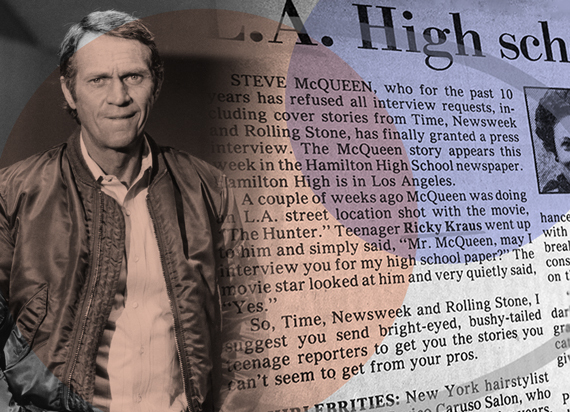 This Tuesday would have been actor Steve McQueen's 85th birthday.
I met McQueen in 1979 as a high school student in Los Angeles, and learned some valuable lessons that day.
Back then I worked for The Federalist, my school newspaper, as editor-in-chief writing stories, shooting photos, and having a good time. One afternoon I noticed movie production trucks parked in the school's main quad. I cornered a few members of the crew and asked what they were filming. McQueen's stunt double told me they were shooting a movie at the high school: The Hunter.
I decided to interview the guy and take his picture for my school newspaper.
The men in the crew laughed. "Steve McQueen never lets anyone take his picture, and he never, ever gives interviews," one said.
I spotted McQueen going into a food truck. I followed him in.
Introducing myself, I told him I worked for the school newspaper. Would he let me interview him and take his photograph?
He said sure, suggesting I come back later that evening. Write up some questions, and he'd do the interview.
Lesson #1: Don't trust anyone who says you are not able to accomplish something -- regardless of your age.
I walked home, feeling pretty good. It never occurred to me that this superstar would say no. It wasn't even a possibility on my radar. Call it the optimism of the young.
Returning that night with my film camera and a bunch of questions written on note cards left over from my Bar Mitzvah, I kept to myself behind the crew. We watched McQueen stand in one place, turn his head to look down the hallway, then -- "Cut!" the director called out.
McQueen spotted me lurking behind the adults. He stopped the filming and motioned for me to come over.
Lesson #2: Trust that some people -- even celebrities -- will follow through on a promise.
He wanted to do the interview right then and there. I sat on the steps of the science building, McQueen sitting at my feet. Then a funny thing happened.
The entire crew gathered around us. Many of them sat on the floor in a circle, watching the interview. I didn't know it at the time, but most of them had never seen him interviewed.
I had no tape recorder. No video camera. No iPhone (not invented yet). Just paper, a pen, and questions.
"When was the last time you were interviewed?" I asked.
"How long is a decade?" he asked, a little embarrassed at not knowing the answer. Someone said 10 years. "It was 10 years ago," he said.
Lesson #3: It's okay to admit you don't know something. Even if you're a famous celebrity.
Looking back, it's clear that Woodward and Bernstein had nothing to worry about. My questions were pretty soft. I asked about his first movie (The Blob), his plans for making more movies (he wasn't sure), why he rarely gives interviews ("The press is full of shit"), and his advice for young people who want to get into acting ("I don't advise going into acting at all.") When I asked about his idols when he was a teenager, he refused to answer, saying I wouldn't remember any of his idols. I pointed out that teachers read our newspaper, too. "But this isn't for the teachers. It's for the students," he said.
When I finished the interview and said goodbye, he asked if he could add anything to the article.
Lesson #4: When conducting an interview, always ask the interviewee if he/she has anything to add.
McQueen walked me down the darkened hallway, away from the crew and producers. He told me how expensive it is to act, in both time and money. If you're going to go into acting, make sure to eat and sleep right. "See some of life so that you can peel life and put it to use in your acting." And he talked about the importance of family.
As we rejoined the group, I asked if I could photograph him. He grimaced, but agreed to pose for a few shots. A crew member handed me an 8x10 glossy head shot of McQueen. Another grimace, but he autographed it.
First thing Monday morning the calls started coming in to my journalism classroom, starting with legendary publicity mogul Warren Cowan, head of the world's leading PR agency, Rogers & Cowan, who represented McQueen.
"Did you interview Steve McQueen?" he asked me, incredulous. "I've got cover stories ready to go at Time, Life, Newsweek, Rolling Stone, and other publications, if McQueen will just sit down with them and do an interview. He won't do it! I can't believe he gave an interview to a high school student instead. You have to bring me your school's newspaper when it's printed," he said excitedly.
Lesson #5: By simply trying, sometimes you can do what the most powerful people in the world cannot.
Fast forward to one year later. McQueen had pleural mesothelioma, a cancer associated with asbestos exposure, and died of a cardiac arrest. He was 50 years old.
My high school interview was his last.
Since then, Steve McQueen has become a cult figure. The truth about his efforts to help youth -- not publicized during his lifetime, at his request -- is now well documented. Whether it involved donating basketballs to low income kids anonymously while filming in their city, or giving an exclusive interview to a kid who had the nerve to ask, he always looked for ways to help young people.
Books have been written about him, movies made, TV documentaries filmed -- and I've gone along for the ride. Often at the last minute, just as they're almost completed, I get a call.
"Were you the kid who interviewed Steve McQueen?"
Whenever I hear someone say they can't do something -- when I think I can't do something -- I think about Steve McQueen.
Photo by Rick Penn-Kraus.
Popular in the Community