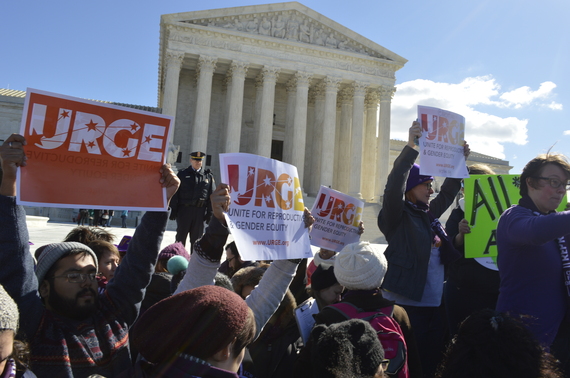 Earlier this month, I traveled from Texas to Washington, DC to attend the rally outside of the Supreme Court as they hear the biggest abortion rights case in a generation. While attending the rally against Texas' restrictive abortion law, HB2, I learned a lot. I learned about the bill, about the people behind the movement, and about how the fight will not be over until abortion is not only legal, but accessible for all. Here are five of the key points that I took away from my day outside of the Supreme Court.

1. HB2 is a big deal!
I already knew that HB2 has a massive effect on Texas (which is why I traveled to DC for the rally in the first place) but I never considered the precedent that this would set for states all over the country. I mean, the decision the Supreme Court makes on HB2 will, without a doubt, pave the way for the future of reproductive rights. The stakes are high for women all over the country. And now with Justice Scalia's seat open and an even number of justices, I'm not sure what to expect. I'm fearful that even a tie would greatly harm our reproductive rights across the country.
2. The Reproductive Justice Movement is extremely diverse!
The speakers at the rally really honed in on the fact that many different types of marginalized identities are affected by this law. HB2 doesn't just affect straight, white, cisgender women. It affects men, people of color, LGBTQ+ folks, people with disabilities, people in poverty, and undocumented immigrants; and each intersection of identity is affected differently. I also liked learning about everyone's different reasons for becoming active participants in the reproductive justice movement. It was especially cool hearing the religious leaders who spoke at the rally, Rt. Rev. Bishop Gene Robinson, Rev. Dr. Debra Haffner, and Rabbi Lori Koffman. These folks were both deeply religious and pro-choice.
3. Young People are some of the most active fighters in the movement
Young people are definitely at the front-and-center of this issue, and this movement is very much youth driven. Young people all over the country are standing up and fighting for their rights and the rights of others to be protected. Reproductive justice is one of the biggest issues that young people are most passionate about. I know this because I am a young person. I go to a university in Texas and I see the young people around me, beyond those in my group of friends, who deeply care about these issues and are actively working to create the future that they wish to be a part of.
4. If we lose, we will continue to fight.
Even if the Supreme Court rules to keep HB2 in place, we will not stop the fight for reproductive justice, and we will not stop trying to change or remove the bill. We are strong, dedicated, and resilient. We will not get discouraged and we will not end our fight. Even if we lose this battle, we will keep moving and keep growing. We will continue to enact change in our communities and do what we can to make sure that our constitutional rights of privacy and bodily autonomy without an undue burden are upheld in the end.
5. If we win, we will continue to fight.
Even if we win this massive victory, our fight isn't over. This is only one of many attacks on the reproductive rights of people all over this country. There are still huge barriers to accessing abortion care, like the Hyde Amendment, which denies Medicaid coverage of abortion. If the justices rule in out favor, we would celebrate the win, and then get right back to fighting the good fight the very next day. There is more to be done and we won't stop here.
Hanna Foster is enrolled at Texas State University at San Marcos. She is studying Journalism and Mass Communication, and is originally from Dallas, Texas. Hanna is a student writer for URGE's blog, ChoiceWords, Chuck Palahniuk is her favorite writer.
Calling all HuffPost superfans!
Sign up for membership to become a founding member and help shape HuffPost's next chapter