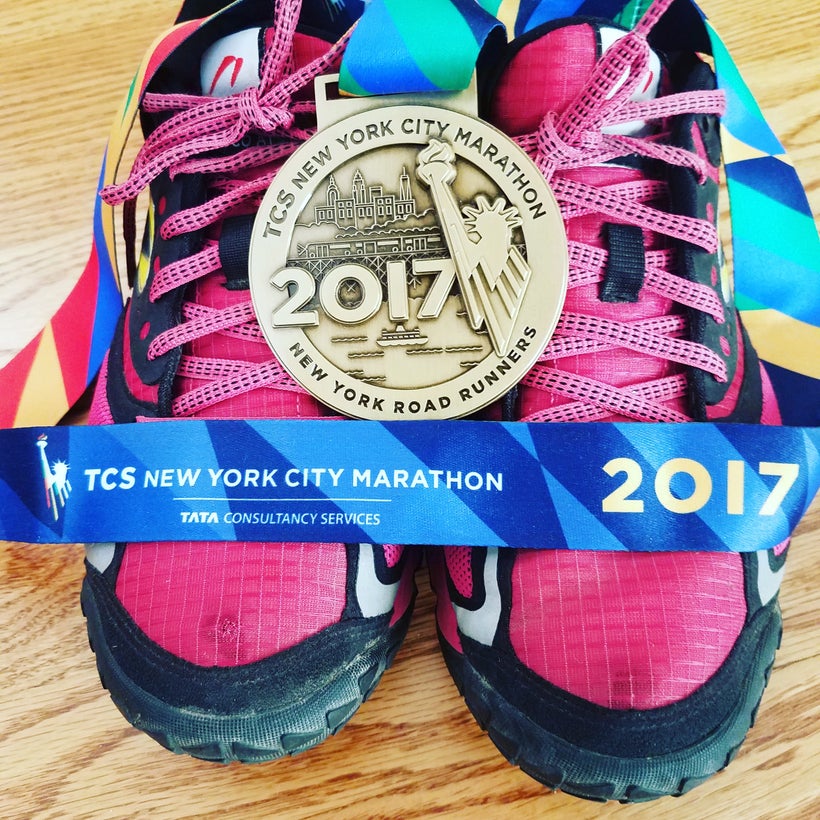 On November 5, 2017 during the early morning hours, more than 50K runners gathered on Staten Island waiting to run the 2017 TCS New York City Marathon. I was one of the those runners. Since I'm not the fastest, I knew the chances of gaining entry based on my race times were impossible; however, partnering with an approved charity allowed me access.
In 2012, I joined a Metro Detroit running group, and quickly learned that while the Boston Marathon may be the Holy Grail for runners, the New York City marathon is one of the best marathon experiences.
Seven continent marathoner Michael Silvio says, "The post-race experience of New York is different than any other race. Everyone wears their medal as they are out and about the city for the next 24 hours, and all the New Yorkers congratulate you like you won the race."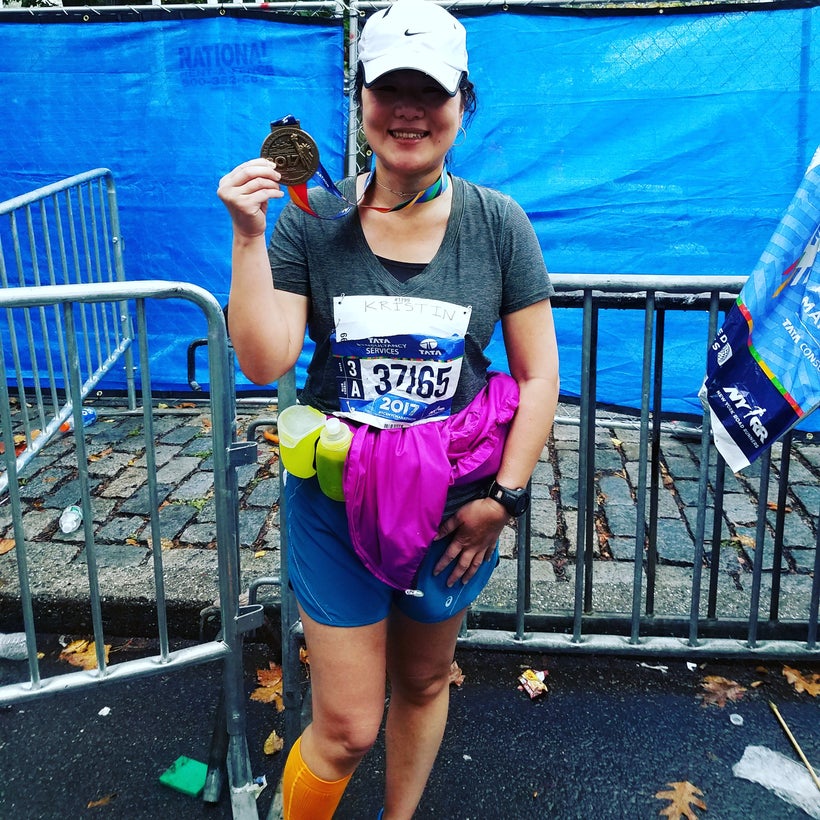 Clearly, I didn't cross the finish line with the elite runners, but thanks to my running coach Lee Mamola, I managed to get a 24 minute personal record. Here are five things I learned running the 2017 TCS New York City Marathon:
1. This Is The Race Where Everyone Knows Your Name : The race course takes runners through all five boroughs. There are literally thousands of spectators and volunteers cheering you onward. Both my running coach, Lee Mamola and Michael Silvio ran this marathon, and advised me to have my first name visible on my shirt. And at the water stations where I stopped and in every borough people shouted "Go Kristin" , "You got this Kristin."
2. All Roads Do Lead To New York City : This marathon attracts runners from across the globe. There are more than 100 countries represented. During the race I saw runners with their country's flags on their shirts and in a few spots the crowds were waving their country's flags. This city is the true melting pot for language, running and culture.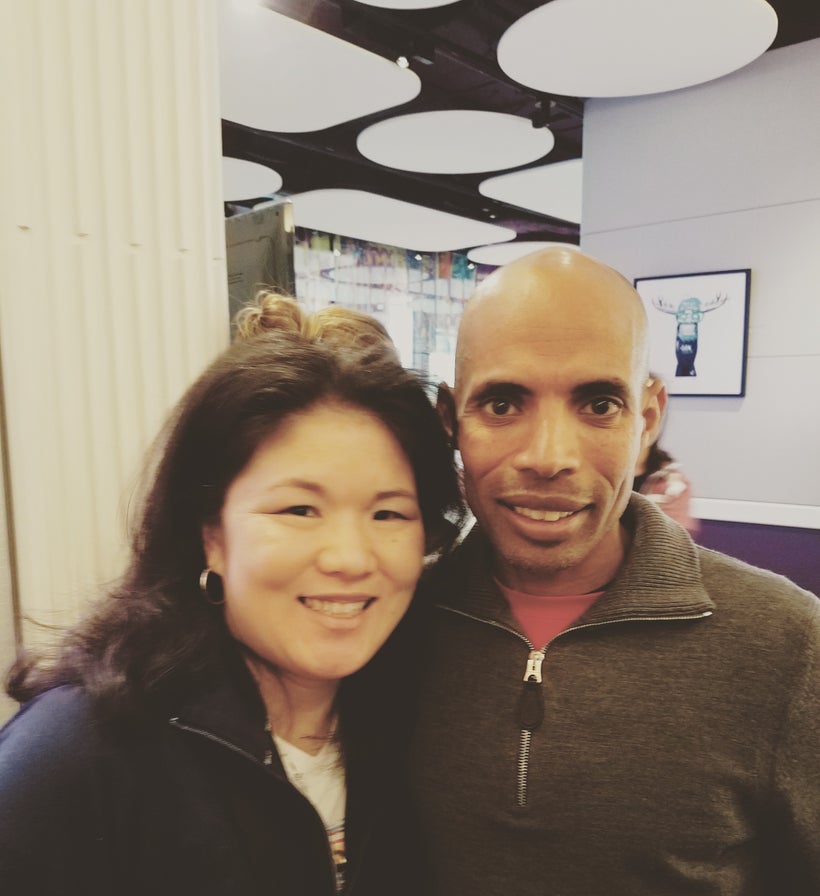 3. Remarkable Runners And Ordinary Runners Come Together : This marathon attracts elite runners, like Meb Keflezighi and Shalane Flanagan, and it brings in runners whose name you will never recognize. However, the goal is the same. And unless you place first, your finishing medal looks the same as the other runners. You would be hard pressed to name another sport where an ordinary runner can run the same race on the same day as elite athletes. Although, you may never know the person running next to you, it significant to realize there is greatness all around you and it happens right before your eyes.
4. The NYC Marathon Will Make You Stronger : This marathon course isn't easy. There are bridges, elevation, and this year - less than ideal weather. The mental toughness you need to overcome the negative inner dialogue is at the heart of all of it. There were times, I felt like I was holding my breath, hoping beyond words I could just make it another mile. And yet, for all its physical and mental stress, the most wonderful thing happens when you cross the finish line. You see people weeping. There are sweaty embraces and you hear people speaking a language only runners understand. And if you are fortunate enough to be standing there, medal in hand, for a few moments, there is a lump in your throat, and you don't feel so ordinary- you feel strong.
5. One Size Doesn't Fit All : Training for any marathon takes discipline. It takes planning and commitment to prepare for high mileage weeks. I ran my first and then only marathon in 2012, and still felt chagrin. Before I paid the race entry fee, I reached out to expert running coach Lee Mamola, which was slightly daunting. I knew he works with runners who are trying to qualify for the Boston Marathon, and then there was me who struggled to run eight miles on a Saturday morning. Lee explained he would create a custom running schedule to meet my two goals: avoiding injury and crossing the finish line.
During the training, my schedule went a bit sideways- I got sick, ran a twenty mile run when it wasn't on schedule, and struggled after work with what were supposed to be short, easy runs. Often, Lee tweaked the plan. And during the process, I hopped online to follow other runners who were also training for this marathon, and I began to panic. Their high mileage weeks were beyond intimidating. They were on strict food intake schedules while I was embracing carbohydrates. However, on race day I was able to shake off the inner critic, and experience enormous success.
Training and running the New York City marathon opened me up by daring to push me outside my comfort zone. I discovered for the first time a kind of inner strength I didn't know I had. And in the process, I found myself asking for more help than I thought I would need and confronting this subterranean doubt of fear. And in sum, I had in unexpected ways been touched by strangers and dear friends.
Kristin A. Meekhof is a speaker, licensed master's level social worker, writer, co- author of the book, "A Widow's Guide to Healing." Recently, Kristin led the 31 Day Gratitude Journal series for Dr. Deepak Chopra. She spoke at the 2017 Harvard Medical School's Writing Conference and has attended the 2016 and 2017 United Nations Conference On The Status of Women. She is a graduate of Kalamazoo College, and completed graduate school at the University of Michigan. Kristin can be reached via email at: kristin@kristinmeekhof.com
Lee Mamola is an expert running coach, RRCA certified, and President of The Running Architect. He has ran for fifty years, qualified for and ran both the Boston Marathon and New York City marathon. Lee works (via email and telephone) with runners of all different levels to help them achieve their running goals. He can be reached via email : therunningarchitect@gmail.com
Michael Silvio is a diabetic, heart patient and seven continent marathon runner. He is currently writing a book about the seven life lessons he learned running a marathon on each continent. Michael is the Vice President of Logistics Innovation at Surgere and is an adjunct faculty member at Wayne State University Mike Ilitch School of Business. He can be reached at mike.silvio.run@gmail.com
Calling all HuffPost superfans!
Sign up for membership to become a founding member and help shape HuffPost's next chapter
This post was published on the now-closed HuffPost Contributor platform. Contributors control their own work and posted freely to our site. If you need to flag this entry as abusive,
send us an email
.