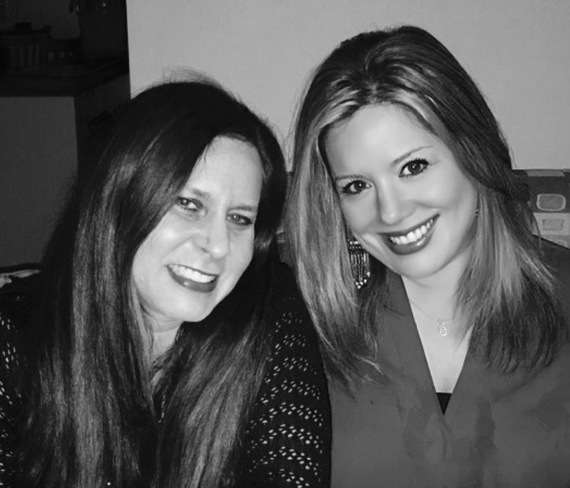 I recently went out to dinner with one of my high school friends after calling it off more times than Megan Fox's marriage. Thanks to a crazy winter, sniffle-filled classrooms, and Purell fatigue, our kids have been overwhelmed by various plagues (virus, walking pneumonia, ear infection ... oh my!). It was Dinner: Impossible for two months straight.
Naturally, the first thing we did when we finally met up was order cocktails. We earned them as the recipients of "I don't feel good" wrath: uncharacteristic clinginess, incessant moaning, nonexistent sleeping. Kids are, shall we say, crotchety when sick? Understandable, yes, but it didn't make us any less certifiable at that point.
After we traded private nurse horror stories and splurged on a naughty eggplant rollatini appetizer, we did what all moms do: We questioned ourselves, our decisions. Were we reprehensible moms taking a three-hour break for dinner (I tucked my kid in before I left and she returned home in time to kiss hers goodnight)? Should we feel bad about extra long pee breaks to escape the whining? Mid-way through our bout with mommy guilt, our thoughts turned to our beloved moms ... as they always do.
How did our moms deal with our annoying asses when we were sick? What were we like when we were challenging little people? Did we tend to spike fevers? Did we curl up beside them in the fetal position for comfort? Unfortunately for us, we can't pick up the phone and ask them anymore. A few years ago, both suffered cruel deaths at age 64 with their shattered daughters by their sides.
Being moms without moms is a daily struggle that becomes even more painful when kids are sick. Here's what we miss most:
1. The phone calls. Both of us were blessed with moms who became best friends. They called every hour, on the hour, when the kids were ill ... if they weren't with us for some reason. They were invested. They were protective. They were our allies in the care of our children.
2. The advice. Our moms were the ones we'd ask if we should take the kids to the doctor or just watch-and-wait. They were the first to insist on a second opinion. They gave us their very own remedies for various ailments. They did all of this and more, until their voices were silenced.
3. The surprises. Chemotherapy didn't stop my mom from dropping off healing soup and a home-cooked dinner when I needed it most. She would show up, sometimes unannounced while talking to me on the phone, with all sorts of goodies to make my day more manageable and to bring a smile to my son's face. There's nothing like having a mom who understands your plight because she's been there. There's nothing like an unexpected toy or treat from Grammy.
4. The help. It's an incredible gift to have back-up after an all-nighter with a crying child. Our moms would do anything for us: pick up prescriptions, over-the-counter remedies, tissues, nebulizers ... anything. They were genetic extensions of us, giving us superpowers to get it all done. They didn't see us as anything less than beautiful when they dropped off the stuff we needed, even if the remnants from yesterday's makeup was smeared all over our faces. They saw their little girls in need, and they always delivered.
5. The love. There's no comparison to or substitute for a mom's love. They could love us through whatever obstacle laid in our path. They carried the weight when we reached our breaking points. They intuitively knew how to make us laugh. They gave the most soothing hugs. They truly adored us unconditionally.
Our moms taught us everything ... except for how to be moms without them. We need them when our kids need us the most, but they're no longer here. And that's one hell of a bitter pill to swallow.
Do you find yourself missing your mom even more when your kids are sick?