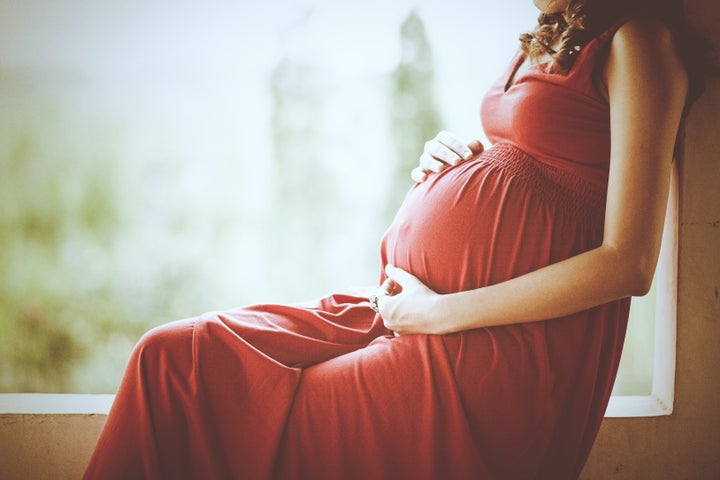 I saw myself today. And at first, I didn't even realize it was me.
She was huddled against the cold of winter in thick folds of gray and black, stepping carefully out of the car. Her husband – one hand closing the door, the other instinctively, lovingly, resting on the small of her back – said something in her ear that brought a brief smile to her tired face. He guided her slowly towards the brightly-lit supermarket, past the rows of trolleys, past the other parked cars, past me in another time.
Her belly swelled out from her woollen layers, tightly hugging the baby it still sheltered. But for how much longer? A week, two at the most? So sweet that he came along to help with the pushing, the lifting, and the carrying that her heavily pregnant body was struggling to manage. People were always calling her husband sweet.
I watched her. A woman today, but a mother one tomorrow very soon. She was, of course, completely unaware of what that would actually mean, just a jumble of nervous anticipation and blissful ignorance. At this thought, my heart suddenly swelled with a flood of emotion, riding on a wave of memories.
There was so much I wanted to tell her. So much I would have said to my pregnant self…
I would tell her that the delivery of her baby will be traumatic. Nothing like the stories she'd heard. Her body will deliver her child, though well after she becomes detached from the process. A natural delivery that will feel like anything but. I would tell her that, right there in that delivery room, she'll have her first taste of her own mortality, and that of her unborn baby. It will be absolutely petrifying, but it will stir something deep inside her. A seed of strength that will hold her together. And although in the days that follow she'll be sure to use the right words like amazing and wonderful, and she'll be sure to keep forcing every smile despite the shock leaving her empty and numb, that seed will begin to flourish with a strength that will carry her much farther than she could ever imagine.
I would tell her that, despite all the assurances about falling in love with her baby instantly, it won't happen for her. And that as each day passes without finding that love, she will add yet another layer of failure to her soul. Her tears will begin on day one, and they'll continue for months. Out of shame, she'll keep her dark thoughts hidden well away. The sadness and guilt of being an unloving mother will be utterly overwhelming. But I would tell her that her feeling has been felt by countless others, that it doesn't make her a bad mother, that it has a name, and that postpartum depression can be managed and treated. I would tell her that she will bond with her baby, that love will grow, like many relationships, over time. And there'll come a day when she'll look down at her little baby, and her heart will nearly explode with a love so overwhelming that, this time, they'll be tears of joy rolling down her cheeks.
I would tell her that, after 30 years of living comfortably in her skin, she'll be entirely unprepared to be left with a body that looks nothing like hers and feels nothing like hers. A body that agonizes with the unfamiliar pains of cracked and bleeding nipples, feverish mastitis, and a broken tail bone. I would tell her that although she'll despise this foreign and unwanted body, it will succeed in spite of her. It will become accustomed to broken sleep, less sleep, and even no sleep at times. It will feed and nourish her baby for more than a year. It will heal and strengthen, little by little, until the pains are a vague memory. Day and night, it will soothe her baby, comfort her baby, and protect her baby. And I would tell her that her body is so amazing, so incredible, that it will carry and bear two more precious babies to love. It may be a body forever marred, but in time, she will develop a deep admiration for all that it has been and all that it can still be.
I would tell her that becoming a mother will be nothing like she expects it to be. She'll struggle with her identity – not ready to give up the former but not yet fitting the new. She'll feel estranged from her husband – now a father – while they search for their new connection, and the new love that develops when a family is formed. She'll be constantly overwhelmed by a gut-wrenching fear over the safety of her baby, and it'll be her baby that she'll see in every news report, her baby in every shocking video, and her baby in every nightmare. But I would also tell her that a baby has an extraordinary way of opening your eyes. That she'll begin to see beauty in so many more places, happiness in so many more moments, and joy in what each and every tomorrow may hold. I would tell her that although becoming a mother will be nothing like she expects, it'll be so much more than she could ever imagine.
I would tell her that there will be days when everything will seem too much, too hard. Days when she'll feel as though she's failing, and days of nothing but darkness. But it will be in these moments that her strength will truly grow. She will learn to trust in herself, and she will hold on.
Everything will be okay. And eventually, she'll believe all the people that tell her she's a wonderful mother.
If you enjoyed this post, please consider sharing it with your friends.
PS. I'd love to meet you on Facebook: here. You can visit my website, The PTSD Collective: here. And for more inspirational and honest tales of marriage, motherhood, and living alongside PTSD, delivered by email, be sure to subscribe to my blog: here.