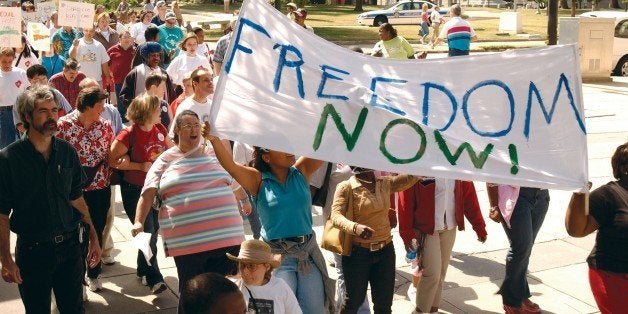 The exercise of leadership is the foundation of social change.
Leaders set the path for the future by building a collective vision of justice. This vision then inspires other to lift their voices for justice and join in the struggle to advance social change. Bloody Sunday is one such example. On March 7, 1965, civil rights leaders and community members marched with the fierce determination to make the vision of equal access to voting rights a lived reality for all.
In honor of the 50th Anniversary of the historic march from Selma to Montgomery, Alabama, thousands gathered in Selma this past March to honor the moral courage of the leaders who came before us. These leaders marched with the fierce determination to "not let nobody turn them around" until the victory over the ballot box was won. As we reflect on the past, this time of commemoration represented the progress of the civil rights movement in protecting voting rights through the enactment of the 1965 Voting Rights Act.
Following in the footsteps of the civil rights leaders who marched across the Edmund Pettus Bridge, we are left with the challenge to discover our own leadership mission and cultivate the moral courage to advance leadership for social justice. It is our time to pick up the mantle of leadership and secure the promise of justice for future generations.
While in Selma, I was challenged to embark on a new chapter of my leadership journey as I listened to the stirring call to action given by Joanne Bland and Rev. Dr. C. T. Vivian. Joanne Bland was a young freedom fighter who marched across the Edmund Pettus Bridge and is still marching today for freedom and liberty. Rev. Dr. C. T. Vivian has served as a key strategist and leader with the Southern Christian Leadership Conference. As I reflect upon my experience in Selma, five key leadership lessons come to mind:
1. Leaders recognize that the fight for justice is an eternal battle.
Joanne Bland reminded us that the fight for justice is always now. She shared about her leadership journey and commitment to activism since her early childhood years. She warned: "Every day our rights are being eroded." This then in turn requires that each day, leaders use their influence to ensure that civil and human rights are being protected. It requires leaders to remain vigilant by challenging policies like felon disenfranchisement, inequitable school disciplinary policies (school to prison pipeline), and economic injustice. By combining social justice advocacy and public policy advocacy, leaders can wage a strategic battle against injustice. Ms. Bland reminds us that this is an eternal battle since "without a fight, [there is] no progress." She identified peaceful nonviolent action as the indispensable weapon for advancing systemic change. In the words of Mohandas Gandhi: "nonviolence is a weapon of the strong."
2. Love is the foundation of leadership.
Leadership begins with exercising the power of love -- love for the people, love for the community. Rev. C.T. Vivian shared a message of love when he stated "love is at the center of any revival." Love is the force which draws people together to advance a shared vision of a more just world. It is also a compelling force which challenges each of us to commit to advancing justice. The essence of the power of love to transform the world into an oasis of justice, freedom and liberty was captured in the words of Rev. Dr. Martin Luther King, Jr.: "and justice is really love in calculation."
3. Leaders build social change movements by cultivating people power.
During the civil rights movement, Dr. King following Gandhi's principles of satyagraha cultivated love-force. "The whole Gandhian concept of satyagraha, satya is truth which equals love and graha is force; satyagraha thus means truth-force or love-force [...]" Similar to the exercise of love-force as a manifestation of power, leaders must foster the type of transformative power needed to empower communities and nurture the organic growth of leadership capacities at the grassroots level.
Leaders recognize that people need to be a forefront of any movement. Rev. C.T. Vivian offered three steps for cultivating people power: 1) Develop a strategy of engagement, 2) Train the people and 3) Build your leadership.
4. Leaders are learners.
Learning is the foundation of growth in leadership. This is the type of growth which inspires leaders to think critically and strategically. Rev. C.T. Vivian provided each of us with a homework assignment. The assignment was to study leadership narratives and biographies. I returned home and began reading a few of my leadership classics:
Groundwork: Charles Hamilton Houston and the Struggle for Civil Rights by Genna Rae McNeil
The Sea Is So Wide and My Boat Is So Small: Charting a Course for the Next Generation by Marian Wright Edelman
5. Leaders prepare a path to the future.
Leaders believe we each have moral responsibility to leave the world a better place than how you found it. Oftentimes, it easy to dismiss the notion of the future looming close to the present. However, Ms. Bland made this connection of a natural progression between the present and the future. She stated: "you know a generation is coming after you." With this keen sense of awareness, we are called upon to prepare a path for the future. Rev. C. T. Vivian identified this as a call to leadership. "Somebody needs to save this society."
As we reflect upon the progress of the civil rights movement over the past 50 years, there are moments to celebrate but there is also a call to remain forever vigilant on the quest for justice. We can celebrate the passing of the Voting Rights Act of 1965 but we cannot rest since there are still barriers and obstructions which limit & restrict access to the ballot box still yet today.
Maybe the next generation will be able to take time out to rest, but we have too far to go and too much work to do. Shout if you want, but don't shout too soon. Charles Hamilton Houston
Calling all HuffPost superfans!
Sign up for membership to become a founding member and help shape HuffPost's next chapter