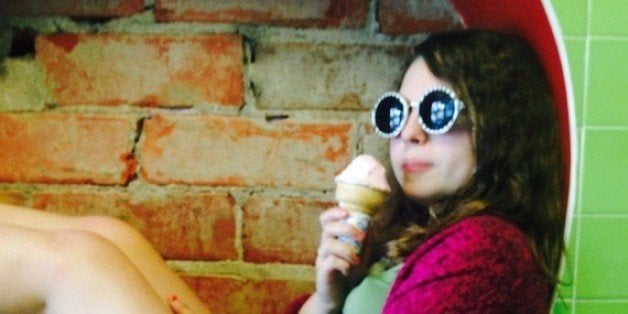 1. Don't Complain. My 12-year-old daughter Daisy's medical history is longer and more complicated than most 90-year-old's. Her diagnosis of gastroschisis in utero, where her intestines developed outside of her body, means that she has endured countless surgeries, blood transfusions, hospitalizations, IV line placements, X-rays and CAT Scans. At 3, Daisy received a small bowel, liver and pancreas transplant. Seven months later, she was diagnosed with lymphoma and underwent four months of chemotherapy.
Yet, she never complains. Ever. Unlike me. When I suffer from yet another post-sugar binge headache, I sprawl across the couch, moaning, arm draped over my eyes like Blanche DuBois.
2. Embrace your scars. Daisy has a Frankensteinan transplant scar across her belly. She sports bikinis with more confidence than Gisele.
"I mean, if people like me or want to get to know me, they'd look past that," she tells me.
I try to remember that as I face myself in the dressing room, cursing the fluorescents that spotlight my change purse-like arms.
3. Trust your gut. The night before a recent audition for a musical theater performance she has rocked for five years, my otherwise self-assured singer obsessed that she'd choose the wrong song, that she wasn't good enough, that, that ... She thought she "should" (a word I thought I axed from our vocabularies) sing a typical Disney or Broadway tune, nixing what she truly wanted sing: Christina Perry's soulful f**k you ode to her ex, "Jar of Hearts."
After the audition, she texted me:
"OMG, so good. I went with 'Jar of Hearts' at the last minute. Everyone loved it."
I once dated a guy who had more baggage than LaGuardia. "I don't want to fall into your abyss," I said at the start of our relationship, which turned out to be a six-month-long game of "Where's Waldo?," as he'd intermittently disappear into, er, the abyss.
4. Laugh yourself silly. Daisy could have a blast in an empty dog crate (OK, as long as she had Instagram). She even makes shopping -- my nemesis -- fun. During a recent jaunt at our favorite vintage boutique, I eyed a short sheath with a plunging neckline, covered in green sequins.
"Mom, you're not getting it. You'd look like Kermit's messed-up grandma," she said.
We laughed so hard my ribs ached.
Sometimes I grip so tightly to life I leave claw marks. Next time I fret over the unknown, I vow to arm myself with faith, giggles -- and a Manhattan.
5. Love. On a recent warm night, we sat on our front porch, lighting candles and sparklers, and we talked about boys.
"What is love?" I asked her.
"The Sideshow song is the perfect definition of love: 'Who Will Love Me As I Am?'"