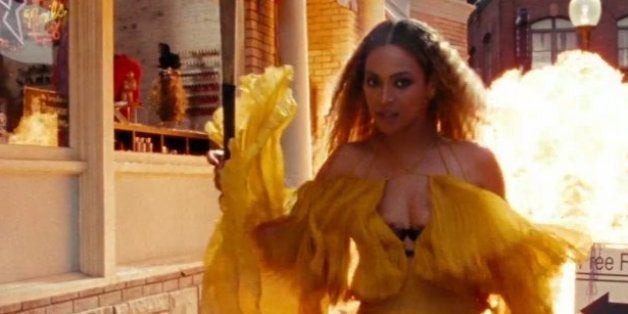 Disclaimer: So it's been nearly a week and I still don't have the words to think piece my review of Beyonce's "Lemonade." I'm probably the only black female writer in America who hasn't even attempted to type a lengthy, soulful, sistahood essay about this masterpiece. I truly don't know where to start because Beyonce just left me so very full and overwhelmed with her excellence.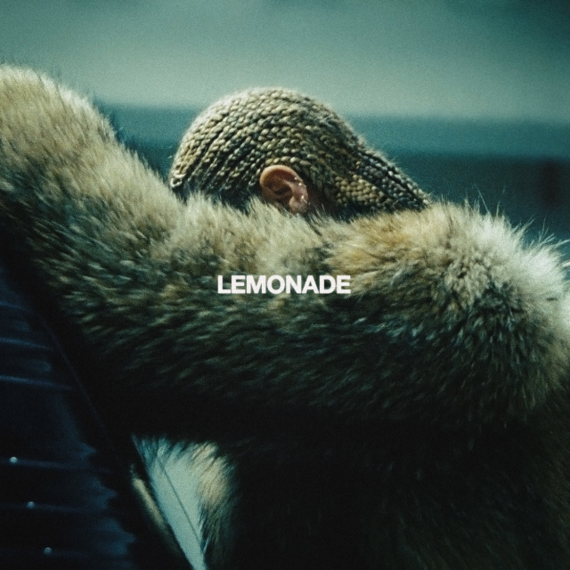 Anywho, after all of the glorious think pieces about "Lemonade," of course some useless ones made its way to the internet. I shouldn't be surprised but there were quite a lot of whiny, missed-the-point, white-man-perspective articles out there and I'm tired of seeing them shared on my timeline. I know, I know, whenever Beyonce does anything the world stops. Haters, Beyhive, it don't make no difference, she stops the world. It'll be a while until we carry on. But while we are here, can we please stop obsessing over "Becky" and Jay-Z's alleged cheating? Beyonce gave us black womanhood, black girlhood, #BlackLivesMatter, femininity, the power of resilience, the pangs of relationships, Warsan Shire, homage to culture, afrofuturism, and a bomb-ass lemonade recipe but you here talmbout "Becky is a racial slur!" What?
5 things people blew WAY out of proportion:
No. It's not. Aspiring rapper Iggy Azalea is fighting to end racism against white women by urging people to stop using the term "Becky." Appropriating/mocking black culture and posting bigoted tweets is fine, but the name "Becky" is so offensive. What a time to be alive. The "race card" is now being used by white people! "Becky" is not racist, but it is a term for "generic white girl." The moniker comes from a long history of frustration with white female supremacy in regards to femininity, beauty, and overall worthiness. Can it be seen as offensive? Sure, I guess. But it's not racist; and don't expect me to define racism for you, because Google is available to anyone who has access to this article.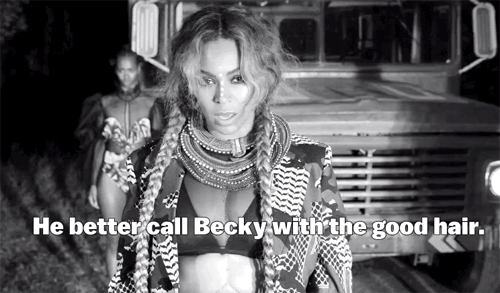 "You better call Becky with the good hair," Beyonce sings in her scandalous new jam "Sorry." I've seen so many articles written by non-black women incorrectly explaining what the singer meant. "Good hair" does not literally mean a nice hairdo. The whole line refers to the very common insecurity many black women have had when being compared to or scrutinized against the often preferred eurocentric beauty standard. "Good hair" refers to straight texture opposed to kinky, coily, puffy, curly locks most prevalent within the afro-diasporic community. If you want to talk rumors, in the past Jay-Z has been said to have cheated on Beyonce with blonde white women. Whether or not Beyonce is confirming those rumors or just simply playing around with them, she uses the "Becky" line in "Sorry" to illustrate the unique sting of colorism, racism, and misogyny hurled at black women by black men who prefer white (or just non-black) women over black women. Before you hit that caps lock button to TYPE at me, I'm not talking preference in a "I'm attracted to a woman who just happens to be white" kind of way, I'm talking in a #WhiteGirlsDoItBetter kind of way. Oh and Iggy, explain this to us: (1:40 time mark)
Read above. Becky is not a specific person. Rachel Roy made fans believe she was "Becky" with a passive aggressive Instagram post, then poor Rachael Ray was mistaken for the side chick, and as of late, Rita Ora had the Beyhive buzzing. I personally don't believe Becky is one specific woman, but rather a specific type of woman that Jay-Z/the-husband-of-this-"Lemonade"-tale cheats with.
Jay-Z is cheating on Beyonce!

Maybe. Who knows? This is not Beyonce's first time singing about infidelity, so I'm confused why just now everyone is questioning Jayonce's relationship. "Resentment"anyone? "Me, Myself, and I?" "Irreplaceable?" "Ring the Alarm??" I'm guessing it's that notorious elevator drama and "Lemonade's" storyline that has everyone guessing. In any case, "Lemonade" was so profound, visually stimulating, creative, and just downright fantastic, it's a shame that the main focus is put on Jay-Z's supposed infidelity. Though they may be music's royal couple, they are still human beings and they aren't immune to common relationship issues.
Beyonce is condoning infidelity!
I disagree. However, I can say I was a teensy bit disappointed in the turn of events after "Daddy Lessons." I was feeling the badass I-ain't-sorry-who-the-fUck-do-you-think-I-is Beyonce! Now, she's here singing about sandcastles. It's a beautiful storyline, to be honest. She starts off questioning her man's loyalty in "Pray You Catch Me," goes rogue in "Don't Hurt Yourself," then her relationship finds salvation in "All Night." Beyonce's message is not about forgiving your cheating lover. It's not even about the lover, really. It's about a woman who goes through the stages of a heartbreak, strength, and resilience. Each segment of "Lemonade" is relatable to any relationship status. "Sorry" can be for the newly-single lady, while "All Night" can speak to the woman who is happily in love. Plus, not every song on the album is about relationships. If you've been cheated on by your significant other, leave them -- or don't. Your relationship choices are up to you, not Beyonce (trust me, she doesn't care either way).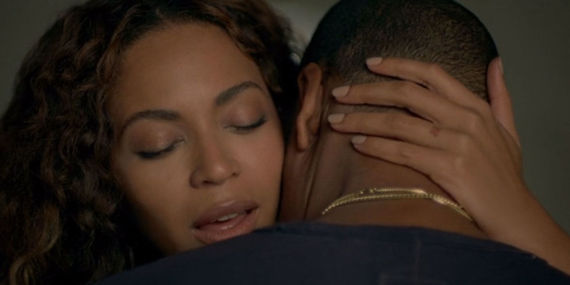 "Lemonade" didn't include me and I'm mad about it!
People of color are rarely included in anything yet get criticized for creating spaces for themselves. In this case, it's black women who are getting the backlash. Everything from "what about me?!" to "no, black woman, it's not just about you!" fill up comment sections under articles praising Beyonce for creating this very black woman project. We can't have nothing! Just because you don't relate to "Lemonade" does not make it wrong or "racist." Also, just because you relate to one song, does not give you the right to denounce the very OBVIOUS blackness that makes up the entirety of "Lemonade." Let black women have this one thing. This year alone, we've been told the Kardashians invented "boxer braids" and lace fronts, I'm sure by June Kylie Jenner will have invented crochet braids. Let us have "Lemonade," it was given to us.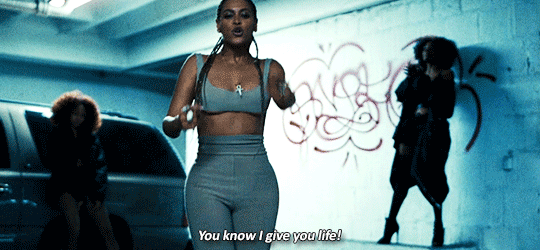 "Lemonade," though extremely possible for all to enjoy, was beautifully crafted for black women.There is so much symbolism and soul within the film and each layer of content was flawlessly laced together through a single story, one which Beyonce uses her culture as the backdrop and her real life as the inspiration behind the characters. Let's just enjoy "Lemonade" for the honest, raw, unapologetic, magical masterpiece that it is. Stop being so sour.
Calling all HuffPost superfans!
Sign up for membership to become a founding member and help shape HuffPost's next chapter