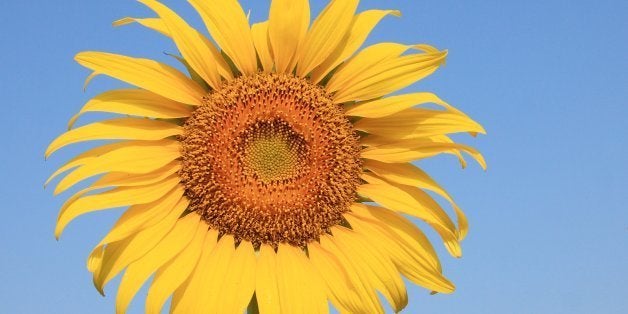 On Monday I purchased sunflowers and put them in a glass jar on the kitchen table. The flowers reminded me of a garden in one of my children's preschools years ago. The 3-year-olds planted sunflower seeds, watered them and watched as the flowers grew higher than the garden wall.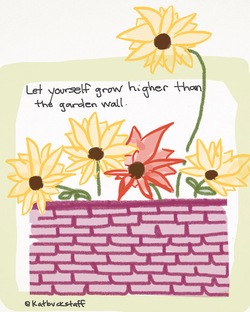 The preschool teacher instructed the children, "Big dreams start small, but with sunlight, water, good soil and love, they grow big." It seemed a simple lesson, but one worth revisiting.
This week, I let sunflowers be my teacher. Here's what I learned.
1) DREAMS START SMALL. I held a sunflower seed in my hand and felt the beauty inside wanting to come out. I want to believe this is true of most people -- that there is a beauty inside that wants to come out. I asked myself to hold a dream in my heart and take one tiny step towards that dream. I asked myself to do this every day and see what happens. I decided to keep a sunflower seed in my wallet to remind me to nurture beautiful dreams, a true kind of wealth.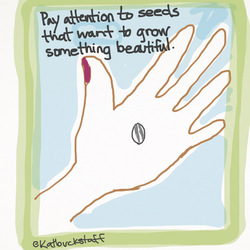 2) FACE THE SUN. I know that the best way to grow is with light and love. I reminded myself that facing the sun, or the light, is a good way to ensure I'm taking actions that are aligned with my higher purpose. When I begin a task, I want to remember to say, "I do this with light and love." I want to remind myself that if I'm not taking an action with light and love, don't do it.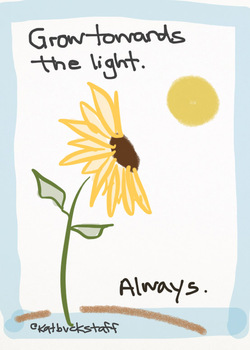 3) GROW BIG. The way a sunflower grows is this: She grows from the stalk -- her neck. One side of the stalk grows and the sunflower bends towards the sun, and then as the sun moves across the sky, the other side of the stalk grows. The only way a sunflower gets big is by literally sticking her neck out again and again and again. I asked myself to allow myself to stick my neck out and grow big. Some times I shrink from myself, from my dreams because I'm unsure of myself, because I'm unsure of how my relationships closest will adjust to my growth, because it feels new and uncomfortable, because it feels risky (it is risky, but I could risk missing my life by not growing). Sunflowers know how to grow big without apologizing. I asked myself to copy them.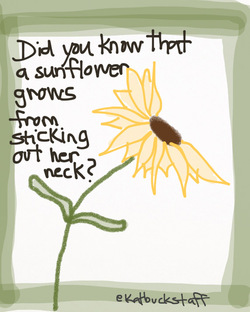 4) LET MYSELF BE BEAUTIFUL. I've never heard a sunflower complain about a bent stem, petals too long, or a center too fat. I asked myself to let myself shine, shine, shine! To me this means smile more, laugh more easily, let myself learn how to shrug my shoulders and say, "So what," when something bad happens and to wear practical shoes less and sassy boots more often. It also means treating myself with more respect and making time to work on achieving the dreams.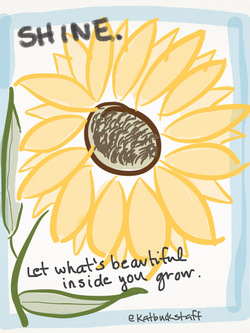 5) CENTER MYSELF EVERY DAY. As I mentioned earlier, a sunflower grows on one side of her stalk and then on the other side of her stalk. Often at the end of a day, one side of her stem is longer than the other. This is why a sunflower can be bent to one side. During the afternoon and night, a sunflower grows on the other side of her stalk. For me, I take this to mean making time to breathe, sleep, eat good food and pray.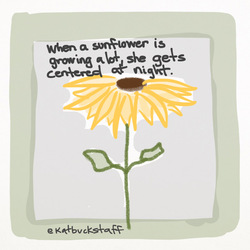 The world needs more sunflowers -- big, beautiful flowers that outgrow the garden wall. I hope you will let sunflowers brighten your day.
Kathleen Buckstaff is the author of two books that celebrate life and motherhood:Mother Advice To Take With You To College, a collection of hilarious drawings and wise sayings, and The Tiffany Box: A Memoir, an International Best Book Awards Finalist, a true story told through emails and letters about the last two years of Kathleen's mother's life.
Related