This week, the Supreme Court will wade into the battle against reproductive rights and legal abortion. In Texas, lower courts have upheld rigorous restrictions on how clinics that perform abortions must be structured, citing concerns for the safety of the procedure and for women's lives. If you are wondering about the case itself, the New York Times has a nice article for your perusal.
Now, I'm all for safety. I think we should absolutely ensure our healthcare is safe and affordable because even if you don't care about healthcare access as an intrinsic part of being a good person, making sure people can access affordable health care ends up costing everyone less in the long run. But this case is not really about the safety of a medical procedure. According to the same New York Times article, even the proponents of the SB5 case admit that it is about restricting access to legal and safe abortion in an effort to eliminate it. I get why some people aren't super fond of abortion, but it makes me angry that they are using a false claim on the procedure's safety in order to work around the system. It reminds me of kids taking all the marbles and going home.
But do we really know that legal abortion is safe? According to a study from the National Institute of Health legal abortion has a .0006% mortality rate or 0.6 deaths per 100,000 procedures. This is a nice, neutral source to get a baseline.
Based on the .0006% rate from the National Institute of health, here are 5 things more likely to kill you than legal abortion in the US: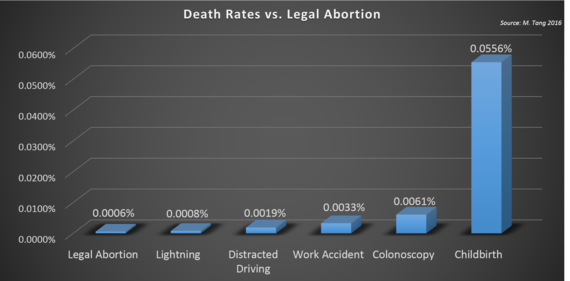 But what about illegal abortion? While you are more likely to be hit by lightning than you are to die from a legal abortion, the death rate from illegal abortion is ridiculously high. Because it was illegal, there are only estimates for the illegal abortion death rate in the US from the days before Roe v. Wade. By using compiled numbers provided by the ProChoice Institute, the death rate for illegal abortion prior to Roe vs. Wade was at .42% - 700 times the death rate for legal abortion. That means that statistically, 5,000 women per year or 210,000 women have NOT DIED since abortion was made legal 42 years ago. Contrast that to the 7 women per year who have died from complications due to legal abortion.
Don't insult the intelligence of the American people by pretending that the SB5 court case is about safety. If you assume that the 7 women per year that die from complications due to legal abortion are spread equally throughout the 50 states, Texas is legislating to save one-seventh of one women per year from legal abortion at the cost of 100 Texan women per year that die when abortion is illegal. Just own that you just don't like abortion and fight it directly. Don't pretend we can't do math.
And if you really want to save lives - both the already born ones and the unborn ones - spend effort, time and money on programs that educate people on ways to prevent conception. Make it easier, not more difficult, to get birth control to avoid not only abortion but that hidden killer - maternity. Also, don't text and drive.
Footnote: If I had to calculate the numbers myself (because I only got a number of deaths per year, for example, not a rate), I used the most recently completed 2013 US Census population number of just over 316 million people in the US as my denominator. Notice the fancy "fraction talk."
Popular in the Community