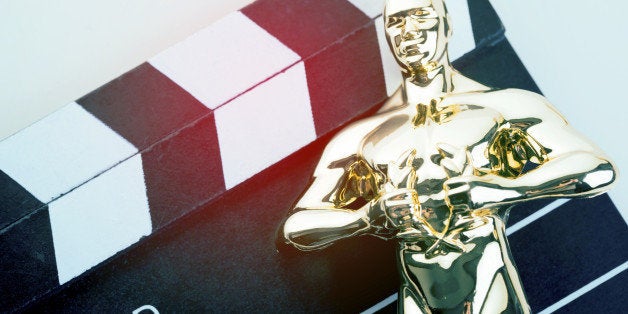 Picture it: you're on stage accepting your award. As your eyes get teary, you muster up the strength to proudly proclaim, "I'd like to thank the Academy." Then, with heartfelt emotion, you thank your mentor, manager, agent, family and friends, and speak to the steadfast determination -- not to mention years -- you put toward this labor of love to get you here.
If you watched the Oscars, you're one of millions of global viewers. And if at least one or two acceptance speeches empowered you to think about making a mark on your own career, you're probably not alone. Did you find yourself thinking about who you would thank in your speech at a momentous point in your career? Here are some considerations for crafting a remarkable acceptance speech about an important achievement in your career -- whether it's an incredible new job offer, big promotion or significant achievement at work.
Your mentor. Ask any celebrity about who's contributed to their success. Chances are they have a dream team behind them -- acting coaches, speech trainers, publicists, stylists, agents, managers and more. Who is on your team?
Granted, you don't need an entire entourage to help you achieve your goals, but it does take a village, as they say. That said, if you don't already have a mentor -- someone who believes in you, guides you, pushes you outside your comfort zone -- it's time to get one. This can be a former boss, colleague or fellow member of a professional organization. Start by identifying someone you admire and whose leadership skills and personality you want to get to know better. Be specific about how you'd like them to help you, whether it's defining a more clear-cut career path, providing negotiation tips or developing specific skills.
Your teacher. In addition to your mentor, it's likely you have at least one teacher who helped shape your professional path. It could be anyone from your favorite college professor to the instructor for an online coding class you recently took. Teachers can help sharpen your skills, introduce you to new passions, shape your future and take your career to the next level.
Your family and friends. Often times in our careers we overlook our biggest cheerleaders, our most generous networking connections, our fiercely loyal allies. Your friends and family will stay up with you until 2:00 a.m. conducting mock interviews to help you land your dream job. They make invaluable introductions to contacts and, above all, they're your biggest support team.
Don't forget to thank the people closest to you who have supported you every step of the way -- from that first class to your big break to your career today.
Your experiences -- even the uncomfortable ones. When actors lose or gain 30 pounds for a role or step into an intense character, they're letting go of themselves to become someone else. And when screenwriters, costume designers, producers and industry professionals work on a project, they passionately challenge themselves to achieve more.
How can you push yourself? In what ways have you been playing it safe? Do you have the courage to push yourself and find something better, more challenging, lucrative and downright fulfilling - even if may not know what that looks like at this very moment?
If you're unsure, seek advice, but also realize that sometimes the only way to experience real growth is to break out of your comfort zone. This means going for that job you feel a little under qualified for, taking steps to transfer internally to a new department, embracing that promotion even if you haven't mastered the skill set just yet. That's okay - you're not supposed to play it safe. That's why you find and adapt to those new roles. They enable you to reach new levels in your career as you become more comfortable in your new skin.
Yourself. Above all, the most important person on your VIP team is you. Believe in yourself. Set goals and visualize them coming to fruition. Never give up. Aspire for more, pursue new jobs to see what's out there, and realize that yes, there are better opportunities and you most certainly deserve them.
As actress Shirley MacLaine said in her 1983 Oscar acceptance speech, nothing is more important than "the potential we all have for making anything possible if we think we deserve it." Leverage that belief in yourself in your career, and you'll reach your ultimate potential.