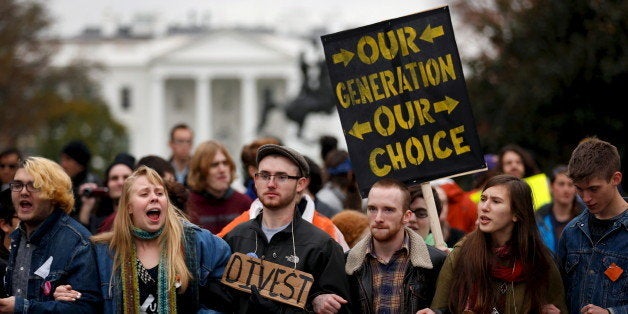 After I wrote What a Trump Presidency Means for Fighting Climate Change, a colleague suggested that I write an article with "5 concrete examples of on-the-ground things people can do." I've been mulling that over. You can readily find lists online of 5 things, 10 things, 50 and more things to do about climate change. Many excellent suggestions. Nearly all of them call for individual actions. Things that you can do to reduce your personal carbon footprint.
Individual actions are important. We learn through personal experience what works and what doesn't, what's easy and what's hard. We prove change is feasible. We demonstrate our seriousness by walking the talk. We help motivate others to act. We move the needle, even if just a bit, in the direction that we need to move as a society.
But a strategy built solely on individual actions will not prevent the calamitous impacts of climate change that will befall us if atmospheric concentrations of greenhouse gases continue to rise as currently projected. That takes collective action, in both public and private spheres. Actions that fundamentally transform the choices that are available to us, and that promote choices that will build a low-carbon, climate resilient economy that provides for our needs, including the need for a healthy and safe planet with a stable climate.
So my list of actions focuses on what we can do to create momentum for collective action on climate change. For those wanting a list of individual actions to reduce their carbon footprints, links to relevant websites are provided at the end.
1. Join with others. Join national, state and local organizations that are taking action on climate change. Give them your time. Participate in their campaigns. Attend their events. Give them some of your money if you are able. There are lots of organizations doing good work on climate change that need your help. Some that I have collaborated with include Citizens Climate Lobby, the Union of Concerned Scientists, The Nature Conservancy, Natural Resources Defense Council and World Wildlife Fund. But there are many others that deserve your consideration. I particularly like Citizens Climate Lobby (CCL), a non-partisan organization with local chapters that attempts to work both sides of the aisle to advocate for national policies that address climate change. I've spoken at a number of their events and participated in a climate lobby-day that they organized in Harrisburg, PA this past June. In February I'll attend one of their regional conferences with a group of Dickinson College students. (Note to self: it's time to join CCL as a member).
2. Advocate for federal action. Call your U.S. senators and representative. Write them letters. The old fashioned kind, written on paper and mailed with a U.S. postage stamp -- it's worth the extra carbon. Visit them in their home offices, and in their D.C. offices if you travel that way. Do these things repeatedly to drive home the message that action on climate change is a high priority for you. To find out who your U.S. senators and representative are, go HERE; for tips on writing effective letters to legislators, go HERE. Don't forget federal officials at the U.S. Environmental Protection Agency, Department of Energy, Department of Interior, Department of Agriculture and Department of State -- call, write and visit them as well.
What should you tell them? Well, that's up to you. Some suggestions: call for climate change policies that are grounded in peer-reviewed science, continued participation in the Paris Agreement and implementation of the Clean Power Plan, or an alternative new plan with teeth. Ask them to put a price on carbon emissions. Request support for making communities climate resilient. Advocate for federal research and development targeted to climate change solutions, and for programs to support workers and communities that may be negatively affected by a transition away from fossil fuels.
Also keep your eyes open for opportunities to comment on climate-related federal regulations and submit comments. Groups like CCL can keep you abreast of pending federal legislation and regulations. For tips on submitting effective comments on federal regulations, go HERE.
3. Support state and local action. Until recently, much of the action on climate change in the U.S. has been at the state and local level. It's likely that we will revert to that pattern for the next few years. So let your state and local officials know that you want them to take action on climate change. California is leading the pack. If you live in California, tell your elected leaders "thanks" and encourage them to carry on and do even more. If you live elsewhere, tell your elected officials you are worried that your state will miss the wave of innovations and investments that are bringing clean, reliable and low cost energy, jobs and economic growth to California and other states that are embracing the technologies that will define the 21st century. Learn what your state is doing on climate change by checking out C2ES maps of climate programs and policies HERE. The Georgetown Climate Center maintains a map of state and local climate adaptation plans that can be found HERE.
Cities and towns are also in on the action and are important players in tackling climate change. The World Wildlife Fund highlights the efforts of 116 U.S. cities in its recent report Measuring Up 2015: How Local Leadership Can Accelerate National Climate Goals. Is your city or town keeping up? Push your local officials to measure municipal emissions of greenhouse gases and develop a climate action plan that includes abatement of emissions and building resilience.
4. Take action at work. Advocate for climate action where you work, whether you work for a for-profit business, a non-profit organization or a public sector agency. Numerous businesses and organizations are taking action by increasing energy efficiency, switching to non-fossil energy sources and developing and bringing to market products and services that enable others to reduce their carbon footprints. Learn the business case for sustainability and climate action (see examples from Harvard Business Review, the World Bank's International Finance Corporation and EY) and start to be an advocate in your workplace for changes that can add to the bottom-line while benefitting the planet. CERES offers a Roadmap for Sustainability and The Environmental Defense Fund offers A roadmap to corporate GHG programs that can provide ideas and inspiration.
5. Talk to your friends, family and peers. Climate change action needs grassroots support. That requires talking with those you know about climate change, sharing your thoughts and listening to theirs. Do this with your faith group, book group, softball team, knitting club, poker buddies and fantasy sports league friends. Talk about why climate change is important to you, why you find the evidence compelling, how climate change can impact the things you value, why you are convinced climate action is necessary and what actions are needed. Find where you agree and disagree, work to find common ground and try to find new understanding in areas of disagreement. For resources to help you talk about climate change, try HERE and HERE.
If you are a teacher, incorporate climate change into your teaching. The Climate Literacy & Energy Awareness Network has excellent curated and peer-reviewed resources for teaching about climate change and energy: Cleanet.org. If you want a basic primer on climate change science, one of my favorites is Climate Change Causes and Evidence from the U.S. National Academy of Sciences and the Royal Society. Good online resources that rebut misinformation about climate change include Skeptical Science and RealClimate.Org.
OK, still looking for things you can do to reduce your personal carbon footprint? Here are a few websites to check out. A word of advice. Don't let yourself be overwhelmed by long lists of things you should do. Start by picking one thing, something that is both impactful and readily achieved. Do that. Congratulate yourself, pause to reflect, then move on to tackle one more thing.
Related
Popular in the Community