The term "California cuisine" encompasses a lot of different food styles, from the hyperlocal, seasonal cooking espoused by Alice Waters and company to genre-pushing dishes of chefs like Roy Choi and Dominique Crenn.
But there's an older California cuisine as well, a legacy of the time when the land belonged to Mexico. One of the greatest holdovers from that era is Santa Maria barbecue, California's signature style of cooking meat over fire.
Santa Maria barbecue is only found in a relatively small part of Central California: the Santa Ynez and Santa Maria valleys, scenic regions of rolling hills dotted with oaks between San Luis Obispo and Santa Barbara. These are now some of the state's most prolific wine regions (you've seen the Santa Ynez Valley in the movie Sideways). Before grapes were planted, these grassy hills were prime territory for grazing cattle.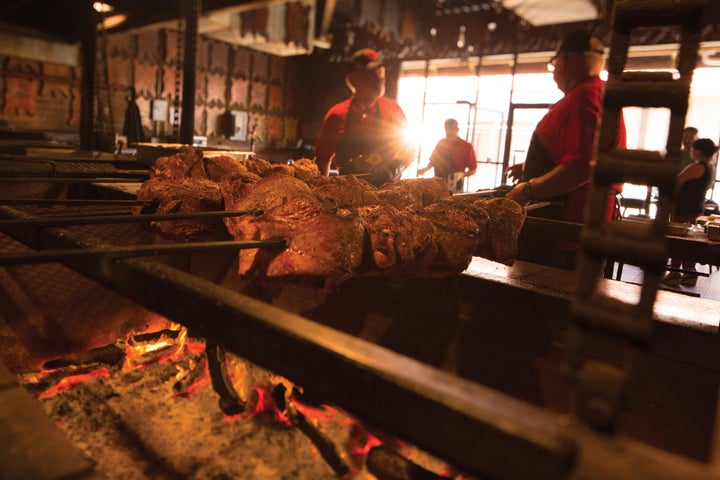 In the 19th century, the land was divided into large cattle ranches, the outlines of which still define roads and town boundaries today. Santa Maria-style barbecue is thought to have evolved naturally from Spanish-style feasts thrown by the ranchers for their vaqueros, or cowboys, following big cattle roundups.
As California matured and the ranch system was broken down, the style became a necessity at special-occasion feasts thrown by organizations like the Elks Club. It's still omnipresent at large community gatherings like the Fourth of July and Labor Day.
At its heart, Santa Maria barbecue is a simple style, just meat cooked over a large, iron grill that can be moved up and down to control the temperature. It shares that method with the barbecue of another former Spanish colony, the asado of Argentina. But there are a few characteristics that make Santa Maria style its own unique form of meat-cooking.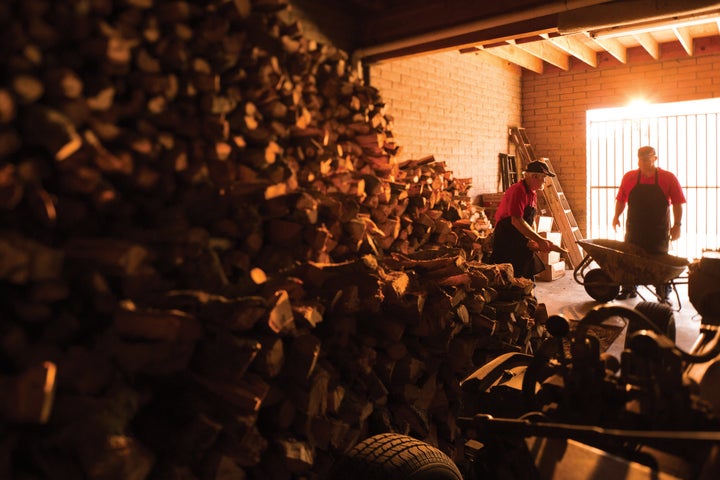 1. Meat must be cooked over red oak, or live oak.
Local oak wood smoke is the single distinguishing factor of Santa Maria barbecue, the thing that ties it to this corner of the world. In ranching times, the wood was piled into a pit and the meat was cooked on top of it, like some styles in the Southern United States. Eventually the iron parrilla grill was introduced, which has long, heavy skewers that can hold the meat like giant shish kebabs. Seasoned pitmasters move these grills moved up and down with a crank to control the meat's cooking time.
2. There's no sauce, just a dry rub of salt, pepper and garlic powder.
The result is a juicy and beefy final product with some umami richness from the seasonings. For Frank Ostini of the Hitching Post II in Buellton, one of the classic Santa Maria barbecue purveyors, that simple flavoring, plus the smoke, is what the style is all about. "I think the Santa Maria style is really a flavor profile," he says. "I've expanded the definition from beef and now we infuse that flavor into everything, from soups to vegetables."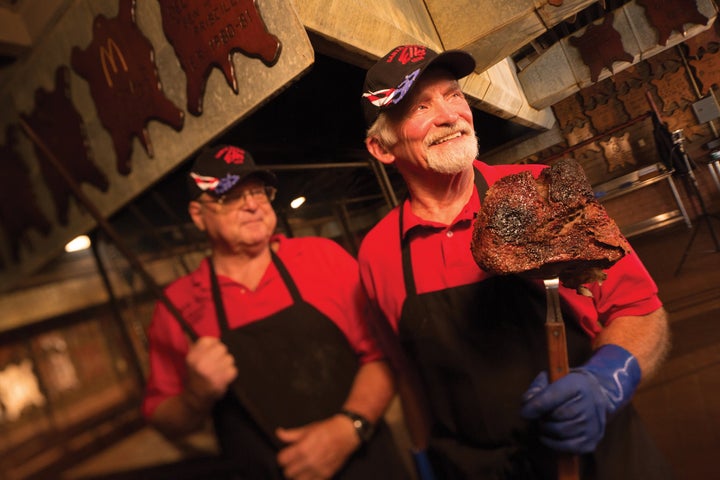 3. Tri-tip is the beef most associated with the style, but it originated with steaks — and other proteins are also welcome these days.
If you're lucky enough to encounter a Santa Maria barbecue cookout in the wild on a weekend day, they'll often be serving tri-tip, often in sandwich form. That cut was only introduced in the 1950s and some Santa Maria barbecue diehards believe that steaks like top sirloins that have a beefier flavor and hold in the juices better. These are the cuts you'll find at restaurants like the Hitching Post and Jocko's, a local favorite Santa Maria barbecue spot in Nipomo. Other proteins like chicken and sausages (frequently chorizo or Portuguese linguica) are often thrown on the grill at neighborhood gatherings.
4. The meat is served with local pinquito beans, along with green salad, garlic bread, macaroni salad and a chunky red salsa.
Pinquitos are small, plump, exceptionally tasty white beans that only grow in this region. The garlic bread has replaced the original tortillas and the salsa is generally not very spicy (both likely the influence of the Scandinavians who also settled the valley; one assumes that the Mexican ranchos served a zingier sauce). All of it is meant to complement the barbecue itself, not outshine it, and without at least some of these elements it's not really a Santa Maria-style cookout.
5. You can find Santa Maria barbecue at restaurants, but it's best at community gatherings.
Consider it the Friday night fish fry or pancake breakfast of Central California. You'll find all styles of locally made parrilla grills in town parks from Los Olivos to Arroyo Grande on weekends and holidays; at wineries and general stores on summer afternoons; on the streets during town festivals and parades. Grilled meats almost always taste better outdoors when they're made with love and a spirit of celebration. These are the times that Santa Maria barbecue is made for.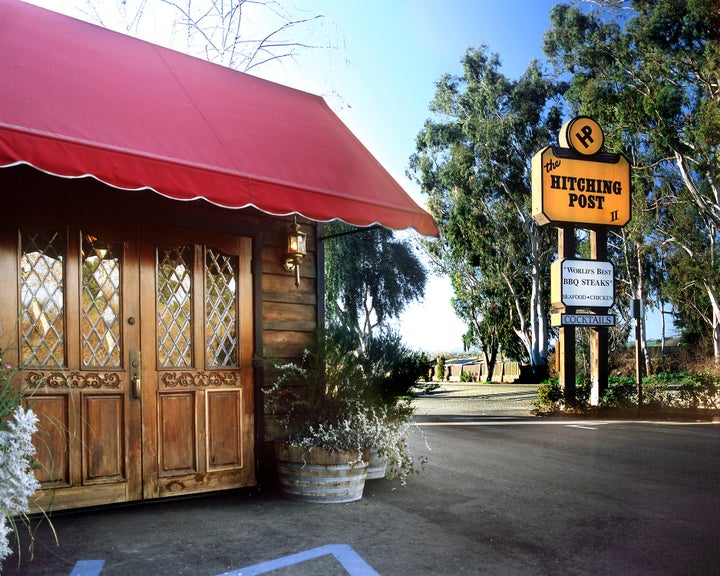 If you want to sample the flavor without chancing upon a cookout, here are some of the best places in the region to find it:
Everything from steaks to artichokes gets the wood-smoke treatment at the two locations of this institution that has been serving Santa Maria-style barbecue since 1952. Hitching Post II, opened in the mid-eighties, is the one prominently featured in the movie, Sideways. Pair a rib eye steak with the restaurant's own red wine blend.
Large steaks are the focus of this locally beloved, no-frills steakhouse in Nipomo, whose wood-paneled, dimly lit dining room and bar are decorated with cattle brands from local ranchers, both past and present.
A 2012 move and makeover didn't dim the quality of the 50-year-old tavern's 14-ounce steaks, though it did inspire the restaurant to focus more on local ingredients.
Smoked tri-tip sandwiches are the thing to order at this roadside pit stop which also serves burgers and California-Mexican specialties like chile Colorado.
As the name implies, this is a special-occasion steakhouse in Santa Maria proper that keeps locals happy with oak-grilled steaks, ribs, chops and more.
Related