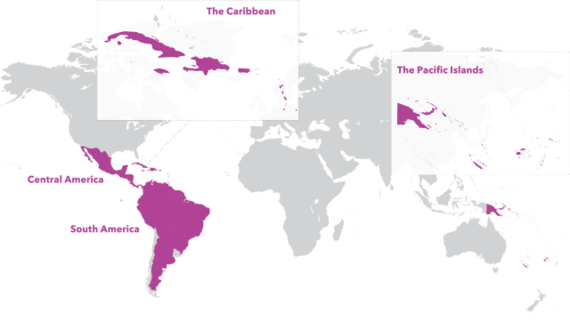 You've probably seen a lot of headlines about the Zika virus. Sadly, just last week, New York City saw its first baby born with Zika-related complications, and this morning, the first documented instance of local transmission was reported in Florida. All this has created tremendous confusion about if and how Zika will affect you. At Planned Parenthood of New York City, we're working with the NYC Department of Health to provide our five health centers with the most up-to-date information, so you can be informed about how to protect your health. Here are the top things you should know right now about Zika:
While it's been spreading rapidly by mosquitoes in countries across Latin America and the Caribbean, as well as in Puerto Rico, people who live in the continental United States are also contracting Zika, mostly due to travel. There have been nearly 1,000 travel and sexually-transmitted cases confirmed in the continental U.S., including 310 right here in NYC. There is no treatment or vaccine for Zika at this time, and experts anticipate the areas where there is active Zika will grow in the U.S. in the coming months as mosquito season ramps up. In fact, the health department just reported that just since May, the number of cases in NYC has nearly quadrupled.
If you've traveled to an area with active transmission of Zika, or had sex without a condom with someone who has traveled to, or lived in, an area with active Zika, you should ask a doctor or nurse about getting tested. Planned Parenthood providers are available to help you decide if you should be tested, and can work with our local health department if necessary to determine the best next steps.
There is a lot the medical community still needs to understand about the Zika virus, but we do know it poses serious risks for pregnant individuals. When a fetus is exposed to the virus during pregnancy, Zika can cause microcephaly, a condition that is associated with severe developmental problems, including impaired fetal growth, hearing loss, and other complications. There have been over a dozen reports of babies born with Zika-related microcephaly in the United States, and last week, health officials reported the first baby born in New York City with the condition. Zika is also associated with other complications for pregnancy, including miscarriage. Contraception and planning for pregnancy is the primary strategy recommended by the U.S. Centers for Disease Control and Prevention (CDC) to reduce Zika-related pregnancy complications.
Planned Parenthood of New York City is one of the city's leading providers of high-quality, affordable healthcare and can help you find the best birth control for you. Birth control methods are not one-size-fits-all; different methods have different rates of effectiveness, risks, side effects and cost. No matter your reasons, if you want to know more about your contraception options, our expert providers in NYC can help you decide what is best for you.
New Yorkers demand a real response to this public health crisis, but Congress continues to push for a bill meant to address the Zika virus that restricts access to birth control and strips funding from providers that can help meet their needs. We need a real response to Zika now more than ever, and Congress must fund birth control access as a part of that relief. It is just common sense that people should be empowered to make decisions for themselves and their families, including the decision of whether to have a child, no matter who they are or where they live.
Calling all HuffPost superfans!
Sign up for membership to become a founding member and help shape HuffPost's next chapter