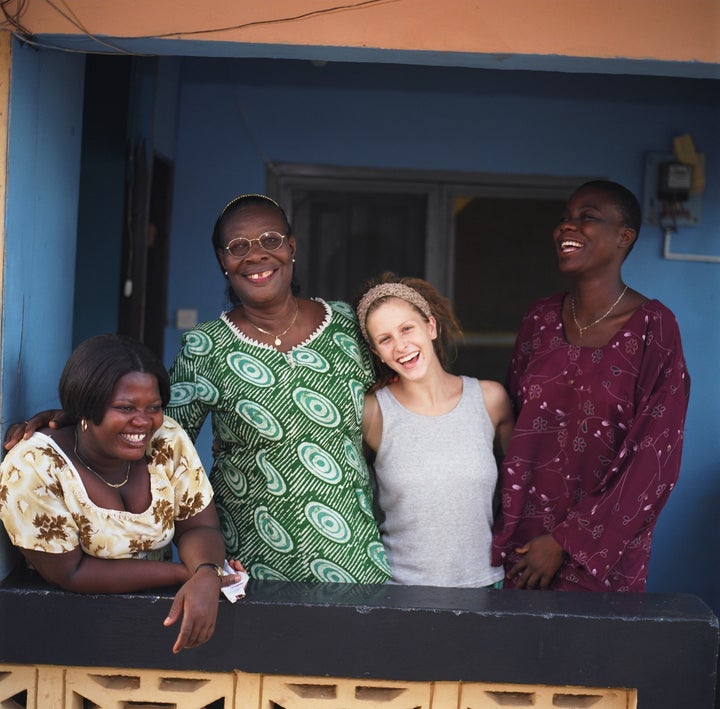 Whether you call it "international volunteering," "voluntourism" or "volunteer vacation," such hybrid programs like those offered by Cross-Cultural Solutions really do offer something beyond the traditional models of both tourism and volunteering. By using volunteer projects as a window into the local culture -- and vice versa -- you can have a unique and authentic experience abroad, unparalleled by a typical vacation. Here are just a few examples of what you can do on a Cross-Cultural Solutions program that you can't do as a tourist.
Shop Smart, buy local. Cross-Cultural Solutions' Ghana program is in a rural town in the Volta Region of Ghana called Hohoe, a ways off the beaten path. Traveling to a less touristy destination enables you to have more authentic and meaningful interactions with local people, and can also help you shop smarter and more sustainably by purchasing unique, handmade souvenirs from local artists and professionals. Not only can you find much better prices in less-visited locales, but you also know that what you do spend is going directly to the artisan, since you're buying directly from them. With the growing movement in the U.S. to "buy local," it's important to try to do the same in your travels abroad.
Learn the local language. Sure, this is easy if you're going to Latin America and have been taking Spanish since middle school. But what if you want to go to rural Ghana? Good luck finding a Rosetta Stone for Ewe, the mother tongue of the Volta Region of Ghana and neighboring Togo. So how do you learn what "akpe kakaka" and "mia dogo looooo" mean? On a CCS program, you'll have language lessons from native speakers, which will better poise you to make friends in the community and have a greater impact as a volunteer. And, by the way, the Ewe phrases above mean "thank you" and "see you soon," respectively. Akpe melio! (You're welcome!)
Live like a local, while still living safe. Many volunteer programs utilize homestays, and typical tourist vacations can be centered around isolated private resorts. CCS's special "Home-Base" structure reflects the perfect compromise between living like a local person and being immersed in the local community, while also being safe and taking the strain off of the local people. The Home-Bases are only for CCS staff and volunteers, so they are very safe and secure. Dorm style bedrooms and western style bathrooms are provided, as well as three meals a day, so you never need to worry about where you will sleep or what you will eat. At the same time, the Home-Base is located in a residential neighborhood of the community, so your neighbors aren't other foreigners, but local people, so you can get a true sense of what life is really like for them.
Learn from local people and create jobs. Ok, so you can help create jobs as a tourist, but when you go with a program like Cross-Cultural Solutions, you interact with so many other people from different walks of life than simply those in the tourist industry. CCS full time in-country staff are all locally born and based, from the Country Directors and tour guides to the drivers, housekeepers, and cooks. Not only do you help create sustainable local jobs through programs like CCS, but you also have access to an incredible resource in the staff as experts in the local culture. They plan special Cultural & Learning Activities to immerse you in the local culture - things like learning traditional drumming and dancing from teens at an at-risk youth program, or meeting with a local seamstress to try batiking, a form of fabric dying and print making popular in Ghanaian culture. While any good guidebook to Ghana will tell you to visit Wli Waterfall, Tafi Monkey Sanctuary, and Mount Afadjato (all possible excursions on a CCS Ghana program), only a local staff can connect you to these truly unique things to learn and do.
Help change someone's life. When traveling to a foreign country to volunteer, how do you know what the needs of the community are, let alone how you can fit within those needs to help out? Cross-Cultural Solutions takes the guess-work out of volunteering by coordinating volunteer placements and finding the best fit for each individual volunteer's skills & interests within the expressed needs of the community. We respect that local people know best what they need and how to meet those needs, so rather than creating our own projects, we partner with existing local sustainable initiatives, like schools, orphanages, hospitals, and non-governmental organizations. By working alongside local people in established, sustainable organizations, you can ensure you are actually meeting a need and having an impact as an effective volunteer.
-- Megan Heise works for Cross-Cultural Solutions as a Program Site Specialist for Brazil and Ghana. She's traveled to five continents and chronicles her misadventures learning foreign languages on her blog, Multilingual Mondays. A New York City transplant from rural western Pennsylvania, Megan loves new experiences and is on a quest to find the best bubble tea in New York.