Mainstream media may have intensely ingrained the perception that women in the Gulf region are obliged to be covered from head to toe with the traditional black gown, known as Abaya and a headscarf. This is true, if you were residing in Saudi Arabia, but for the other five GCC countries, women do have the freedom to express their fashionable side. It may be still modest, but certainly very Vogue. Here are five things you may have overlooked regarding women's fashion in the Gulf States.
1-Abayas are stylish and do not come in black only
The loose, full length robe has come a long way. More women in the Middle East are opting for the diverse variety of abayas coming in different cuts, colors, styles and fabrics. In fact, high-end fashion retailer, Dolce and Gabana has released a clothing line with a range of abayas and hijabs earlier this year to woo their Middle Eastern customers. The designs are revolutionary; the abayas are jazzed up with some lace, embroidery and prints for a trendier look. Most women would combine the enriched traditional wear with an elegant bag, pair of designer high-heels and sunglasses. Of course, full make-up and perfect hair (because, many Khaleeji women only cover half of their scalps, which means a great deal of hair is exposed) is likely to go with their fashionable ensemble. And voilà- this is the real image of women, who hail from the Arabian Peninsula.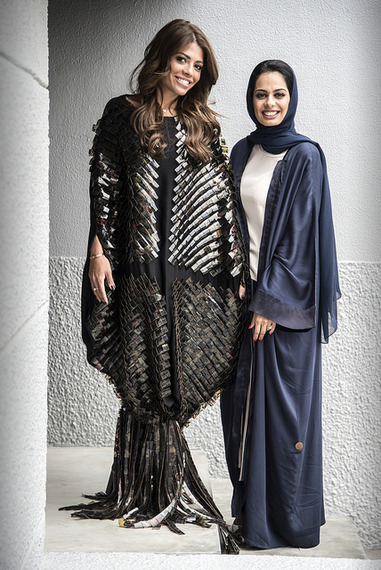 2-Underneath the "Black Robes" is Pure Posh
Many women from the Gulf region come from royal or rich industrial families, so it is not surprising that there is a world of Gucci, Dior and other affluent designer clothes underneath their flowy garments. It may be bewildering though for foreigners to see the locals spend a fortune on an outfit that won't be visible to the public eye. But for most women, it is a matter of feeling good from the inside as in from the outside. Also fears of windy conditions or having your abaya get caught up in the escalator is another excuse to go on a shopping spree to spare potential embarrassment.
3-Regular Trips to the Fashion Capitals
Trips to fashion capitals such as Paris, London, Milan and New York, spending long hours in the store trying on the finest Haute Couture and heading back home with a suitcase packed with outfits for every occasion is the typical shopping experience of many families from these oil-rich states. But what a crime would it be, if the salesperson makes the unforgiving mistake of selling a dress that has been sold to another customer going to the exact same party. Gulf women would dread to invest in a dress, only to see it worn by a fellow guest at the same event. This translates to a painstaking process for the designer shops to keep a detailed record of the person they sold a certain item to.
For royal families, they are just a phone call away for their ultimate shopping endeavor. Representatives from fashion retailers come over to their lavish mansions with a wide range of designs and clothes and are very willing to make major adjustments to cater to their preferences.
4-A Busy Social Calendar
The average Middle Eastern female has a dozens of weddings and private parties to attend annually, and all the invited female guests are on a mission to be the best-dressed to impress a potential mother-in-law (Yes, weddings and parties in the Gulf region are gender segregated). Another reason, couture is essential for Middle Eastern women is because it presents a symbol of social status and success. With a busy social calendar and such immense competitive pressure, it is no wonder designer shops in Europe are packed with wealthy tourists from the Arab world getting ready for the year in-style.
5-Expats, you can do without the Abaya and Shayla
The widespread misconception that expat women and tourists are expected to cover up like the locals when they are in the Gulf region, is far from true- except when in Saudi Arabia. As long as the clothes are not too provocative, you won't have any issues. In other words, hot shorts and bare midriff tops should be avoided, but sleeveless shirts and skirts with just above knee-length are fine. Proper bikinis (not string bikini or going topless) in hotels' swimming pools and even on public beaches are accepted too. Expats in Arab Gulf states vastly outnumber the local residents, which means that the local population has gotten used to having foreigners around and accepting their clothing preferences to a certain extent. In fact, according to the InterNations Expat Insider 2016 survey, all of the GCC countries were ranked higher by female expats than male, with the exception of the UAE. It seems like expat women do not find the Gulf region an unpleasant place after all.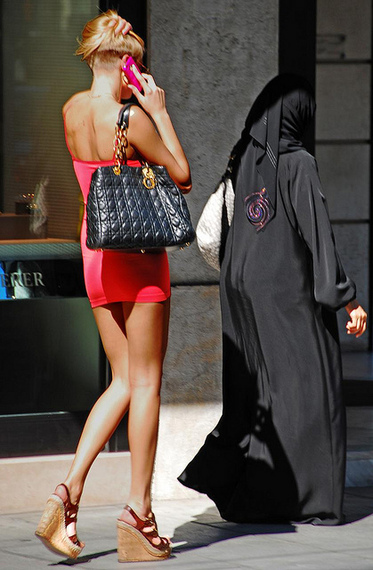 Calling all HuffPost superfans!
Sign up for membership to become a founding member and help shape HuffPost's next chapter