It only takes a few minutes in Dallas to know that they're happy you decided to visit. For someone originally from New York, it was a little disconcerting, but my Florida-born kids loved the attention.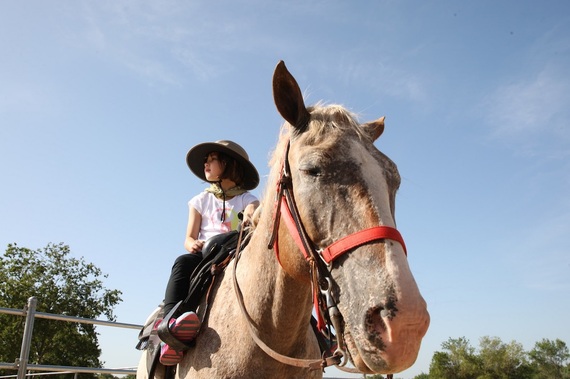 "Everybody is so nice here," raved my eight-year-old daughter, Erysse.
As we walked from downtown to West End, people offered to give us directions when we looked lost. They asked what we like best about Dallas. "The food!" exclaimed my 10-year-old. (He always says that.)
Dallasites recommended their favorite barbecue joints. Barbecue is a religion here. Some kindhearted locals even offered up their shady spots so we could seek refuge from the midsummer Texas sun.
"Point your camera up!" one resident shouted.
"Yeah!" agreed another. "Some of the best things to see are up, up, up!"
OK, we deserved that. We were all toting cameras.
As it turns out, this was some of the best advice for any tourist visiting the Big D. Here are a few more things you might not know about Dallas.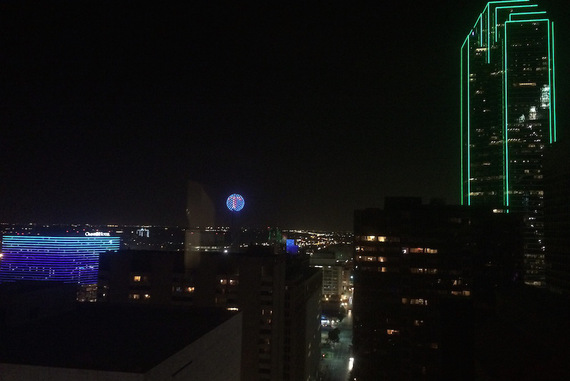 Dallas may be the third-most populous city in Texas, but we think its skyline is number one. The city itself is home to 285 highrises, 28 of which stand taller than 400 feet. But it wasn't the tallest buildings that caught our eyes; it was the night lights.
Our hotel on Main Street overlooked the Reunion District, which is the place to watch once the sun sets. From our viewpoint at the Magnolia Hotel, we could watch the spherical display atop Reunion Tower's matchstick shape, the fluid display of color shimmering across the face of the Omni Dallas Hotel and the static lights outlining the Bank of America Plaza building. Dazzling.
Then, my son pointed to other buildings in the background. It was a metaphor for the city as well as the community as we experienced them. The glow of lights plays across the gleaming faces of distant buildings creating an even larger, more beautiful display of color and light. We call it postmodern contextualism because it is reflective of its surroundings and also its own artwork.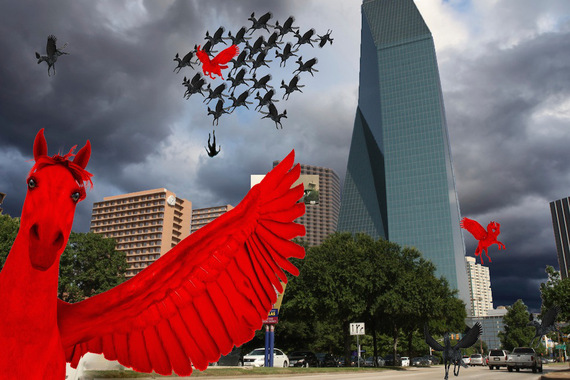 Have you ever wondered why the Pegasus is so popular in Dallas? It all started in the 1920s when the Magnolia Petroleum Company built its headquarters in downtown Dallas. The almost 400-foot-tall building was a major influence on the skyline, but not just because it was so tall. In 1934, the company erected its trademark rotating neon Pegasus on the building's roof in honor of that year's annual meeting. It immediately became a symbol for Dallas as well.
In 2000, a new sign was unveiled and the old sign deemed beyond repair. But a group of locals were able to find the resources and talent to fix the original which is now on display in front of the Omni Dallas Hotel. Oh, and there are Pegasus statues and images everywhere. (The above image is our family's contribution.) My kids are still arguing: What's the plural? Is it Pegasuses or Pegasi?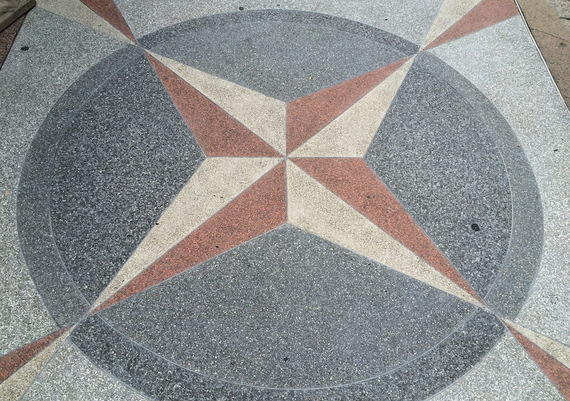 The trek from Main Street to the Farmer's Market revealed another layer of Dallas' charm. As you walk past quiet neighborhoods, ornamental buildings and exotic restaurants, you might notice splashes of color along the walkways.
None of my local sources could say exactly when or why these symmetrical designs hit the streets, but it isn't hard to recognize the overriding pattern. It appears as though the murals embedded in the sidewalks along the main streets accent the personality of each district. Cross patterns appear near churches, bubble patterns near museums.
This became clearer as we strode on to the Arts District. Like a scavenger hunt, our kids stopped and took pictures as we discovered each new design. It was a great game to keep our minds off the blazing summer heat.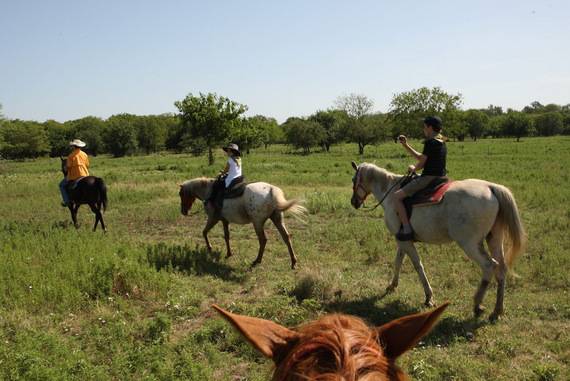 When we told the kids we were going to Dallas they wanted to know if we'd see any cowboys. No, not the football team. Real cowboys. We were surprised to discover that you can.
Just a few miles outside the city limits is the River Ranch at Texas Horse Park. It's a brand new facility that gives urban kids a chance to learn how to ride the range and work with animals.
Visitors are also welcome, which suited our crew since there's nothing better in our house than an afternoon on horseback.
It is a surreal experience to drive just a few minutes outside the city and find open range. The ranch, a section of Trinity Park, was part of Davy Crockett's legacy and is surrounded by centuries old trees, an ancient freshwater spring and a large Native American archeological site. And if you look real hard you can just make out the top of the Dallas skyline.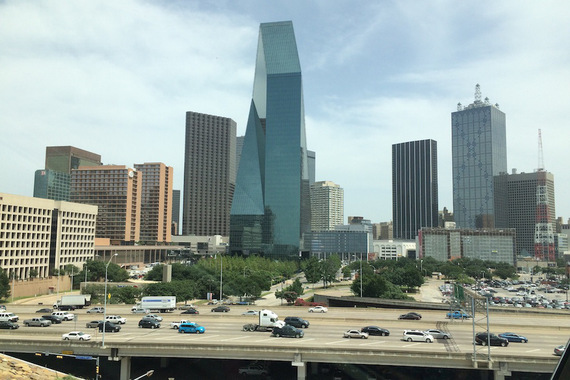 Leave the driving to the pros
In addition to the friendly people, nearby ranches, subtle sidewalk art, amazing skyline after dark and the predominant Pegasus, there's one more thing you might not know about Dallas: You won't need a car. Well, not if you're planning to explore downtown. Dallas is a walking city.
Well, not too much complaining after I promised her a little cupcake from Fluellens.
Related