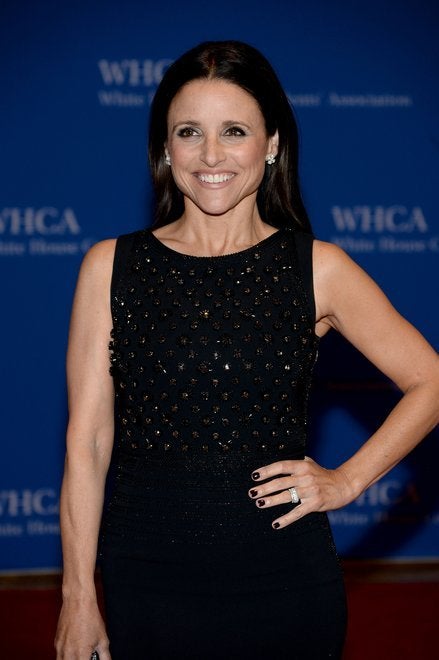 This week, Julia Louis-Dreyfus celebrated her 56th birthday. You may think you know her well, after seeing her on your living room TV screen for decades, but did you know that the award-winning actress got her first taste of comedy at age 3? It was midway through a dance class, when a wee Louis-Dreyfus forgot the steps to her routine and was delighted to find that it made people laugh: "Of course, my mother was mortified, but I thought it was real good! And I stuck with that choreography for the rest of the class," she once told a reporter. Here, in honor of her birthday, five other things you may not have known about Julia Louis-Dreyfus.
1. Seinfeld writers thought Elaine's dance moves might kill Louis-Dreyfus's career. Show writer Spike Feresten later told The Huffington Post that Seinfeld creator Larry David was not a fan of the eighth season episode "The Little Kicks," in which Elaine dances; he only got approval on the story line after David left. Feresten began having doubts in rehearsal: "[Writer-producer] Jennifer Crittenden pulled me aside after Julia did the dance for the first time. 'Are you sure about this? Are you sure you're not ruining Julia Louis-Dreyfus's career?' 'No, I'm not.' " But it all worked out; that year Louis-Dreyfus won the Emmy Award for Outstanding Supporting Actress in a Comedy Series.
2. No, Louis-Dreyfus is not a billionaire heiress. When a magazine asked about her father's business, the Louis Dreyfus company, a commodities and shipping conglomerate, she set the record straight: Her father's business is valued in billions. "It's unbelievable, because whatever I do, people just assume it's true," she said. "Welcome to the fuckin' Internet." (For what it's worth, after her lengthy career, Louis-Dreyfus is estimated to be worth around $200 million in her own right.)
3. As Selina Meyer on HBO's Veep, Louis-Dreyfus uses her high-fashion wardrobe to inform her character. "Wearing this wig and these tight clothes and these shoes that are nuts, it's all very physically constraining," she said. "It's just very sucked into the whole look, and it feels right. It's a nice place to start getting really mad . . . It starts to inform the rage." Selina's anger does not reflect Louis-Dreyfus's own personal issues: "I don't have a shit ton of baggage," she's said. "There's not some grotesque, dark thing."
4. Louis-Dreyfus has "fondly-ish" memories of her time on Saturday Night Live. After dropping out of Northwestern University to pursue acting, Louis-Dreyfus booked the job at 21 years old, reportedly the youngest female cast member at the time. "It was a huge Cinderella-getting-to-go-to-the-ball kind of experience, really," she has said. "But it was brutal. You had to fight to get your skits on the show, and there was a lot of drug use. People wrote and performed high, which freaked me out. I learned that if something isn't fun to do, it's just not worth it."
5. Louis-Dreyfus reportedly won't watch the Seinfeld pilot out of superstition. When the show first aired, the main female character was a waitress named Claire who offered Jerry and George advice. Concerned the setup was too male-centric, NBC executives picked up the show on the condition that a stronger female character would be added to the concurrent episodes. David called on Louis-Dreyfus, whom he got to know as a writer on SNL.  "[She was] bright, charming — striking, actually — and she had a great disposition, which, considering the bunker mentality that was SNL at the time, wasn't easy," David has said. Louis-Dreyfus beat out Rosie O'Donnell and Megan Mullally for the part of Elaine.

Calling all HuffPost superfans!
Sign up for membership to become a founding member and help shape HuffPost's next chapter
BEFORE YOU GO
PHOTO GALLERY
'SNL' Stars Before They Were Famous