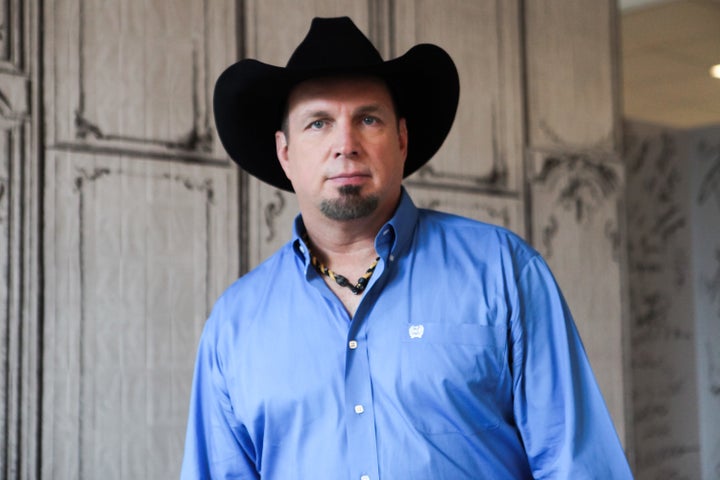 Garth Brooks isn't anywhere close to retiring. Actually, the 54-year-old country singer already did that back in 2000 ― only to return years later to the stage.
The Huffington Post caught up with the Oklahoma native during a recent AOL Build interview, where we learned a few things you may not know about the man behind such songs as "The Dance" and "Friends in Low Places."  

1. His mom was really mad at him before his 1997 concert in New York's Central Park.
Brooks was about to take the stage in Central Park on Aug. 7, 1997, for what would become the largest concert ever to be held at the New York City park, when his mom showed up. Needless to say, she was none too pleased with a decision he made about what would happen after he died while filling out the mandatory insurance forms prior to the show.

"The guy goes ― I can hear him in my head ― '13 minutes to live, 13 minutes.' The band's done, the handshakes, and we're all piling out and I'm noticing in front of the pile, everyone is either going left or right, which means somebody's standing there, but I can't see. But when they part, it's my mother," Brooks explained. "My mom was 5-foot on a good day. And she's pissed! And I'm looking and I'm going, 'What's up Mom?' And she goes, 'Cremated, really? You want to be cremated?' She had seen the little questionnaire you had to fill out. Any pictures you see of me walking across the stage in the documentary, there she is. We're walking and we're talking about this. And her thing was, 'You just get through this and we'll talk some more.' And so that's what we did."


2. He doesn't care one bit about being famous.
Brooks has sold more than 137 million albums and has been been inducted into the Songwriters Hall of Fame and the Country Music Hall of Fame. He's arguably one of the biggest country singers of all time, but he doesn't really care about his personal legacy; for him, it's about the music.
"This is not a statement of humbleness. It's a statement of honesty," he said. "I really don't care. I don't care if people remember Garth Brooks. But if people remember 'The Dance,' if people remember 'The Change,' the song 'People Loving People,' if people remember those messages — 'We Shall Be Free,' you betcha."


3. He thinks he'd be in jail if he wasn't a singer.
After graduating Oklahoma State University in 1994 with a degree in advertising, Brooks went on to pursue music. If he didn't make it as a singer, Brooks thinks he probably would have ended up behind bars. 
"I hate this answer, but I think I'd be doing time. I really do," he said. "I'm one of those guys who has to have a constant something going inside and in front of my face. If not I get in trouble. Yeah, I think society would be dealing with me on a different level than they are right now."
4. Brooks and his wife have a very different idea of downtime. 
Brooks married singer Trisha Yearwood in 2005 and they have spent a lot of time touring and recording music together over the years. When they return home, Brooks says Yearwood keeps busy with countless other projects, while he prefers to relax when he can. 
"She's working on her home furnishing line, or she's working on her flatware, cookware … writing her books. She's pretty amazing. Let's take an example. We fly in from a show. We get in probably around 4:30 a.m. on Sunday — Monday morning because we played Sunday night. At 8 a.m., she's in the makeup chair and filming her Food Network cooking show. So this is kind of her life. I go home and I'm a blob. I just lay there and don't do anything ― lay by the pool with the other husbands while the wives work. It's fantastic. It's really good. That's kind of our life at home."
5. His motto is to "be kind." 
It's not uncommon to see Brooks signing autographs and taking selfies with fans. He loves meeting and greeting them. It's also part of a life philosophy he thinks is important to follow: be kind.
"Just be kind," he said. "So what if you're two seconds later than you were without being kind? … Be with someone who is kind. I think that's it. Just to love one another was the thing I would want to do. It's a thing that you can't stop doing. I got a cowboy buddy, [at] the bottom of his emails it always says, 'If love doesn't work, don't try anything else.' That's the kind of thing I like."
For more from the Country Music Hall of Famer, check out the full AOL Build interview below. 
The Huffington Post receives a percentage from the purchase of tickets bought via a link on this page.
Calling all HuffPost superfans!
Sign up for membership to become a founding member and help shape HuffPost's next chapter
BEFORE YOU GO
PHOTO GALLERY
Academy of Country Music Awards 2016