This Old House general contractor Tom Silva shares his selection and installation tips
Cabinet Basics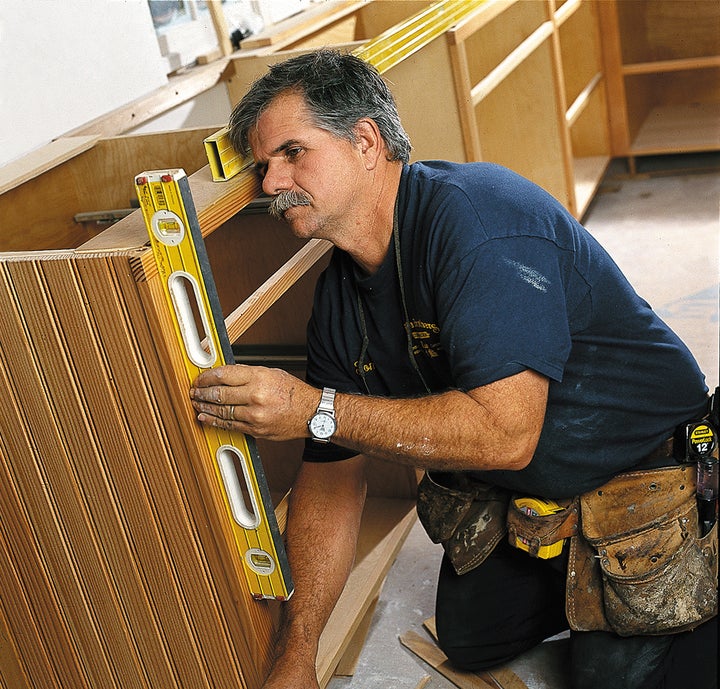 With nearly 7.6 million homeowners remodeling their kitchens this year, the heart of the home garners plenty of attention. New cabinets can convert a dated, inefficient kitchen into a functional, organized, multitasking space. Nowadays they come with a dizzying array of finishes and options at many different price points. Get smart about your choices: Here are 9 essential things TOH general contractor Tom Silva has learned about cabinets over the past 40 years.
1. Pick a certified brand
Look for products certified by the Kitchen Cabinet Manufacturers Association, which are subjected to tests that replicate years of normal kitchen abuse. Certified cabinets survive exposure to humidity, temperatures ranging from –5 to 120 degrees Fahrenheit, and dousings of kitchen mainstays like vinegar, lemon, fruit juices, ketchup, and coffee without showing signs of blistering, discoloration, or other damage.
2. Know the lingo
Stock and semicustom cabinets are the most popular types on the market. Stock reigns supreme because of its low price, quick delivery, and increasing accessory options like furniture feet and full-extension glides. Semicustom models offer a wider range of sizes, finishes, and styles. Custom cabinets are the most expensive; they can take up to 12 weeks to fabricate.
3. Personalize your storage
Today's cabinets include user-friendly options such as full extension roll-out shelves so you won't scrape your knuckles as you reach for items buried deep in back. Large drawers in base cabinets can hold pots, pans, and dry goods; they're as popular as pull-out recycling bins. Built-in open-storage systems like wine racks and china displays look sharp even when empty.
4. Choose the right look
Light-colored woods, oak and maple make your kitchen seem brighter and larger. Darker woods like cherry and mahogany create a more dramatic, furniturelike effect. To give the cabinets less visual heft,most manufacturers offer turned leg pieces that mimic the look of furniture. Door trim kits for appliances can help tie a kitchen together visually, but check with the manufacturer first for compatibility.
5. Think inside the box
The box is the cabinet's backbone: the stronger the better. I like heavy boxes with at least ½-inch-thick walls or structural rails that can be attached with screws to the wall studs. Box materials include medium-density fiberboard (MDF) and oriented strand board (OSB), but my favorite is plywood with dado or mortise joints and metal or wood corner braces for rigidity. High-quality cabinets have dovetail joints in the drawer boxes, and you'll also have the option to match the interior finish to that of the exterior.
Popular in the Community