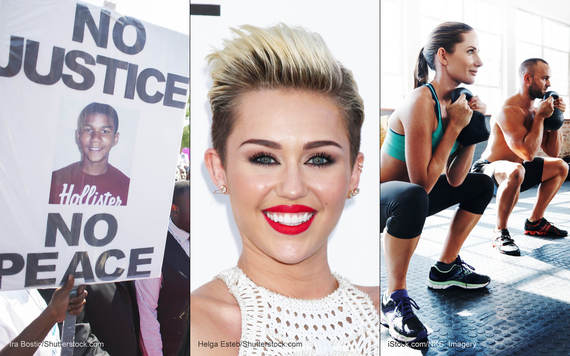 By Laura Woods, Contributor
1. ClassPass Raises Prices in Los Angeles
ClassPass -- a membership allowing pass holders unlimited access to hundreds of gyms such as LA Fitness, 24 Hour Fitness and Gold's Gym -- has raised its LA prices to $175 per month for unlimited access, representing a sharp increase from the June 2015 price of $99. The ClassPass cost also recently rose to $180 per month for unlimited use in Boston and $200 per month in New York City, from its starting point of $99.
2. Bayer Might Buy Monsanto for $40 Million
Rumors are swirling that German-based Bayer AG is considering making a $40 million bid for U.S. rival Monsanto Co. Bayer is well-known for its first and most popular product, Aspirin, but also deals in other pharmaceuticals, animal health and agricultural needs. A Monsanto-Bayer merger would create the world's largest supplier of seeds and farm chemicals.
3. George Zimmerman Is Selling the Gun Used to Kill Trayvon Martin: Starting Bid $5,000
George Zimmerman attempted to hold an auction to sell the gun he used to kill Trayvon Martin. The auction began today at 11 a.m. EST with a starting bid of $5,000, but the gun has disappeared from the auction site without explanation. The George Zimmerman trial ended with a not guilty verdict in July 2013, but the former Florida neighborhood watch volunteer said the Department of Justice only recently returned the weapon.
4. Caitlyn Jenner Might Be Regretting Her $4 Million Sex Change
Biographer Ian Halperin, author of "Kardashian Dynasty: The Controversial Rise of America's Royal Family," claimed Caitlyn Jenner is experiencing sex change regret and might consider transitioning back to Bruce Jenner. A rep for Caitlyn Jenner called the sex change remorse claims "idiotic."
5. Miley Cyrus and Liam Hemsworth Check Out Pricey Wedding Venues
Miley Cyrus and Liam Hemsworth are reportedly touring wedding venues in the Australian coastal town of Byron Bay and are considering a carnival theme for their nuptials, according to Us Weekly. After ending their engagement in 2013, Cyrus and Hemsworth have yet to confirm their reconciliation, but she debuted what appears to be an engagement ring in January.
Cyrus' net worth is $160 million and Hemsworth's net worth is $16 million, so the couple certainly has the money to fund a lavish wedding. It will also be interesting to see what Cyrus comes up with for the rumored carnival-style wedding.
More from GOBankingRates:
REAL LIFE. REAL NEWS. REAL VOICES.
Help us tell more of the stories that matter from voices that too often remain unheard.