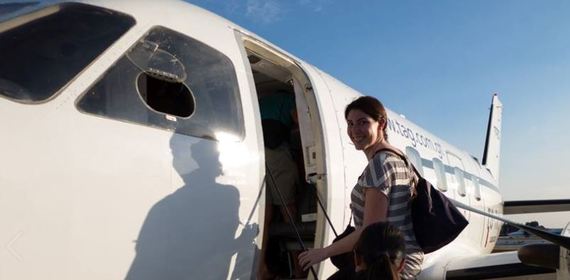 When you're flying in a metal tube at 30,000 feet, comfort trumps style. To help you avoid an in-flight fashion faux pas, avoid wearing the 5 items below.
Jumpsuits
Save the jumpsuit for when you're at your destination. While jumpsuits are comfortable, chic and easy to layer, they're impractical when it comes to using the tiny airplane restroom.
Uncomfortable shoes
Save your four-inch stilettos for a night out on the town and opt for comfortable slip-on sneakers. You don't want to risk dashing through the airport barefoot to catch your flight or struggling to load your bags in the overhead bin due to your sky-high stilettos.
Pajamas
Comfort is key on a long flight but make sure you don't look like you just rolled out of bed. Instead of wearing pajamas, opt for a pair of black leggings, a long t-shirt, a cardigan and an infinity scarf.
Warm-weather clothing
If you're traveling to a warm-weather destination, you may be tempted to wear a tank top, shorts and flip flops on the flight. Resist the urge to dress like you're headed to the beach and dress in layers instead. You'll thank yourself once the temperature drops while you're in the air. If you have a long journey to reach your final destination once you land, you can always pack and change into another outfit at the airport.
Tight clothing
Squeezing into a tiny airplane seat is already uncomfortable enough. Don't make it even more uncomfortable by wearing pants that are two sizes too small or a shirt with restrictive sleeves. In addition to feeling better, you'll also reduce your risk of deep-vein thrombosis.