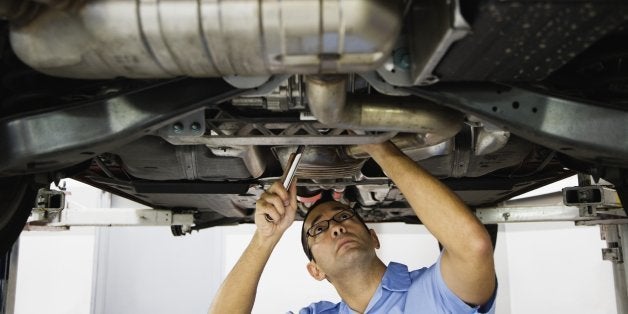 I've been a professional technician for nearly 20 years, since right out of high school in fact. I've worked in some of the largest dealerships in the country, and one or two of the smallest. In all of my years in the field, I've always prided myself on several things: professionalism, customer service, accurate diagnosis, and compassion towards my customers' financial situation, to name a few.
Unfortunately, not all professional mechanics and repair center owner/operators are created equal. It's very easy for your mechanic to be misleading, or downright dishonest, with you about your vehicle's repair needs. After all, they're the experts you're trusting one of your most expensive, and least understood, possessions to. With a charming smile, a personable attitude, and a sense of camaraderie, they can, and will, take advantage of your confidence.
I've seen this happen too many times in the industry I love. I've heard too many stories from disgruntled customers, treated poorly at the hands of an unscrupulous mechanic. So, I've decided to break the "code of silence" that exists in the field of mechanical repair. Here are five things your mechanic doesn't want you to know.
5) There is a labor guide that states the correct labor to charge for each repair
There are several books published each year detailing the exact number of labor hours to be charged for each repair. Your mechanic doesn't want you to know this -- because it's common practice to charge what they feel is appropriate, instead of what the accepted standard is. Ask for a breakdown of the labor hours you're being charged for, then ask to see the labor hours in the guide. If they don't want to show you, or start making excuses to explain a discrepancy, or if the hours don't match, it's time to take your business elsewhere.
4) Mechanics guess way more than you think they do
Have you ever taken your vehicle in for repairs, authorized an expensive estimate, and then had this call from your mechanic: "Well it's a little better, all we need now is ______ to complete the repairs"? Even better, you've authorized an estimate, paid your bill in full, taken delivery of your vehicle, and then headed back to the shop as soon as possible, because the problem came right back? There is no such thing as "a little better." The sad truth is, it's much quicker for your mechanic to guess, than it is to perform the lengthy steps needed to effect an accurate, first time diagnosis. It's much simpler to sell you the most common repair for your particular concern, and then deal with the problem further if needed. That's when you'll get the "it's a little better" conversation. One key to help you determine that your mechanic is guessing, if you receive an estimate for every part of the system that's been effected, you need to seek a second opinion.
3) Certifications don't mean what the industry has led you to believe
Most independent repair shops, and a fair number of dealerships as well, make a big deal about the certifications of their mechanics. They make a convincing argument to earn your business, when they tell you about all of the certifications their mechanics possess. There's one part they don't ever dwell on though, when it comes to the certifications: they don't really mean anything. When a mechanic gets certified through ASE (Automotive Service Excellence) it literally means that person passed a written test for one area of mechanical repair. There is a huge push in the industry to have certified mechanics simply because it gives more credibility to the shop that has certified mechanics, over the shop that doesn't. There aren't any classes that teach how to fix the cars, just a test. Once the test is passed, the mechanic is certified. Almost anyone can become a certified master technician, with two years work or school experience. All you have to do is pass the tests.
2) Not all causes of the check engine light need to be repaired
Almost everyone that drives a vehicle has had an issue with the dreaded check engine light. It doesn't give you any clues about why you need to check the engine, just that you need to do so. When the check engine light comes on, there is always at least one DTC, or Diagnostic Trouble Code, that gets recorded. Your mechanic will look at the DTC(s) and then give you a repair estimate based on that. Even if they tell you what the name of the DTC is, it's very likely it won't mean anything to you. There is a little known fact that the entire automotive repair industry doesn't want you to know: you don't need to have costly repairs done every time the check engine light comes on. There are a decent number of these DTCs that don't require any repairs. That system has detected a failure, but it's not going to cause you any problems to keep operating your vehicle. You won't damage any of the systems, and you won't lose any gas mileage. The only one to lose is the repair industry. There are several websites that can help with this, such as mycheckenginelight.net, that are a great help in determining what repairs you actually need to have done.
1) Mechanics want you to believe you need to bring your vehicle to them for every repair
This is something the entire industry is focused on. As it stands currently, the automotive repair industry is worth $150 billion a year. A rather large piece of that is the maintenance and minor repair section. For professional mechanics with even just a few years of experience, that part of the industry is an easy money maker. It's the driving force behind why you receive an estimate to flush all of your vehicle's fluids, every time you visit the oil change shop. Even regular repair shops are guilty of doing this. The industry doesn't want you to know that you can do a lot of these things on your own. With minimal tools, and some helpful online videos, you can go from $750 worth of needed maintenance and minor repairs, to about $150 worth of parts, or possibly even less, depending on what you're trying to do.
These are all things your mechanic, and the automotive repair industry in general, don't want you to know. They don't want you to understand how much profit your vehicle represents to them, in so many different ways. There are some very good, honest mechanics out there. They'll tell you the things I've discussed here, and help you keep your vehicle in top running condition, in a cost effective manner. Until you're able to find one, use these few tips to help you steer clear of an un-manageable repair bill.
Support HuffPost
The Stakes Have Never Been Higher
Related
Popular in the Community