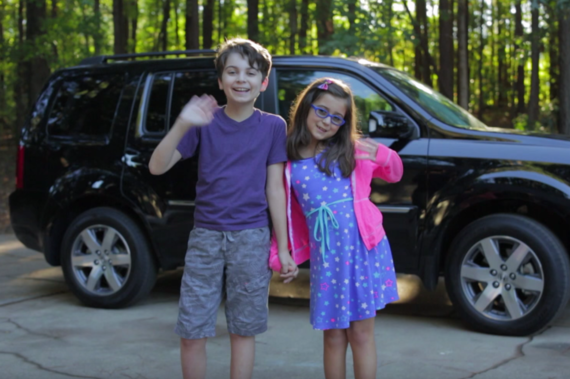 My kids are too young to drive. In fact, my son (now 13) doesn't even seem interested in cars. Lately, he has said -- unprompted -- how it seems cool to have an older car, "the kind that almost nobody else has." Kid, I'm liking you more and more every day.
Obviously, he's not talking about a '65 Mustang or a late '60s Chevy Malibu. I'd say those classics are the polar opposite of what "nobody else has." Still, I like where his thinking is headed.
My 9-year-old daughter is the one who seems to be more interested in cars. They both know I'm an automotive editor, but it's my daughter who has expressed the most interest. At 7 years old, she asked, "Is driving a car difficult?" My son is primarily interested in cars with a USB port in the rear seating area so he can keep his phone charged up. My daughter sees car ownership as a ticket to freedom -- and on that point, she's 100 percent right.
Still, that hasn't stopped my son or daughter from offering advice or opinions on all types of cars. Is it misplaced confidence, or are they actually listening to Dad every now and then? Here are five times they've blurted out their youthful opinions -- and were totally right:
2006 Honda Fit. I was driving a (then new) Honda Fit on a transition ramp from the 91 freeway to Interstate 605 in Cerritos, California. I had a friend in the U.S. Air Force, and he was able to get us into a Navy base in Seal Beach so we could use the tennis courts. My son came along just for fun. As the car's speed climbed to 65 miles per hour, my kid says "Dad, can you turn up the radio?" "Why?" I asked, as it already seemed loud enough for me. "Because, in this car, all I can hear is the road." Exactly! Good one, kid -- turns out those early Honda Fits really did let a lot of road noise into the cabin and included that in my review of the car back then. Thankfully, today's Honda Fit is much quieter.
2013 Nissan Pathfinder. About three years ago, my wife and I decided to sell our 14-year-old Toyota Camry and get a new car. A recent move to a new state and the lack of now-standard features such as satellite radio were starting to take a toll. In its place, we bought a new 2013 Nissan Pathfinder. The day we brought it home, my son said, "I like the old car better; the seats are more comfortable." And he was right -- that Camry had some of the cushiest seats around. However, once I pointed out that the new Pathfinder has a household-style electrical outlet and heated seats in the second row, he quickly changed his story: "Never mind, this new car is way better. This is the kind of thing everyone wants." Exactly right.
2016 Buick Cascada. I like Buicks in general, and recently I brought home a new Buick Cascada. As the car sat in the driveway, my daughter said, "That car looks like an ordinary car from the windows down. Once you see that it's a convertible, that's what makes it cool." Fair enough. The Cascada isn't dramatic-looking or spectacular the way, say, a Camaro or Mazda MX-5 Miata is, it has more of a subtle stylishness. Good eye, kid.
2016 Chevrolet Malibu. "Daddy, what are these seats made of? It doesn't feel like leather." We were in a 2016 Chevy Malibu, and it was an LT model that had lots of great features -- but leather wasn't one of them. Leather seats are standard on the Premier model. "You're right, sweetie, this isn't leather. What do you think of it?" She said, "I like it; it feels tougher than leather but also a little fancy because it has this pattern on it." Chevy calls this Premium Cloth, and it does feel very durable with a hint of a premium feel. Better than leather? I see her point, but she's only 9 years old, so she might have missed the boat on this one.
2014 Kia Cadenza. This time, it was my son's comment -- he was 11 years old at the time: "Dad, we have the nicest car here," he said as we arrived at a neighborhood gathering. "Really, you think so?" I answered. He immediately responded, "Of course, why don't you agree?" "Well," I said, "I see a lot of luxury cars here like Lexus and Cadillac, as well as a new Acura, and we're driving a Kia. That's not exactly the fanciest car around." My kid is pretty smart -- his answer was like a Kia marketing power point come to life. "I'm not exactly sure about what you're saying, but it sounds like a lot of car talk. Kids my age don't care about the logo that's on stuff -- nice is nice whether it's a Kia or whatever it is." He's right: The Cadenza is really nice, with heated and cooled seats along with a power rear sunshade, a powerful V6 and an exceptionally elegant look. It's a car many grownups should consider alongside brands such as Lexus, Infiniti, Cadillac and Acura.
It's true that my children don't know that much about cars. They don't care about the meaning behind a certain brand, and they don't have the proper understanding for things such as skid pad and slalom testing, horsepower per liter or the engineering behind driving dynamics -- so what could they possibly know? As it turns out, quite a bit!
Calling all HuffPost superfans!
Sign up for membership to become a founding member and help shape HuffPost's next chapter