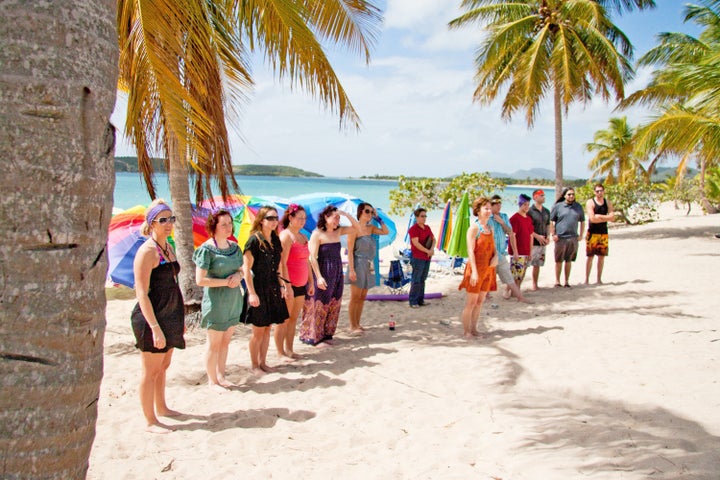 Recently, I had the misfortune of seeing video footage of myself running a wedding rehearsal with a very large bridal party. It's not very flattering, and if you were to take me out of context and not show what else was going on, I look sort of like a lunatic. In context, I'm a sympathetic character because the groomsmen were all drunk as skunks at 10 am under a blazing June sun in the Caribbean and nobody would listen to me. In fact, they were having a rock skipping competition as I tried to get them lined up. Really? REALLY? How old are we kids? Guess what? It's 90 degrees out here and I'm not drunk. Can we just get through this please so I can move on to making sure your beach party is ready for your grand arrival in an hour?
I think running a wedding rehearsal on Vieques Island in Puerto Rico is the most miserable part of my job most weekends. Nobody wants to be there. It's hot out. Somebody important to the process is always really late. Sometimes nobody has brought any of the materials they need for the ceremony with them (I often have to hand out copies of readings to the folks who were supposed to have brought them). And the recent popularity of having some random friend marry you after he gets ordained online for $29.99 has caused a serious decline in the formality of the wedding ceremony. Add to it that half of the guys are guaranteed to still be flammable from the prior night's welcome party and you have a recipe for disaster.
You may not have decided whether you need a rehearsal. Here's the trick: If you have more than you and the groom in the wedding party, you need a brief walk through, if not a whole rehearsal. If you have children and more than one attendant each, you really need to have everybody practice it once so it doesn't look like the hokey pokey during the ceremony. Especially if you're getting married on a beach or a lawn or someplace else non-traditional where you wouldn't have obvious positioning.
Here are five tips to help make your wedding rehearsal as productive as possible. After all, if you're going to go through the motions, you might as well get something out of it other than just torturing your long-suffering wedding planner.
1) I strongly recommend that you consider having your wedding rehearsal in the morning if you're hosting a destination wedding weekend. Your wedding party is going to be absolutely useless after an afternoon of drinking in the sun on the beach or at the golf course, and the rehearsal will be a waste of everybody's time. Do your rehearsal at 10 am before everybody has gotten started. Heck, I often plan cocktails at the rehearsals for my brides who are concerned about dragging the bridal party out of bed. We find that a little hair o' the dog in the form of passion fruit mimosas and Bloody Marys is just the ticket to lure them out of bed and to the rehearsal on time. Be sure to let them know drinks will be served on their wedding party schedules and some will show up early to beat the rush to the bar. Sad, but true.
2) Plan out your lineup in advance. It's so awkward to stand there while the bride tries to figure out whether she's lining you up by height, duration of friendship, family, or BFF status. Same goes for the groom. It's perfectly okay to have uneven numbers on opposite sides of the wedding party, but it's not okay to fire your brother to keep the numbers the same (cheap shot directed at a recent client) and still make him wear the matching suit with the rest of the wedding party even though he wasn't included in the pictures.

3) I don't care how many weddings they've been in, the bride and bridesmaids all need to be reminded to hold their flowers at crotch level to get the right height for pictures. Otherwise, they end up with cleavage flowers. It sounds funny but looks stupid in your professional wedding pictures. Seriously, ask all of my former bridal parties whether the words "remember crotch flowers ladies" isn't one of the last things they heard before they went down the aisle. It's a little crass, but it's effective -- just look at the pictures on my website if you doubt me. The brides and bridesmaids remember it.
4) Inevitably somebody important is missing from rehearsal so I tell everybody: on the big day, don't walk until I tell you to. When I say go, go. You can't screw it up that way. If you don't have a wedding planner, you need to choose a control-freak friend who will play helper for things like this. If you have the right Type A personality on board, rehearsal and going down the aisle the day of should be smooth as silk.
5) Listen to your wedding planner and give her your attention at the rehearsal. The bridal party is likely to follow the example of the bride and groom. If the groom is ignoring me and bullshitting with his friends, all the groomsmen ignore me too. Likewise for the bride and her girls. It's even a problem with the moms. If they start yapping, before you know it, nobody is listening. This is YOUR BIG DAY. Fine if you don't care that half your wedding party isn't going to be where they're supposed to be -- it's on you at that point. Once you're standing up in front of 50-plus people exchanging vows, there's nothing I can do to help you. You're the one who is going to look stupid, and remember that stupid moment, for the rest of your life in the wedding pictures.