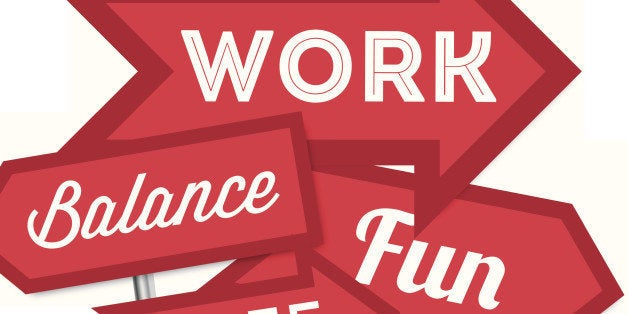 As a mom, wife, business owner and freelance writer, I have an overflowing plate of responsibilities. Often, I would find myself feeling overwhelmed, discouraged and stressed beyond all measure. I realized that while I was doing 10 different things, there were none that I was doing exceptionally well. That is when I came up with five ways to balance my family and my work, which allowed me to put my family and myself first -- without compromising my career. If you frequently feel as though you are running on the hamster wheel of life -- exhausted, stressed, and discouraged -- join me on stable ground. Parenting, career and marriage are a beautiful thing once you discover what really matters.
1. Schedule everything. Organization is essential to balancing your work and family. Start a calendar that focuses on one week at a time. The important part of maintaining this calendar is that every task, even those that seem insignificant, need to be scheduled. Tasks such as taking your kids to and from school, eating lunch and checking email all take a significant amount of time, even though they have to be done each day. By having everything on your calendar, you will be able to get a clear picture of where your time is actually going, and when you have time to schedule other tasks.
2. Start with success. Once you sit down to work, start with your most important task first. This will create a positive momentum and give you an instant "win." It will let you get the most important item crossed off your to-do list right away, and allow you to start the day feeling as though you've accomplished something.
3. Create special family activities. Work cannot be the number one priority all the time. In an effort to bring your family together, you can try to create special family activities once a week. This will depend greatly on the age of your family; however, movie night is a common way to spend some quality time as a family.
4. Disconnect. We live in a world that is connected 100% of the time. Shut your cell phone off for one hour per night. An ideal time to do this would be during mealtimes, so you can focus on your family instead of anyone else. It is normal to feel completely anxious the first few times that you do this exercise, however, you will see over time that it becomes something that you look forward to at the end of a stressful day.
5. Plan "me time." Make time in the day for yourself, even if it is just 15 minutes. Women all too often feel that, in order to be a good business owner, mother and wife, they need to be completely selfless. The truth is, we cannot take care of others if we do not take care of ourselves. "Me time" can be as simple as a hot shower in the morning before your family wakes up, or a glass of wine at night when your children go to bed. Anything that you can do to unwind will help you balance work and family.
Once you stop putting yourself last, you will be amazed at how much easier it is to take care of everyone else, manage your priorities, and enjoy your life!
Popular in the Community