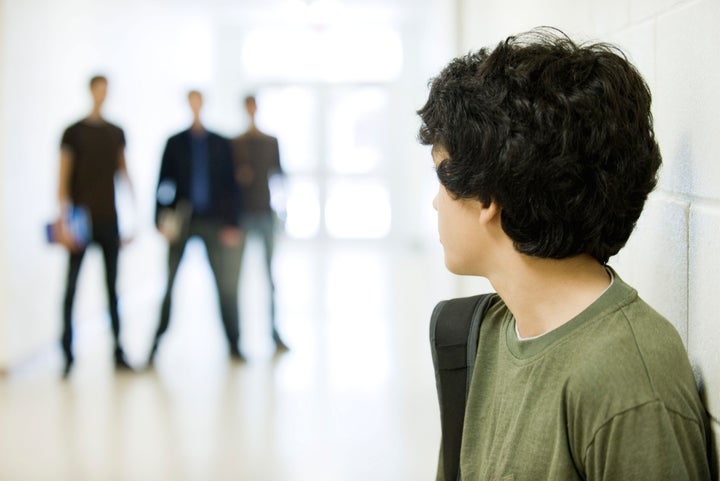 Editor's note:As a part of the 2012 Fullerton High School "Mr. Fullerton" pageant, senior Kearian Giertz was asked, "Where do you see yourself in 10 years?" Kearian responded that he hoped that in 10 years marriage equality would be legal so that he could marry the man of his dreams. As a result of his answer, a school administrator disqualified him from the competition. Immediately after the incident took place, Kearian's classmates, seniors Blake Danford and Katy Hall, started a letter-writing campaign, asking the question, "Where do you see yourself in 10 years?" They added their vision of what is needed to create safe and supportive schools. Blake and Katy teamed up with the Gay and Lesbian Community Services Center of Orange County andYouth Empowered to Act (YETA). The campaign became the foundation for YETA'scomprehensive, student-led program to inform students, faculty, and administrators about California's school laws, provide support and advocacy for students, and create safe schools in Orange County and beyond.
The Huffington Post is sharing the stories of several youth involved in the campaign responding to Seth's Law, which was enacted last week. For more information, and to participate in the campaign, visit Youth Empowered to Act.
Joto, maricón, mariposa, pato -- just a few of the words I heard other students (and their parents) call me throughout middle school. Unknown to them, I grew up in an authentic Mexican-American family, so I knew the meaning of their words. Each word was a variation of "f*ggot," and even the way they said it sounded cruel and disgusting; mariposa no longer meant "butterfly" to me.
Regardless of what people thought of me then, I walked from class to class seemingly unscratched; I would walk home hand-in-hand with the girl I claimed to like, only to find myself hours later sitting in my room in confusion -- thinking about boys.
In retrospect, the type of bullying I experienced in middle school was subtle, and its effect even more so. I never expressed the pain they inflicted on me, simply because I did not want any more attention. Within me, however, their bullying and words had sparked a battle between my culture's machismo, my Roman Catholic background, and a sexual part of me that just wouldn't go away. I thus graduated middle school very disturbed, dreading the possibility of my homosexuality and the future it held. I was scared of potential abandonment and of the teachings of people in positions of power in my church.
My experience in middle school showed me that bullying is not limited to age, as both students and parents acted in the same fashion. Having seen that machismo is rampant within my own culture and the city of Santa Ana, I believe cultural values often fuel acts of bullying. Machismo, to me, remains strong in my community because of the lack of conversation within many of these hardworking families, especially amongst the women, who often do not have the time to have a full conversation with their child. Exposing my community to such discussions will open some of their eyes.
My four years of high school were spent consumed by the process by which I came to embrace my sexuality and the pride I hold today as a young, gay queer. This was also a time when I experienced a very harsh form of bullying, beginning during my sophomore year, which exacerbated my low-self-esteem issues throughout high school. I find it ironic that I was bullied at my high school, of all places. Thanks to a program in my school district, I was awarded a full scholarship to a private boarding school.
It was not until my senior year that I was comfortable and happy enough to say I was gay -- I was no longer afraid for my future, thanks to a few select people in this world, including my supportive parents (whom I sadly underestimated). Unfortunately, bullying continued, but this time from a fellow openly gay peer.
His bullying not only attacked my self-esteem but forced me to strive for an idealism in both body image, attitude, and personality -- an unrealistic idealism. What he did to me really did affect me, especially when college started.
At the time of the bullying, I had the power to talk to the administration and a few faculty members at my high school about it. After telling them, I found myself surprised by how quickly they reacted: they'd confronted this bully less than 24 hours later. And even though the bullying and rumors did dampen, I must stress again that the effects remained.
As the LGBTQ community knows already, there are issues even within our own community. Specifically within the gay male population, there are issues concerning body image, racism, anti-effeminacy, internalized homophobia, and, even still, popularity. As a community, many of us have worked to discuss the core of these issues and have sought possible solutions, but despite it all, forms of bullying still exist.
Lucky for me, college is fantastic and filled with marvels and a challenging (and enjoyable) education, but I was still bullied even among young intellectual people. Today, through tears and hard work, I have reached a point in my life where the bullies no longer matter.
I am proud to be me, because there is and never was anything wrong with me in the first place.
I have five valuable pieces of advice for the bullied. These are messages to LGBTQ youth:
Don't back down. It is a cliché, but I mean it. There will be times when life may be dark, when even the sun lacks its brightness, and all will feel cruel and hopeless. I have been there, and I have done everything in my power to never return to that state of emotion. Find someone to lean on; there has to be someone out there you can find to support you and your life. If there's no one in real life, then there are plenty of forums and websites where trustworthy people are available to talk to... you can even trust me. But please, do not give up on life. Your life is too precious to lose; if I had known life would be so good five years ago, I would have gone through high school like a champion, but life wasn't meant to be that easy, as we must mature and learn through our own battles that we can naturally conquer. You will find your bastion of hope. This world is not that bad; I assure you that there is a place where you can celebrate and sing your identity among others who love you.
Find your support network, and keep it. Friends will be everything to you in these hard times of bullying; friends can be anybody you can trust, such as family, teachers, and even your dentist.
Pursue an education. Yes, some of us might not be good at math or writing, but we all have our strengths and weakness when it comes to the world of academia. Hone in on your strengths, and go to college, and work toward a career. Major in a field that you are willing to dedicate your life to (it is not easy to choose which major to study, but you will get there). Make your education and your college life fun, but do not be careless. A good education is a good life; stray away from it and you will regret it in the long run.
Follow your passions. Aside from academics, find something you personally love to do or think you would love to do. This could be something like cooking, fashion design, painting, writing, or even running. For example, since middle school I have always wanted to dance, and in college I was given the chance to do just that. Ever since I started dancing, I have been so happy, and I long to improve and learn more. Doing what you love really keeps your mind focused on something you know will make you happy. And happiness is always welcome, right?
Do not be afraid to ask for help. Sometimes you may think you can solve issues like bullying on your own, but it is best to seek help when you need it.
Popular in the Community