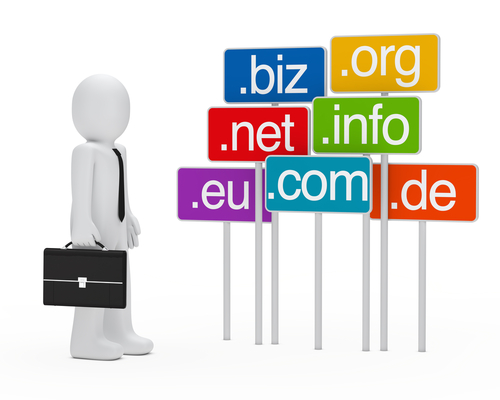 What's more important than the design of a new website? As someone said, words have meaning and names have power. This is becoming more and more important in the age of internet marketing and branding development.
Many assume the first step to starting your own website is design, but choosing the right domain name is equally important--in fact, perhaps it's the hardest part of the site creation process. If you consider the difficulty in transferring websites to new URLs - not to mention the potential SEO losses that could occur by doing so - it's clear that you need to get things right from the start.
These days it's harder and harder to find an iconic, easy to remember name that also happens to be available. What happens when the domain name you'd like is owned by someone else? You could try to purchase the domain from the owner if it's that important to you (use "whois" to find contact info). But this can sometimes prove costly, especially for a startup that can develop a similar alternative for free.
Most small to medium business sites (those in the top 10 in SERPs) achieve placement in the top 10 rankings using branded keywords. This is just one reason why it's important that your domain name matches your brand.
From Very Jane to JANE
I recently wrote about a company, Very Jane, in an article called Pay It Forward--A Karma Seed for Success. Very Jane, a daily deal web site for women based in Lehi, Utah, waited 2 years and millions in revenue later to switch brands in mid stride. Why did they wait? Because the name wasn't available at the time.
The new site will be unveiled on September 10th with a new URL, www.JANE.com, along with the new name for Very Jane, now to be known simply as JANE.
"JANE allows us to communicate our brand - style for women in clothing, accessories and homes - in a single word," said JANE CEO Mike McEwan. "We had the opportunity to procure the JANE.com domain and saw it as a simple way to differentiate ourselves in a competitive market, while continuing to offer the best boutique deals, customer service and seller satisfaction."
Andrew Rosener, CEO of domain brokerage firm Media Options, commented on the VeryJane brand change as well: "The acquisition of the Jane.com domain name and move from VeryJane.com to the shorter, one word domain, was a great decision."
Rosener is correct. One-word domain names are nearly extinct at this point. I went to instantdomainsearch.com to look up the word JANE, and found that the closest I could come to an available site (for a small fee) was jane.co. Interestingly, other similar domain names (tjane, ljane, jackjane and mjane) were being offered for tidy sums between $1,400 and $2,500.
"Not only is Jane.com shorter, easier to remember and faster to type and access from a mobile device," Rosener continued, "but eliminates the need for protecting the brand from impostors or competitors who could easily pop up on any number of variations such as JustJane.com or AllJane.com or MyJane.com. There is only one Jane.com and now it will be put to use to further enforce and grow an already great brand."
Using Jane as an example, you could choose to go with a variation of your brand name as your dot com, making a very good move to a premium domain later on down the road. But the best way to handle things is to get it right the first time.
But how do you go about choosing what's right for branding your company?
Five Tips for Choosing a Domain Name

1 - Name Your Brand
The first thing you should do is consider what urls are available to you--then choose your brand name accordingly if you can. Be creative--do your research and see who else is using that name or anything similar. Be original, exciting and innovative when naming your brand--the same way you should be with your product.
2 - Tie Your Brand to the Domain Name
Your domain name should match your brand. Always choose one that doesn't need explanation. Here's a list of twelve domain name helper tools.
3 - Don't choose a domain based just on keywords in the URL
Main keywords are not the key for high ranking in your domain name, although this is a factor. Think out a memorable, brand-related and available domain name, but don't get obsessed with it. And keep it short and simple if you can, like JANE. One of the biggest problems with buying domain names is domain abuse. Existing backlinks in Google ("link:www.yoursite.com") should always be checked beforehand (Wayback Machine is great to ensure clean domain names).
4 - Don't Try to be Clever
Forget about hard-to-spell, long and clever words or anything too complex--unless you want to make it hard for people to remember your url. Do yourself a favor: dump the cutesy names and don't use numbers--they won't help. Best practice? A name with only one possible spelling.
5 - Extensions Matter (.com, .org, .net, etc.)
As of June 2013, there are 110 million .COM, 15 million .NET and 10 million .ORG domains on the web. Because most people still assume that .COM is the only possible choice, it's the better option.
6 - Misc
Make sure you're not infringing on anyone else's copyrights. Always register your domain for the maximum period. Choose a top publishing site like Blogspot or Wordpress (you can check their ranking here).
The creative process of choosing a name for your website is just as important as choosing a design for it. Just as you need a rational, strategic way to run your business, finding a memorable and successful name for your website requires that same rational strategy.
Now ask yourself? Have you done your branding/domain name homework?
Support HuffPost
The Stakes Have Never Been Higher
Related
Popular in the Community