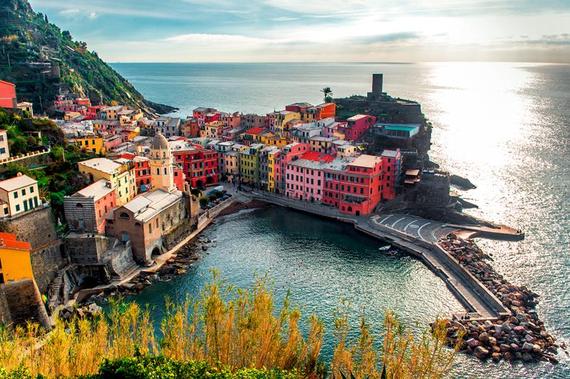 A morning cappuccino in a breezy piazza. A long day on some sun-kissed strand in the South of France. Greek isles. Countryside castles. Have we gotten you dreaming of Europe yet?
This year, Europe is the perfect summertime destination. You'll likely find good savings on the ground, with a strong US dollar leading to more budget-friendly hotels and attractions in 2015.
But first, you'll need to buy a flight. And that's where we come in. At Hopper, we analyze huge amounts of flight-price data and track airfare trends over time. This means we can offer you incredible insights into when flights are at their cheapest points and which days are the best to buy. This means that we can save you a pile of money on your flight to Europe this summer:
Check out the following tips for finding cheap flights to Europe -- and you can save up to $600 on your summer vacation!
Travel at the Beginning or End of Summer

Hopper crunched the numbers and we found what times were the most popular and the most affordable for trips between May and August. Our research revealed that June is the most popular month for European travel, with prices peaking at the end of July. But the lowest prices are in the first half of May and the last week and a half of August, so plan your travel for the beginning or end of the summer. You could save as much as $600 per ticket!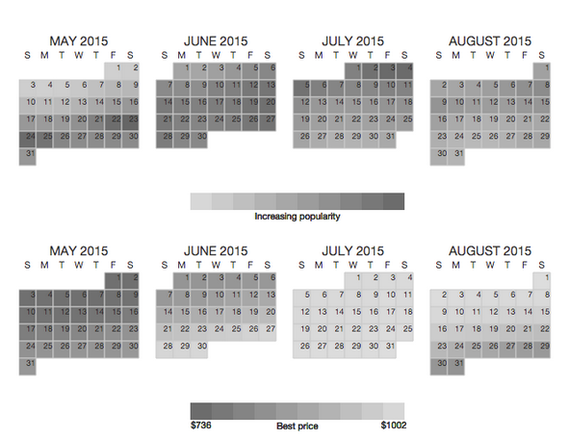 Find a Less Popular Arrival City

When it comes to cheap flights to Europe, not all cities are created equal. In fact, the more popular cities tend to be the more expensive to fly into. Destinations like London, Paris, and Rome all top the charts when it comes to flight price. So look into less-popular (but no less amazing) European cities. Generally, Scandinavian countries command cheaper prices this summer, with cheap flights from New York to Oslo coming in at just $596 and Los Angeles to Stockholm for just $740, for example. Istanbul, Budapest, and the pretty Portuguese destination of Ponta Delgada are also great bargains. In fact, you could save more than $400 compared to flying to marquee cities. Check out some tables below to compare the most popular and the cheapest European cities from your departure airport.
From New York (JFK, LGA, EWR)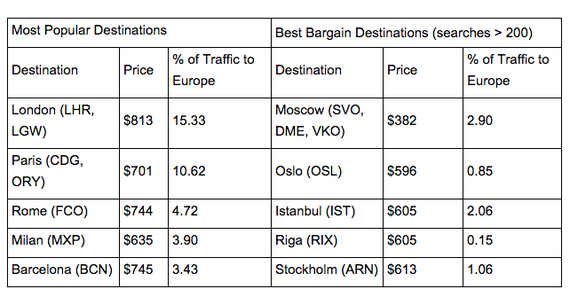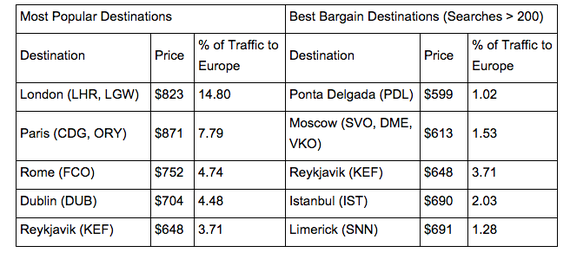 Buy Separate Intra-European Flights

Rely on the budget airlines of Europe to get you around the continent this summer and you could save a decent chunk of change. From the big players like Ryanair and Easyjet to regional airlines like Eastern Airways, HOP!, and airberlin, intra-European flights are available this summer for less than $200. So fly to a lower-priced airport and then jet around the country for less. Read Planning Multiple Trips to Europe? Use this Travel Hack to Save Hundreds! for more info on booking separate segments on your Europe flight.
Choose the Right Days to Fly

There are many aspects of air travel you can't control (delayed flights, little legroom, disgusting in-flight food). Luckily, the days you depart and return are two cost-cutting factors you can actually choose. Using all the data we've amassed at Hopper, we found that Tuesdays are the best days to buy and to depart and Mondays are the best to return. Flying on the weekend is consistently the priciest way to travel. You can save an average of $38 simply by choosing a Monday return instead of Saturday.
Our data show that you can save more than $125 by purchasing your tickets at least 60 days in advance. In general, high-season travel means booking early is your best bet for big savings, but you don't want to book too early and miss the best possible deal. After all, flight prices may drop.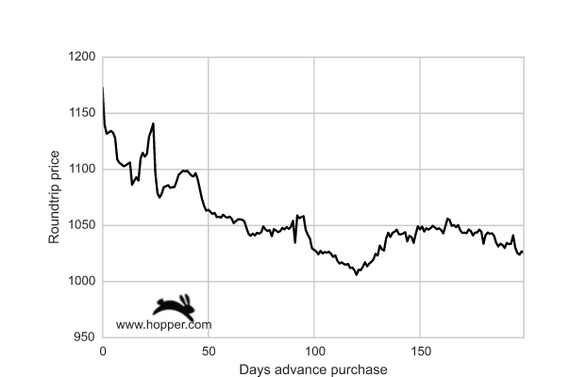 The easiest way to track a flight's price is to... well, let us do it. Download Hopper's mobile app and set up airfare alerts for your flight. We'll watch your flight and send you notifications when the price drops. That way, you know you're getting the best bargain in your flight to Europe ... and you won't have to sit at your desktop, hitting refresh for a few months!
Popular in the Community