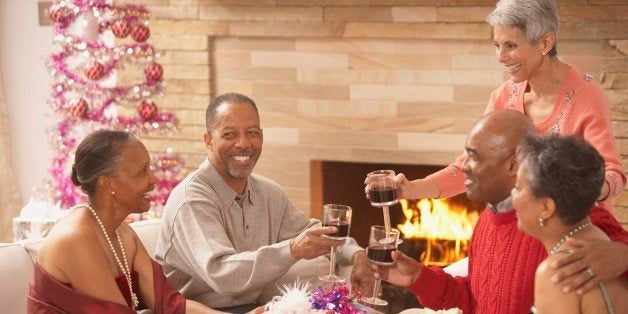 The holiday season has arrived. This often means a joyous time filled with family, friends, and delicious food. For people with food allergies and sensitivities, it can also mean a time of anxiety and hesitancy. However, it doesn't have to be.
This year, if you are throwing a holiday party it's important that you are mindful of people with food allergies and sensitivities. The good news is that it is possible to host a festive party while keeping food safety top of mind.
Here are a few food allergy safety tips that every host can follow to throw an allergy-friendly holiday party this season.
1. Communication is key.
For smaller parties, hosts can communicate in advance with their guests to learn if anyone has a food allergy and alter the menu accordingly.
For a larger party, the host can encourage people to get in touch with them before the party. Another idea is serve "safe" snacks that are free of the eight most common allergens: milk, eggs, peanuts, tree nuts, fish, shellfish, soy, and wheat.
If you are sending out invitations, this is a great opportunity to inquire about food allergies. You may want to consider an option to allow guests to list any food allergies or sensitivities along with their RSVP. People with food allergies should also try to reach out to the host and inform them of any food allergy triggers in advance.
2. Prepare food safely.
When cooking for a party, prepare and store allergy-friendly meals separately from the rest of the dishes. For food preparation, cross contamination is also an important factor to consider when hosting a party with food allergic guests.
If you are cooking several dishes at the same time, be sure to use separate cooking utensils and have a separate cooking area for each dish to ensure there is no contamination between the dishes. And yes, that means you should use a different spatula/wood spoon for each dish you are preparing. Also, make sure to clean all cooking equipment and utensils before preparing food in an effort to remove any trace allergen proteins.
3. Throw a potluck.
It might be too overwhelming for a host to try to cater to every individual guest's needs, so an easy solution is to have everyone bring their favorite dish to the party. This ensures that every guest will be able to eat at least one dish. Those who bring food can also be encouraged to display their recipe next to their dish so other guests can read the ingredients. This is a great way to identify which dishes have specific allergens in a fun and friendly way, without drawing attention to the people that may have food allergies or sensitivities.
4. Allow allergic guests to eat first.
Before opening the buffet line or food table, allow guests with food allergies to fix their plates first. This helps prevent potential cross contamination, such as mixed up serving utensils or ingredients.
5. Plan a non-food party.
While many people enjoy gathering at a friend's or family member's home for a party, a host might consider mixing things up and throwing a different kind of party. Invite friends and family to an outing, such as going to see a holiday movie or going ice-skating. Guests with food allergies might be more comfortable at these types of events because they can eat beforehand or make other arrangements -- the fun is not dependent on the food.
Holiday party hosts should not underestimate food allergies and sensitivities. By following the above tips and being mindful, a host can guarantee that every guest will have a happy and safe evening. Happy Holidays!
Related