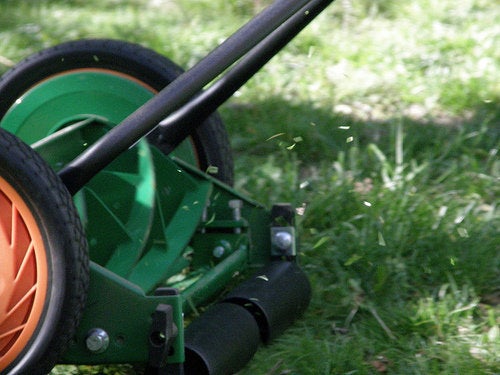 Ok, I get it. You don't want to dig up your lawn and plant a vegetable garden. Lawns can be good for some things, I guess--a family game of touch football, Frisbee golf, throwing tennis balls for the dog, etc. Plus, I admit, it totally sucks when you make a gorgeous diving catch of the ole' pigskin right into your tomato trellis. (No I haven't done it, but this guy I know...)
So, if you must have a lawn, how can you keep it in a way that doesn't require constant watering, chemical fertilizers, and emission-spewing lawnmower...ing?
Let the grass grow longer on your lawns. Cutting it short encourages growth, which needs lots of water. Plus, longer lawns last longer!
Aerate and spike lawns early in the season to promote deep roots.
Don't feed your lawn fertilizers; this encourages excessive growth and requires lots of water.
When you cut your lawn, leave the cuttings on it. This will reduce moisture loss and return nutrients to the soil--making next year's lawn greener without chemicals. (If your lawn is really overgrown, compost the first cut.)
Exercise, not engines! Using a push-mower will cut your carbon emissions, discourage over-cutting, and get you some much needed exercise. Yes. You.
Popular in the Community