Ah, December. A magical month when people are filled with optimism and good will, aided by the flowing supply of baked goods and alcohol. Take advantage of the holiday cheer and the constant stream of parties in the last few weeks of the year to step up your networking efforts. If you are looking for a new position or want to grow in your current one, holiday parties are the perfect time to build a rapport and establish future connections with those already in your network or about to be.
Whether you're at an office event or a social one, holiday gatherings offer a great opportunity to get to know and impress others who may be able to help your career development. People are generally friendlier and more open during the holiday season making it easier for you to be friendly and open back. Here's how to make these parties work for you: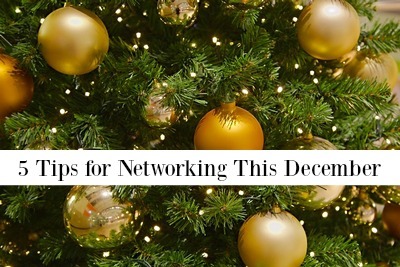 1. Let the Good Times and the Good Conversation Flow
Walk in with a smile and maintain a positive outlook. No one wants to spend a cocktail hour listening to you lament a distressing job search or complain about your boring work assignments. Now is the time to be chipper, or at least better at faking it. Set your intentions before the party to be receptive to new ideas and new people. Challenge yourself to ignore your phone for at least thirty minutes at a time.
Create goals around the networking such as committing to speak with at least five people at each party. If you want to be promoted at your current company or are looking to expand your project base, find the influential people with whom you normally do not have direct contact. When you are at a non-work function (or at least not your work function), branch out from your close friends and meet new people who may surprise you with their connections. Ask any mutual contacts to introduce you to others for the best response.
2. Make People Feel Good About Themselves
Let's face it, most people's favorite topics of conversation revolve around their own lives. Here is your chance to give others a chance to shine through flattery, thoughtful questions, and, hopefully, genuine interest. Make sure you are listening more than you are talking in these conversations.
If you know who is going to be there or have a target in mind to meet, do some research so that you are prepared with conversation starters (think hometown, college/grad school, kids/no kids, etc.) Ask questions that force an answer about interesting topics, though try to steer clear of polarizing political questions. Lead with something as innocuous as, "what are you doing for the holidays?" or "I'm trying to plan my next vacation. What's your favorite destination?"
3. Be Helpful Instead of Asking for Help
Mention your work (or lack thereof) but do not belabor it. Remember, this is an introduction to the professional relationship. You are laying the groundwork and will reap the benefits in the new year. Building a rapport and connecting first on a social level will allow you to find common goals later. That said, have a quick elevator pitch ready to be specific about your work or your desired work.
Offer to introduce new connections to relevant contacts, invite them to an event, or send along an article or restaurant recommendation that you are discussing. Find ways to offer your insight and be confident in your knowledge so that you leave a lasting impression. This quid pro quo will make someone that much more likely to help you in the future. Only give out your card if someone asks for it, but be sure to get the card (or name for LinkedIn) of everyone you speak with to follow up.
4. Reach Out Immediately After Meeting
Connect on LinkedIn and/or other social media that day or the next with a personalized invitation mentioning something specific about your conversation or the event (i.e. "I'm still dreaming about that cheese spread..."). Also be sure to thank the party host with a hand-written note so that you stand out and get invited back next year.
Following up on your conversations further with a holiday card or a New Year's card is an easy way to include the contacts in your personal and professional circles. As noted above, demonstrate your commitment to these newest members of your network by actually sharing information, contacts, or knowledge that will benefit and, ultimately, endear them. Touch base with any relevant people come January and ask for a meeting to further discuss potential opportunities to work together.
5. Create Your Own "Party"
Now is a great time to reunite with colleagues, former colleagues, supervisors, friends, friends of friends with great jobs, or anyone with whom you may not have had much face time recently. Most companies tend to slow down around the holidays so it might even be worth trying to make lunch or coffee or happy hour dates happen if the weekends are too full.
If an in-person gathering is impossible, use this time as a way to reestablish connections with your network through phone calls, holiday cards, or an update email to suggest getting together in the new year. This has the dual benefit of letting someone know you're thinking of them and encouraging them to think of you.
Happy holidays and happy networking!
Get more work and money news from GoGirl Finance delivered to your inbox every week: Click Here to Sign Up
Elana Konstant, author of this article for GoGirl Finance, is a career coach and consultant focusing on professional women in career transition. You can find out more on her website, Konstantchangecoaching.com.
REAL LIFE. REAL NEWS. REAL VOICES.
Help us tell more of the stories that matter from voices that too often remain unheard.