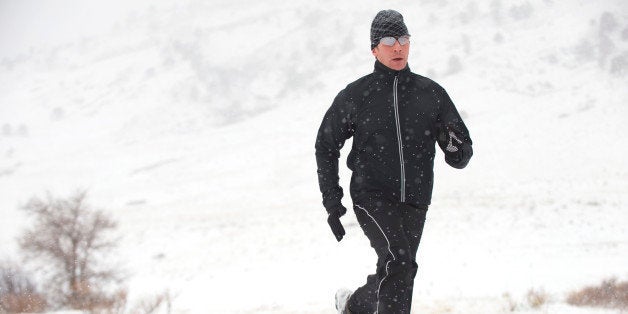 Today was cold. It was teary-eyed, catch-your-breath, ice cream headache cold. But that didn't stop me or thousands of other runners from braving the sub-zero temperatures and enjoying our daily workout despite the frigid winter weather. The key to running in the extreme cold is to protect yourself, wear the proper clothing, and have an exit strategy.
You've heard this one before. Probably from your mother, who advised you take along your jacket -- just in case. Well, you should listen to her. A good approach to running in sub-zero temperatures is to wear a breathable synthetic layer, followed by a second insulating layer, topped off by a wind-proof shell. (synthetic layer, half-zip shirt, shell) On the bottom, consider the same approach in two layers (synthetic layer, tights or pants).
You'll be harder to catch than a greased pig in a snowstorm. Smother Vaseline on any exposed skin to offer insulation from the cold and protection from the wind. That means your nose, cheeks, chin, neck, and ear lobes. You'll be amazed what a layer of this stuff can do.
Tip from the pros: If you're racing in shorts on a cool day, you can coat your hamstrings and other important muscle groups in Vaseline to keep them warm.
3. Protect Your Bits and Pieces
Okay, guys. This one's for you. Buy yourself some underwear that is synthetic and offers windproof protection where it's needed most. You only need to run in the freezing cold once to realize the value of this garment.
Wear a good hat that covers your ears and keeps you warm without causing sweat to trickle down your neck and freeze. There are several breathable winter hats made for this purpose. Keeping your hands and feet warm will prevent frostbite and make your run more comfortable.
I have found good success wearing wool mittens over synthetic running gloves. The mittens always seem to keep my hands warmer than gloves, and the synthetic gloves keep my hands from getting sweaty inside the mittens. On my feet, I wear some warm Merino wool running socks.
It's always important to tell a friend or family member that you're going out for a run. However, running in sub-zero temperatures makes it a necessity. You don't want to get stuck out there. It's a good idea to bring a phone along as well. Let's face it, even if you don't normally run with your phone, you'll be glad to have it. Be smart and stay safe and you'll look forward to winter running.