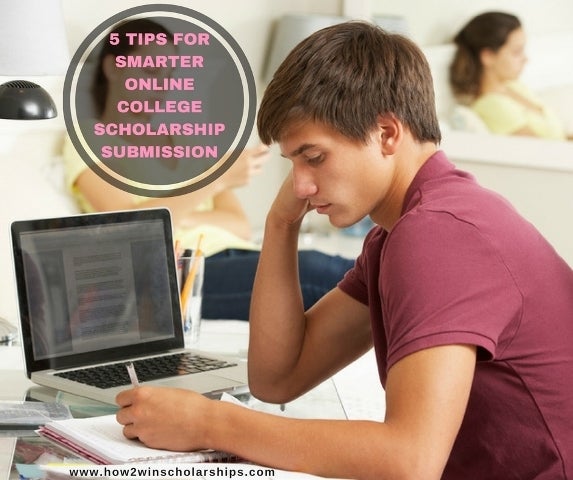 More and more college scholarship providers are changing from the traditional mailed-in scholarship packet to online applications that can be submitted with one simple click. Because the ease of submission is faster, more students are applying for scholarships and the competition is greater. Students need to find a way to give their applications an edge and make them stand out from all the rest.
Here are five ways in which to submit a smarter online college scholarship application:
1. Maximize essay word count – The scholarship essay is the heart and soul of the application, allowing the judges get to know the student on a deeper level. If the essay requirement calls for 250-500 words, students should write a quality essay with as close to 500 words as possible, without going over the word limit. Scholarship essays should include personal details and always completely answer the question or prompt found in the application guidelines.
2. Create a website and insert the link – There are many free website builders and online hosts found on the internet. Students can build a simple website featuring grades, academic achievements, community service involvement, and anything else that shows well-roundedness and commitment to doing well, getting into a good college, and winning scholarships. On the online scholarship application, the link to the website can be shared so scholarship judges have another way to learn about the student and see their achievements.
3. Print and review – It is so tempting for students to fill-in their information, copy and paste a scholarship essay, and "click" to submit the application. Students need to resist this urge and print out each part of the application, as well as the essay. This is important for two reasons. First, so they can have others read over their information and check for mistakes, omissions, and hard to understand wording. Second, a hard copy filed in a "Scholarships Applied" folder will come in handy for future scholarship submissions, clarity if the student becomes a finalist and questions are asked by the judges and back-up in case their submission becomes lost in cyberspace.
4. Click in the morning only – Students staying up late to finish a scholarship application will be much more likely to miss mistakes than those who read over it with fresh eyes the next morning. No matter how awake the student thinks he or she is, submitting online scholarship applications late at night with tired eyes is always a bad idea.
5. Submit well before the due date – An online scholarship application may have a clear due date, but with hundreds and possibly thousands of students all submitting their applications on the same day, websites have been known to crash or get over-loaded, causing many applications to get lost or remain unsubmitted. College scholarship applications should always be submitted at least two weeks before the published due date.
Online scholarships may seem quick and easy, but still need to be treated with meticulous care and attention to detail. There are many more scholarship winning tips found in my guide, How to Win College Scholarships.
Monica Matthews helped her own son win over $100,000 in college scholarships and now shares this passion with other parents and their students. Her scholarship tips have been featured on several websites and she has been dubbed the "Go To" expert on college scholarships. You can find her scholarship guide and tips at how2winscholarships.com.
Related
Popular in the Community