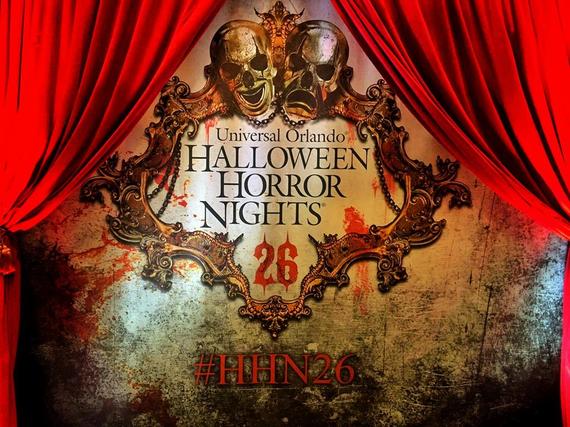 Fun fact: I really don't care for horror movies. They are either scary, weird, boring, or just don't make sense.That being said, Halloween Horror Nights is one of my favorite events of the entire year and I absolutely love everything about it! This is my 5th year in a row wandering around Universal Studios so I feel like I'm decently qualified to share my expertise to help you survive your first or 21st trip to Halloween Horror Nights!
5 Tips For Surviving Halloween Horror Nights 26
#1. You can never be too early
I am dead [lol] serious about this! The event starts at 6:30 but Universal generally opens the gates around 6-6:10. If you arrive at 6:30, the place will already be super crowded. This photo was taken at 6:20 before the park officially opened. Just 20 minutes later the Walking Dead house was already at a whopping 60-minute wait! Make sure to budget time for parking, walking, and security!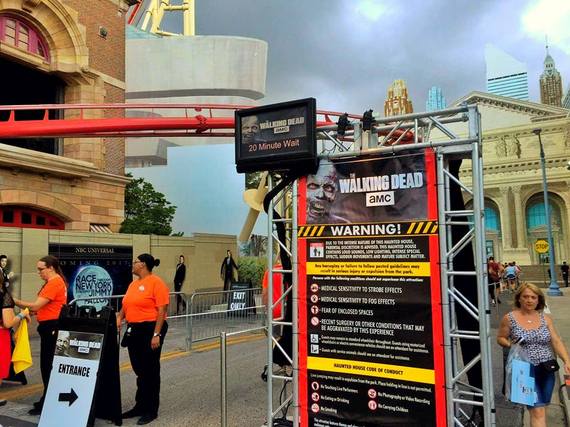 #2. It's all about the strategy
Although you can pay extra for front of the line access or a "RIP" tour, most people opt to stand in lines. Lines can range from a short 45-minute wait to a crazy 100-minute wait. Thankfully, if you strategize your night properly, your longest wait may be 30-40 minutes. First, arrive at 6 or earlier. Next, head to the far ends of the park. Everyone will rush to the houses at the front entrance and those will immediately become 60-minute waits while houses in the back corners will sit at a nice 10-15 minutes for a while. Later in the night you can circle back around and hit the houses you missed while experiencing shorter wait times.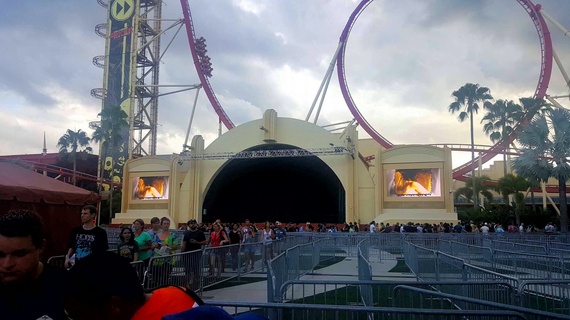 #3. Make time to ride the rides at night
Nothing beats the thrill of riding rides at night! A roller coaster that is typically an hour wait during the day may only be 15 minutes at night. Enjoying rides is a great way to get off your feet and mix up your night. If a line is particularly long, go for the single rider line which is typically 5-10 minutes at most.

#4. Wear comfy shoes and be prepared to walk
People generally clock an average of 7-8 miles per visit at Halloween Horror Nights. In addition to the walking, you will be doing a ton of standing around waiting in line which can be tough on your back and feet. Make sure to wear shoes with support. Don't be like the friend who wore flip flops and complained the whole time or the girl who thought high heeled booties were a good choice. You can be stylish later, Halloween Horror Nights is about being comfortable.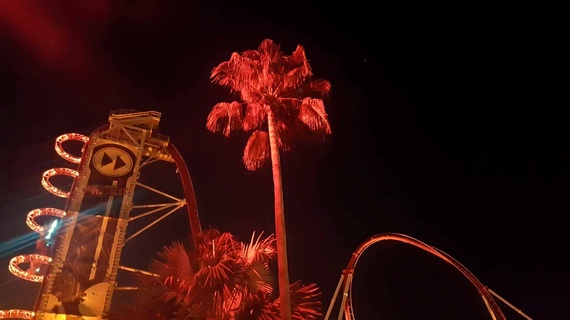 #5. Take advantage of the shows
After walking around and standing on your feet for hours, sitting down for a show with a cold drink is the best. This year, Halloween Horror Nights has two shows to choose from. First, Bill and Ted's Excellent Halloween Adventure is a must see! It is a hilarious parody on pop culture and is celebrating its 25th birthday. Bill and Ted has tons of show times to choose from and is the only show offering seating. New this year, Academy of Villans: House Of Fear is a high-energy dance and acrobatics show but it requires you to stand. If you can only pick one, go with Bill and Ted!
What is your favorite thing about Halloween Horror Nights? Have you been before? Let's talk in the comments!
This post was originally published on my personal travel blog, Follow Me Away.
You can also follow my one-of-a-kind photo project on Instagram.
Related