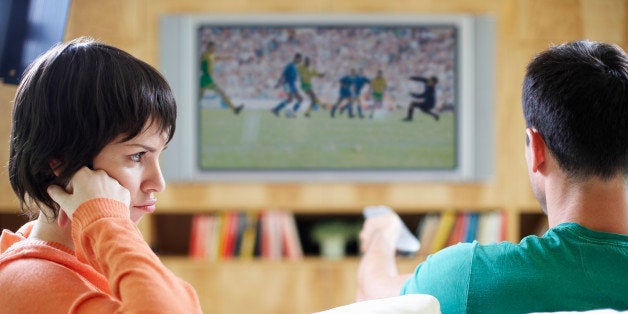 Are you ready for some football? Yes, that time of year has arrived, when every Sunday is devoted to TV viewing and your partner's mood is continually altered by injuries, touchdowns, interceptions and ever-changing fantasy football stats! Here are a few tips to make football Sundays fun for the whole family:
1. Pick Your Battles
It takes most wives a couple of years to learn this one, but the sooner you learn, the better! If your husband is a die hard football fan, there is no point in trying to compete with Sunday football. Plan your errands, family activities and anything else you want your spouse to be an active participant in on Saturdays. Spare yourself the battle and instead devote your Sundays to your kids, friends, family and/or time on your own.
2. Remain In The Know
Your partner's mood often will be dictated by his team's performance. Stay up-to-date on the game so you know how close it was, how well the team performed and most importantly, whether they won or lost. There is nothing worse than walking into the house and asking "who won?" to the diehard fan who is sulking after a painful loss! Plus, you earn extra brownie points when you act like you have a clue about what happened in the game. I make sure to check Twitter and ESPN a couple times throughout every game -- do yourself a favor and do the same!
3. Raise Mini Sports Fans
Moms of newborns will slowly learn that most husbands are happy to "watch" the baby during football Sundays, when they can park their mini-me on the couch next to them. And, as you children get older, it's in everyone's best interest to ensure that your kids are just as in to the game as dad is. Your kids get to bond over football with dad, dad gets to watch the game and get credit for "watching" the kids, and you have just scored (pun intended) four hours to yourself! Everybody is a winner!
4. Befriend Fellow Wives of Football Fans
Misery loves company, right? Find wives and moms who are in the same boat as you. You can plan family football viewing parties together -- "watching" football is much more tolerable when your kids have company and you have friends to gossip with! Must-haves at my viewing parties include wine, fun magazines and girlfriends who know Tom Brady as Gisele's husband!
5. If You Can't Beat Em', Join Em'
Get a couple of girlfriends together and create your own fantasy football league. It can be a fun way to learn about the sport while socializing with your friends. Before you knock it, you may even want to give football a try! I don't like to admit it for fear of furthering my husband's sports obsession, but as I've learned more about the sport, my sons get more into it, and my family becomes more vested in our team, I can't help but enjoy it!
Anjali Varma is "The Modern Mompreneur", her site and YouTube channel provide entrepreneurship, lifestyle, and parenting tips for the modern mom. She is also the owner of Kidville Bethesda, an enrichment facility that offers classes, retail, haircuts, and birthday parties for newborns - 6 years old. You can find Anjali on Twitter and Instagram @anjvarma
Related
Popular in the Community