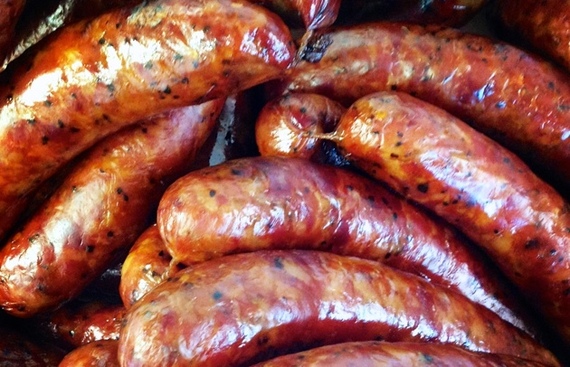 "The Tokyo chicken number (juicy, salty and spicy from shishito peppers) is the most appealing chicken sausage I can remember," wrote restaurant critic Pete Wells in a recent New York Times story. He went on to describe the double smoked brisket sausage as a "phenomenal piece of barbecue, packing more smoke into a sausage than I'd thought possible."
You got that right, Mr. Wells. Jake Klein, owner of Jake's Handcrafted in South Slope, Brooklyn, is one of the most creative sausage makers in North America. Jake has channeled Spanish paella, New Orleans oysters Rockefeller, Miami's cubano sandwich, and a New York deli Reuben in a sausage casing. To make the aforementioned brisket sausage, Jake folds home-smoked burnt ends into ground fresh brisket meat, which he re-cooks a second time in his smoker. Think of it as barbecue's second coming.
With tailgating season upon us, I asked Jake for his top tips on making and grilling sausage.
Start with whole muscles. The collagen helps give the sausage a supple texture.
Make sure your meat is super cold--almost frozen--before grinding. This will give you better texture, facilitate grinding, and help with the emulsification.
Use lots of liquid. I push the limits on how much I incorporate. This will help make your sausages juicy and not greasy.
When cooking fresh (raw) sausages, allow them to come to room temperature before grilling. This will keep them from bursting on the grill.
Take your time. Work over medium heat and allow some of the rendering fat to crisp the casings.
SIGN UP for Steven Raichlen's UP IN SMOKE newsletter to learn more about barbecue!
Steven Raichlen is the author of the Barbecue! Bible cookbook series and the host of Project Smoke on public television. His web site is BarbecueBible.com.