"Food is life. There is no other way to say it. Food brings families and people closer together, especially healthy food. There is always something to learn and talk about when it has to do with food." -Chef Dena Marino
Every January, millions of Americans resolve to ring in the New Year with healthier, more active lifestyles. Even with the best intentions, making healthy habits daily rituals can be difficult, especially without a dedicated support system. Having friends and family share your quest for the best possible way to live makes it easier for everyone to stay committed to the goal of good health.
This month, Common Threads kicked off a happy, healthy 2017 by celebrating its second annual Cooking for Life Month, which calls attention to the importance of equipping our country's children and their families with nutrition knowledge and practical cooking skills. Today, one in three children in the U.S. is overweight or obese. We know that obesity is a direct contributor to heart disease, stroke, cancer, depression and dementia. Teaching children and families to eat more nutritious home-cooked meals allows them to take control of what they are eating and make healthier choices, setting the table for an improved relationship with food.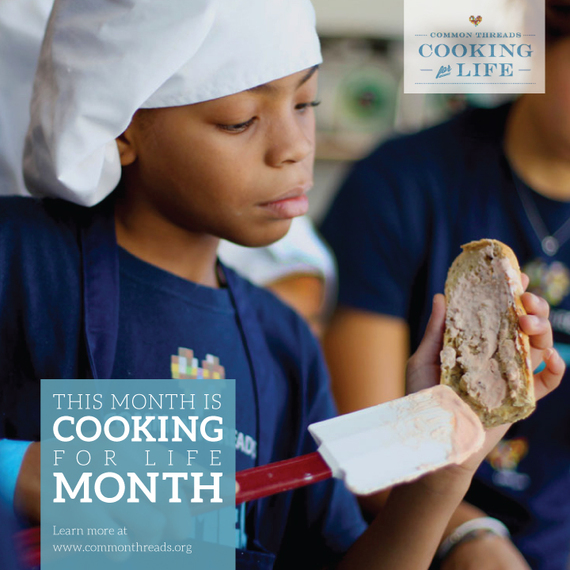 Common Threads' Cooking for Life Month campaign features several charitable events and promotions in restaurants across the country, as well as a special Facebook giveaway, where participants can win a free private dinner cooked by a celebrity chef.
"Common Threads takes on one of the biggest societal problems that exists today - malnutrition," said Chef Bun Lai, whose award-winning family restaurant, Miya's, in New Haven, Conn., became the first sustainable sushi restaurant in the U.S. "In a country where calories are cheap and nutrition is expensive, obesity and poverty go hand in hand. Nutrition is the most practical and affordable way to prevent many of the diseases that plague our communities and that is the reason the work of Common Threads is so vital."
Establishing and honoring family food traditions leaves imprints on our hearts and inspires a passion and appreciation for our family, friends and everyday blessings. The simple act of cooking and sharing the table is one doable, accessible and affordable way to curate moments with care, companionship and conviviality. We rallied several talented, passionate chefs and food writers to create five fun and simple tips for families to start their own culinary traditions and get Cooking for Life in 2017:
1. Make Family Meals a Tradition & Get Everyone Involved
"Breaking bread with family is a great way to share time, pass on traditions and eat great food," said Neal Fraser, the chef/owner of five Los Angeles restaurants. He remembers the joy he felt when he and his mom made pasta from scratch for the first time and was surprised how easy and delicious it was. "Healthy food is always the most flavorful and makes you feel better," Fraser said.
Family mealtime allows parents to check in with their kids about their days, commemorate precious moments and build deeper connections. Research by the National Center on Addiction and Substance Abuse at Columbia University has shown that kids who frequently eat with their families were twice as likely to report better grades, and JAMA Pediatrics research showed that they are less likely to succumb to substance abuse, become depressed or consider suicide.
"We ate dinner together almost every night until I left for college," said Melissa Joulwan, author of the Well Fed cookbook series, who still reminisces about cooking scrambled eggs with her brother and pretending to host a TV show in her home kitchen. "It gave us an opportunity to really talk about what was happening in our lives--the good and the bad. I don't remember us talking explicitly about why cooking and eating together was important, but I could feel it. When I'm in the kitchen with my family, we work together like a well-oiled machine. I think it's really challenging for families to carve out that time together, but I also think it's really important, at least once a week, to sit down together, have some real talk and eat delicious food together."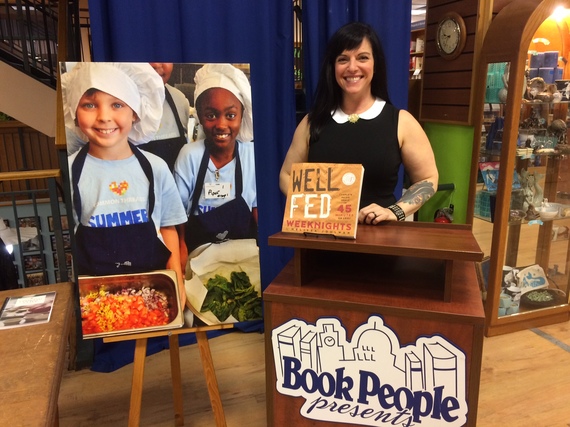 Well Fed author Melissa Joulwan recently held a book signing in Austin and donated a portion of proceeds to Common Threads.
But between school, work, sports, music and the many other activities that keep us busy, sitting the whole family down to eat a meal together can seem impossible. To get the kids excited about participating in family meals, engage them in the process. Bring them along grocery shopping, let them pick the menu or, best of all, have them gets their hands dirty in the kitchen cooking with you! Cooking, like art or music, enhances childhood development and stimulates the brain. Kids use math and reading skills to follow a recipe and measure out ingredients, practice attentiveness by concentrating on the task at hand and express creativity by experimenting with new ingredients and techniques. Plus, kids love to eat what they have cooked.
Start with committing to cooking one healthy meal a week and then work towards two. Try a one pot wonder or a recipe using a slow cooker, which usually takes minimal prep time. I have made BBQ, tikka masala, fillings for lettuce wraps and tacos, chili and shawarma in mine. When I need inspiration, online resources like Food & Wine provide a wide range of healthy recipes and Food 52 has thousands of simple slow cooker recipes that use five ingredients or fewer. The Common Threads Cooking for Life Handbook has eight full weeks of nutritious, budget-friendly meals like Sweet Potato Black Bean Empanadas, Mediterranean Roasted Eggplant and Garbanzo Red Pepper Salad that will spice up the weekly menu and introduce the kids to new ingredients.
2. Do a Big Cook-Up Together Every Weekend
Batch cooking is a great way to build up a reserve of healthy meals that the family can enjoy throughout the week, which is helpful on nights when everyone is too busy to cook. It's as simple as setting aside a couple hours on Saturday or Sunday morning to fill the fridge with homemade "convenience foods" like roasted chickens that can be cut up and incorporated into dishes throughout the week, beans, quinoa, pesto, salad dressing, roasted vegetables and sweet potatoes. Wash and cut veggies so they're ready to be cooked (or snacked on)--then when it's time to eat, you're halfway to a meal. This is a great way to involve the kids when they may have a little more free time on the weekend.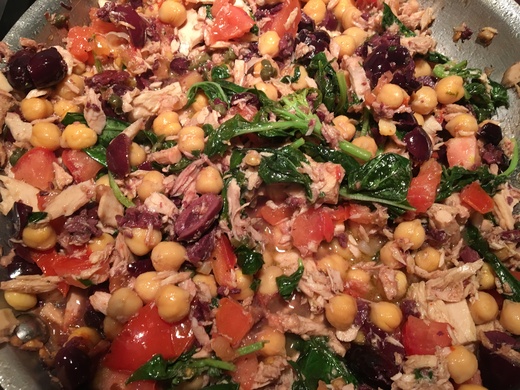 Prepping veggies ahead of time makes it easy to throw together a quick dinner salad.
3. Pick Your Emergency Meals
Even the best laid plans are hard to keep up with week in and week out. That's why it's useful to have a short list of three or four tried and true go-to, healthy meals that are easy to make and will please your family. Just make sure that the ingredients you need are on every grocery shopping list.
For our family, this usually means a simple Caesar salad and pasta with a turkey and veggie ragù, or Jamie Oliver's recipe for "Working Girl's Pasta" that we jazz up with harissa and sometimes chickpeas (a suggestion from Chef David Lefevre). I love making pasta sauces and taco fillings and freezing them. That way, when life gets busy there is always a nutritious choice that is in line with my family's health goals. I always stock my cupboard and fridge with boiled eggs, nut spreads, fresh fruit, oatmeal, Greek yogurt, whole grain cereal and trail mix for making healthy breakfasts and on-the-go snacks.
Jamie Oliver's "Working Girls Pasta" recipe is a go-to in our household.
4. Ditch Chips & Cookies for Fruits & Veggies - Find a New Favorite Healthy Snack!
Next time you want something crunchy to snack on, choose a colorful fruit or vegetable that is new to your family and try it together. Our family loves to snack on jicama with a squeeze of lime and a little salt or with some guacamole. My daughter also loves apples with almond butter and drizzled honey. Of course, overhauling eating and food shopping habits we have built over time is not an easy task.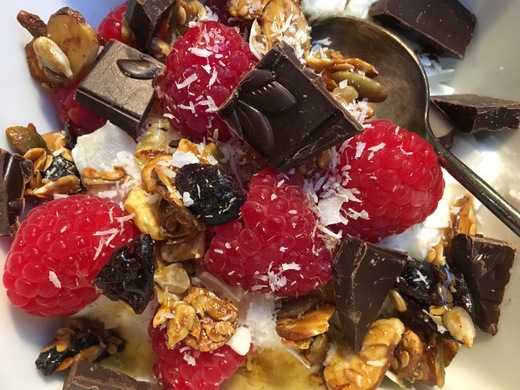 This sweet and tasty snack of yogurt, berries, flax, chia, granola and dark chocolate is also jam packed with nutrients.
I love asking friends, especially Paleo converts, how to introduce more veggies into my diet, as their diets focus on vegetables, fruits, meat, fish and nuts. Think about slicing taro root and sweet potatoes and baking them in the oven to use as chips. We make a kale version, a favorite in our house.
"The biggest obstacle [to improving my diet] was changing my food habits," said Cynthia Spivey, author of How to Eat Paleo (When You Don't Live in a Cave), who has trained her body to crave eggs, vegetables and fruit. "Food habits are ingrained at an early age and are challenging to alter. I experimented, I learned, and much to my surprise, my body began helping me out. It liked this new way of eating and responded quite positively by eliminating the old cravings and replacing them with the new. My cholesterol was down, my blood-sugar stable, and for the first time in a decade I felt energetic and motivated."
5. Cook Your Way Around the World
This fun challenge will get the whole family involved in learning about different cultures and types of cuisine. We know it works because Common Threads students around the country do this together each week--and you can too. Let each family member pick a different country and see which exotic new dish becomes a family favorite. Introducing ourselves to food from other parts of the world allows us to understand and appreciate other cultures. With technology today, we are only a few clicks away from learning about a new city, the language, art and music in a particular country. Who knows, you may end up creating a new secret family recipe that you'll pass down for generations!
For inspiration, our online resource, Common Bytes, hosts a growing library of more than 100 healthy recipes. Ask friends and relatives to share recipes as well. Learning and adopting new culinary traditions allows us to broaden our horizons and acquire the knowledge and skills we need to form healthy eating habits. This year, experience the joy of sharing new foods and making memories in the kitchen while getting your family Cooking for Life!
Related
Popular in the Community