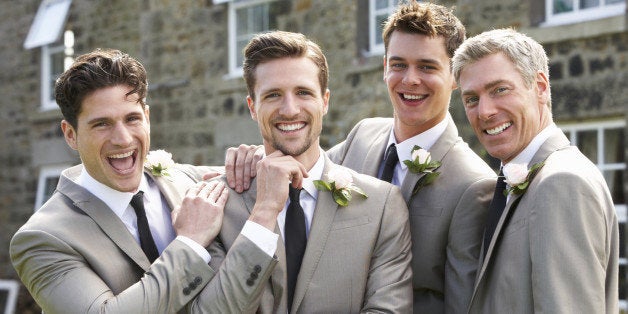 So your best buddy is going to tie the knot soon and he wants you to be one of his groomsman. You know it's one of the most special and important moments of his life and you absolutely have to be there for him as he goes through all the ups and downs that comes with its preparation and the actual big day. Problem is, you're clueless as hell and you have no idea about this whole groomsman thing (it's not like you've been a part of weddings before). Being a groomsman is definitely no easy task so to help you get started, here are five tips to help you get it right (and nail it!) even if it's just your first time.
1. Lend a hand (both hands, actually).
Preparations for the big day can easily become overwhelming for your groom and his bride. So offer your help to ease them (and the bridesmaids) of some of the tasks. Don't just say "Call me when you need help", but rather offer a helping hand on specific tasks like sending in the measurements to the tux rental shop, collecting the suits, or picking up family members from the airport. Your groom (and his bride) will surely appreciate your support!
2. Throw the most unforgettable bachelor party!
Scour the internet for the best stag night and bachelor party ideas for your best buddy. After gathering ideas, find that one activity you know is a great match to your buddy's personality and interests. If he's not the pub crawls type of guy, you can plan a rafting weekend or an outdoor trip instead.
3. Be there for the pre-wedding prep.
Whether it's the night or morning before the big day, be present to make sure that everything that your groom needs is ready. More importantly, make sure you get him to church well earlier before his bride arrives.
4. Nail your groomsman speech.
Out of all your tasks, this probably is the most terrifying (especially if you're not into public speaking). Nonetheless, you should set aside all your fears because your groom is relying on you for this. To give a hilarious, tear-jerking, and simply remarkable groomsman speech, start by preparing it as early as the moment you're asked to give one. Write a draft, rewrite, practice with a friend, then repeat the process until you're pretty confident to say it in front of your groom and the most important people in his life.
5. Check in with your groom and his needs throughout the big day.
Help your groom keep his nerve at bay during the big day. Have a kit where all of his needs are present including a copy of his speech and some pain killers). Ask him (and his bride) from time to time to see if they need you to do anything. Team up with other groomsmen and bridesmaids to make sure everything goes smoothly as planned.
Being your best friend's groomsman is a challenging but thrilling task. With enough preparation and planning, you'll surely nail your part and be your other buddies' groomsman, too in the future. But more than that, it's the best wedding gift you can give to your buddy that he'll surely never forget.