TREK Dirt Series' top coaches dish the dirt on being a better mountain biker. Coming soon to a resort near you.

My friend Hillary Harrison runs surf camps in Costa Rica. (I think she might have the perfect life.) I always thought surfing was a trial and error kind of sport, but the former mountain bike racer set me straight. In fact, surfing is the complete opposite of a teach yourself sport.
"If you actually knew the reason you were falling each time, maybe you could teach yourself. But it takes an analysis of what's keeping you from progressing to realize what changes you need to make. I progressed tons just by moving the position of my front foot on the board. It was hard to change after so long surfing with it in another position but once I did, it was awesome." -Hillary Harrison, Peaks n Swells Surf Camps founder
I felt the same way after taking a mountain bike clinic in Whistler last summer - a definite highlight in my year.
Proof of how much fun there is to be had at the Whistler Mountain Bike Park... even for downhill virgins.
I had spent a couple of years brake-clenching, shuddering and sliding too quickly down Pemberton's gnarly trails to have the time to analyze what was going wrong.
At the TREK Dirt Series clinic, coaches broke it down for me.
"Generally, men and women have different learning styles. We, women, like things to be broken down. The Dirt Series is quite analytical. We break everything down, we stop and session things, so that when you do go riding you don't have to think, the moves have become second nature." -Candace Shadley, TREK Dirt Series founder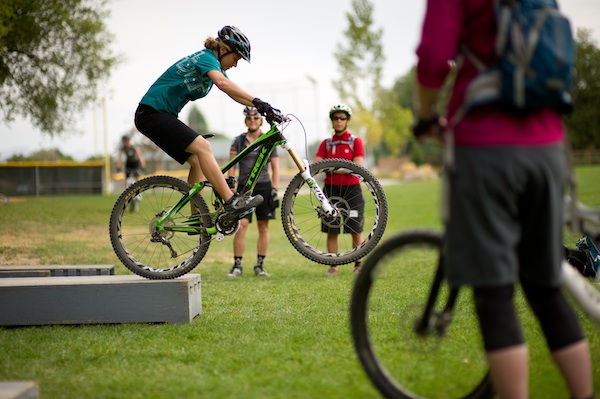 Candace Shadley breaks it down in a clinic in Fruita.
Credit: Anne Keller/Trek Dirt Series Mountain Bike Camps
When I got back on my bike for the first time this year, I could hear Sarah Leishman's: no-bullshit voice in my ear. (Thanks again, coach.)
Here are the best 5 tips I took away from my weekend in the dirt trenches. (If you want the aural echo, though, you'll have to sign up and take one for yourself. (You won't regret it. In fact, I don't think anyone does. More than 50% of camp participants have come back for more, or been referred by a friend.)
Just use one finger on your brake lever. Two fingers will utilize half your forearm strength. 90% of accidents in the Whistler Mountain bike park, reckons Sarah Leishman, a coach and former pro patroller, come from overbraking. The other 10%, by her guesstimate, are from people being crashed into by someone making a sudden braking adjustment.
Neutral means stacked means ready to move with somewhere to go when you need to respond to changes in terrain that isn't OTB (over the bars). Leishman (a pro-elite downhill racer, Norco Factory Team rider) says you've got to stand up enough that you have room to move fore-aft, laterally, up and down. Otherwise, there's only one direction available for you to go. Say it after me: OTB.
3. LOOK WHERE YOU WANT TO GO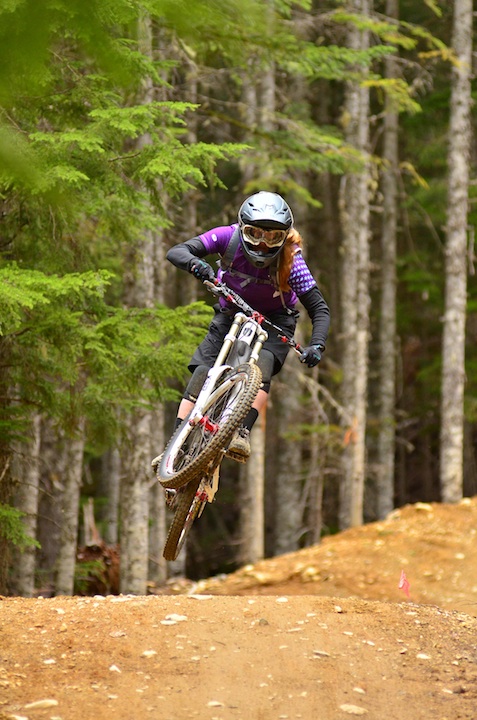 Sarah Leishman keeps her eye on the prize.
Photo: Logan Swayze/Trek Dirt Series Mountain Bike Camps
Looking where you want to go means staying committed at speed, all the way through a turn, to where you're going. Keeping focused with your eyes means your scapulae, hips, and bike will follow, and you'll maintain traction all the way through a corner. Looking where you want to go also means not looking at what you'd rather avoid - obstacles, people, or the big tree that is coming up super fast on your right.
4. DON'T LEAVE IT TOO LATE
World Cup Downhill Racer, two-time Canadian National Downhill Team Member, and podium finisher at the last World Cup of the 2012 season, Casey Brown is also a former BC Junior Freestyle Ski Champion, forest firefighter and artist. So you can believe her when she says what you've got to do is anticipate, rather than react. Act on the visual cues of what's coming up, rather than waiting for a feeling to respond to...
5. PUT YOUR LOVE AND HATE INTO IT
Brown had all kinds of awesome tactical advice, but the thing that stuck with me, after I attempted my first fifty drops with no real desire to actually get air between my tire and the ground, was something her dad has told her:
"Put all of your love and hate into it."
Given the stellar season Brown just had, I figure there's something in that.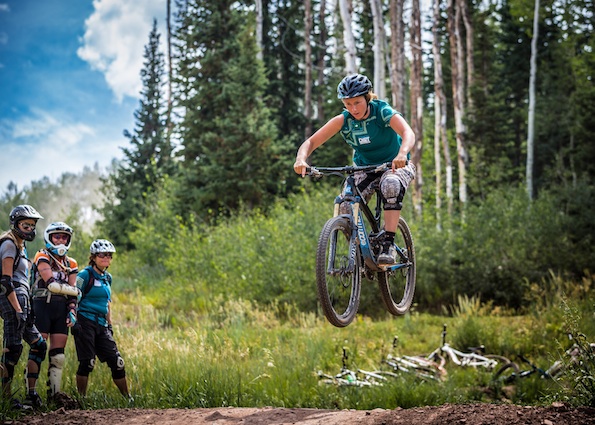 Casey Brown shows campers how to get a little air in Park City. Credit: Andrew Smith/Trek Dirt Series Mountain Bike Camps
And finally, the best takeaway of all, after several laps in the Whistler Mountain Bike Park was, go faster.
The TREK Dirt Series bike clinics are now in their 14th year. Based out of Whistler, the hub of gravity-assisted mountain biking, they tour throughout Western Canada and the US with a crew of kickass coaches, picking up steam now that the snow is gone from them there hills. They'll visit Whistler, Silver Star, Winter Park, Park City, Bend, Hood River, Canmore, Calgary, Winthrop and Fruita. Check out the dates online: www.dirtseries.com.
A weekend clinic is a great opportunity to explore your favorite ski destination and find out what happens to the moguls in the summertime.
After all, dirty girls have more fun, right?