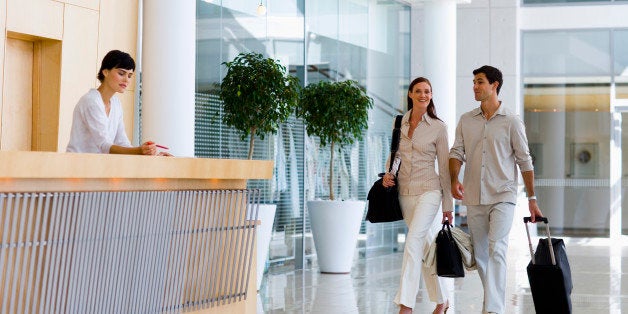 Don't Let a Fake Website Ruin Your Vacation.
Nothing will ruin a vacation faster than arriving at your destination and finding out there are extra charges that you did not expect -- or worse, that your hotel reservation does not exist. That scenario happens frequently enough that the Federal Trade Commission (FTC) recently issued a warning to travelers about unscrupulous third parties and fake hotel-booking websites. While the original warning was aimed at business travelers, the information is valid for vacationers as well.
The American Hotel and Lodging Association estimates that there are around 2.5 million rogue bookings annually at an approximate cost of $220 million to unsuspecting Americans.
How can you protect yourself against fake websites and be sure of what you are getting with your booking?
Search Wisely - Generic searches like "Seattle hotels" can draw scam sites to the top, since they may have paid to get to the top of the list. The more specific your search is, the less likely you are to be scammed. If you have a few preferred hotel chains, type in the chain's URL directly from their print or TV advertisements and save it in your bookmarks for easy reference.
Cross-Check Information - If you have located a good deal on a hotel, cross-check the hotel and website information using a separate search window before buying. Not only do national chains have their own websites, most individual hotel locations also have their own websites. Crosscheck the phone numbers and other information for basic discrepancies.
Do not verify by calling the number listed on the site you are trying to evaluate. Fake websites often set up their own answering service to mimic the hotel site, although they may be very careful to say "reservations desk" or use other sidesteps to avoid directly mentioning the name of the hotel.
Be Wary of Unusually Low Deals - Any offer that is a deep discount over the usual price for a national chain should be met with skepticism and thoroughly vetted.
Read the Fine Print - As painful as it may be, check the website thoroughly for disclaimers before proceeding. You may find clues telling you that you are dealing with a third-party site.
Do Not Follow Links - Generally, links are one of the easiest ways to be redirected to a third-party site. Be very sure of the source before following any link -- and even then, it's best to crosscheck.
Hotel chains will often match low price listings on the Internet. You may be better off contacting the hotel directly by phone and asking them to match the advertised Internet rate. If you do choose to book through the Internet and are victimized by a fake booking website, be sure to file a complaint with the FTC and contact your credit card company to dispute the charge.
It is possible to save significant money by booking hotels online, but just make sure you know whom you are dealing with. As the old saying goes, "If it looks too good to be true, it probably is."