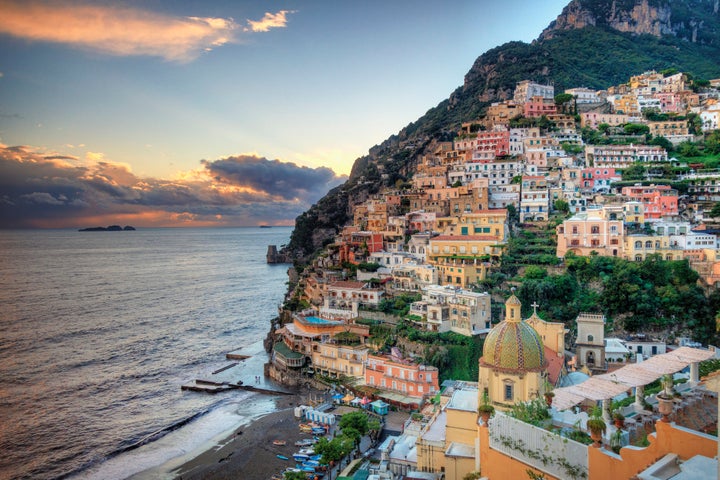 We have all seen the movie Under the Tuscan Sun (just admit it). We have at least one time in our lives fantasized about the idea of leaving it all behind, traveling to Italy and starting a dream life. It most likely does not even involve a significant other, we are just dreaming about a villa, cypress trees, and vino.
The ones who are yet to visit Italy often ask, "Why are you so drawn to it, are you into art, history, cooking?" I usually do not have a straight response for them. This is because I haven't quite figured it out for myself.
Even after traveling the country for about 10 years now, I am still lost for words when it comes to explaining my "relationship" with Bella Italia.
I believe it's the idea of the simplicity of life, the escape from our familiar surroundings, the ability to renew again. Every time I'm getting a second chance at life.
With that being said, for those who are yearning for this same experience, I thought I would share the five ways I mindfully enjoy travel when I am in Italy. The ideas may not seem so original but they work for me.
My hopes are that I can inspire you to realize that traveling Italy does not mean you need a lot of money, or the ability to travel to EVERY region during your first trip abroad, or even to speak the language. You just need yourself and these five tips to get started and begin again!
1. Go for a swim.
My favorite waters to visit as soon as I get to Italy are the ones at Spiaggia Grande in Positano (Amalfi Coast).
This particular beach has always been quite special to me. The moment my feet touch the pebbly rocks that lead to the Mediterranean water, it's as if I stepped onto Mars (you know like a different planet).
My first dive in is always my favorite feeling in the world. This is no thermal spa or a luxury private beach and half the time I do not even rent a Lido (umbrella and chair) — it is just the basic Italian sea.
The combination of the perfect temperatures, the breathtaking backdrop of the Positano hills and the Mediterranean sun makes me feels as if I have been blessed by the Pope himself. Ok, this may be a bit extreme but you get my point.
Quick Tip for visiting Amalfi Coast Beaches:
Spiaggia Grande is the main beach of the area. The beautiful boutiques, shoemakers, restaurants & shops will make the experience that much better. Grab an orange umbrella chair for about 13 Euro if you want to spend the day.
Just about an 8-10 minute walk down to Via dei Positanesi d'America you will find Fornillo Beach. This is the most relaxing & quietest beach in the area. There is also a free boat shuttle to the beach from Positano's main pier.
It is about 7-8 Euros for an umbrella chair. I think it's worth the cost if you plan to stay the day. There are also some nice restaurants and small cafés in the area.
2. Enjoy a sunset and Prosecco with a view.
"That's it?" Yes, exactly, nothing fancy — just some bubbly and a sunset.
I always have this thing about my drink sparkling. It may have something to do with the fact that I have worked at a sparkling wine vineyard or maybe it is because Prosecco and Champagne always feel like a celebration in a glass.
Whatever reasoning it may be, I love to incorporate it into my first evening in a new city while traveling, complete with a great view and a sunset.
As far as the sunsets are concerned, I have lived off this idea that "the sun sets to rise again" in all areas of my life. By kicking off my trip with a toast to yesterday, I feel ready to approach my next adventure. Salute!
Quick Tip for a few places I like to watch the sun go down in Italia:
Fiesole: Head up to the and see the sun set over Florence and the Tuscan Hills. BYOB (or in this case BYOP –Bring Your Own Prosecco)
Punta Carena in Capri (Amalfi Coast): This is the ONLY place to enjoy a sunset in Capri (literally) and there is never a big crowd. Usually, I get to enjoy a chat with a local with watching the sun fade away.
3. A long dinner with friends.
Whenever I am sad about leaving my friends in New York, I remember the candlelit countryside dinner with friends in Tuscany, the family pizza events in Sicily or poolside BBQ's in Puglia. Nothing beats a day of endless food, wine, and laughter especially in Italy.
Of course, we do that here in the USA but something is different in Italy — it's the mentality. Maybe it is that the Italians are focused on the experience and conversation and they do not hide the fact that they love to eat (carbs and seconds are welcome without judgment). Plus my favorite part is that there is no time limit, when the dinner ends, it ends!
While I am extremely lucky to have friends in Italy, I understand this may be your first time visiting but it does not mean you cannot recreate this same experience!
Check out the famous butcher Dario Cecchini's restaurant in Panzano, Tuscany. Sure, you will find some tourist there but when I visit, I always enjoy a great lunch with my Italian friends and we have an amazing time!
There are communal tables, family style dining and traditional Chianti bottles of wine placed in the middle of the table for you to serve yourself as the day goes on!

Antica Macelleria Cecchini
Via XX Luglio, 11, Panzano in Chianti, Greve in Chianti, Italy
4. Gelato.
For some reason in Italy I tend to eat more mindfully, lose weight and my diet consists of mostly gelato. Breakfast, lunch, dinner ― all gelato!
The obvious reason is because it is AMAZING and it's quite hot in the summer but I also believe it goes back to that whole remembering what it was like to be a child again. There is something about that little spoon that makes me smile and makes my day better.
Quick tip for a Gelato find. A place I feel is personally overlooked in Florence is Le Parigine.
5. Capturing the Tuscan light.
Did you ever notice when you go on vacation or head anywhere outside of your hometown, you become an amateur photographer? All the sudden we take out our fancy camera and head out to do impromptu photo shoots.
Well, luckily I have a friend such as Patricia that shares her professional photographer pointers with me but really, I enjoy just doing it more for a therapeutic sense.
It's a way to hold on to the memory. I love taking one day to do nothing but capture the streets of Italy.
The people, the places, the food, the light―the feeling and the strength that I discover from just taking some time for myself to appreciate the moment is why I love it.
Instagram is my most popular social media account. I feel honored to have many lovely people who like to follow along on my journey. This too makes me even more inspiring to share photos with those who cannot make the trip themselves!
For those who cannot make the trip abroad this year, Patricia Geremia has some wonderful photos that she has taken on her own journey!
Stiya is an awesome app, which not only captures your photo but also documents it for you by automatically creating beautiful, searchable, and a shareable daily journal. It's like journaling through without all the writing!
So there you have it! These are the simple pleasures that make me feel alive again when I head to Italy. I am not sure if you have a ritual when you travel abroad but my hopes are that this inspires you just a bit to create one.
Especially, for those who are debating whether you should step on that plane and take that trip on a solo adventure.
During my 5 months here in Italy and I know I will incorporate these rituals as much as possible. What routines have you created during your travels?
"The warmth of the people, the human scale of the towns, the robust food...it's the natural connection with art, the natural exposure to beauty on a day-to-day basis. We all know Italian's have more fun. This makes us feel at home, or rather returned to a sense of play, which we may not have experienced fully since childhood."
-Frances Mayes, Author of Under the Tuscan Sun
Cassandra Santoro is the CEO and Founder of Travel Italian Style. As a personal trip planner and luxury small group tour operator, Cassandra is an expert in slow-travel and authentic experiences throughout Italy. Learn more about her at travelitalianstyle.com. You can also follow her on Twitter and Instagram.