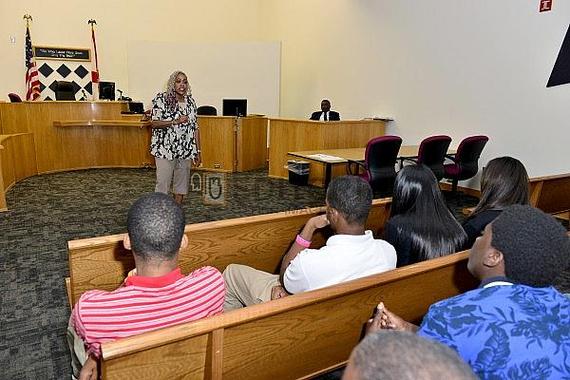 Deborah King speaks at Miami-Dade County Teen Court for National Recovery Month and National Substance Abuse Prevention Month sharing her story victory and recovery. Credit: Johnny Louis
How does a person with an affluent upbringing, educational attainment, and a successful executive career get addicted to drugs? Recovery advocate Deborah King knows the answer first-hand.
"I went to boarding school and graduated from college with honors. I grew up very close to the entertainment arena. I enjoyed the lifestyle, thrill, and living on the edge," she revealed. "I made the mistake of believing that nothing I paid for could ever control me. I didn't think it would happen to me. Well, it happened to me."
If her last name sounds familiar, it's because she is the daughter of legendary boxing promoter Don King and his late wife Henrietta. A charmed life of privilege notwithstanding, King still found herself addicted to substances for over five years.
"My mother was very grounded and my father was flamboyant. They raised me with a can-do attitude. So, I had a good upbringing and family support," she shared. "I became an addict during my 40s, after I had been married and had children. That's when the drama started."
The 54-year-old advocate asserts she is much more than Don King's baby girl.
"I am a survivor, an advocate, and ambassador for recovery. I love life and I am honored to be a child of God. Without my faith, I would not have made it," she affirmed.
After realizing her own recovery, King pushed past guilt and decided to educate herself to help others by earning a graduate degree in counseling. She also founded Limitless Life Recovery and Holistic Group.
"I understand that there are underlying issues that lead people to self-medicate and use substances. Many times those things go hand and hand," she said. "So, I dedicated myself to educating myself so that I could facilitate recovery for other."
King encourages current and former addicts to learn to "love themselves." October is National Recovery Month, she offers this five-part combination to knock out addiction.
You Have to Surrender: "You have to sit down and be still with yourself. You have to know that there is a resource that is bigger than you that can help you. I call mine God."
Get Out of Denial: "Accept that you have a problem and stop making excuses. Get a sheet of paper and list the pros and cons of your lifestyle. This gives you a visual representation. Once the cons outweigh the pros, you begin to recognize that your life has become unmanageable."
Ask For Help: "Asking for help is a sign of courage. Use the internet, phone book and social services centers to identify resources and support groups to help you with your addiction. Open your mouth and give yourself the opportunity to make better decisions."

Refuse Labels: "Addiction is what you did. Not, who you are."
Embrace the Present: "Stop thinking about the past, it is gone. Stop thinking about the future; because, it's not here yet. Take life one day at a time. That's why it's a gift called the present."
For more information on Deborah King, contact her at Limitlessliferecovery@gmail.com.
Need help with substance abuse or mental health issues? In the U.S., call 800-662-HELP (4357) for the SAMHSA National Helpline.