It is that wonderful time of year again, filled with cheer, parties, giving and decorating. However, there is one unspoken holiday fear that can add unwanted jingle - unwrapping your holiday dishware! We all know the feeling. Slowly untwisting the paper, hoping and praying as you unravel that at the end of the paper you will find your cherished holiday dishes whole. Did they make it through another year in storage? What did you find this year? Perfect holiday mugs, or one with a lost handle? Un-chipped red and green plates, or one that looks like Santa mistook it for a cookie? Packing dishes can be the trickiest part of storing holiday decor.
We don't want broken dishes to ruin your festive mood, so the good news is that whatever you found this year, you get a do-over. Follow these 5 simple tips and your dishware unwrapping next season will be glue free and keep your holiday spirit in one piece!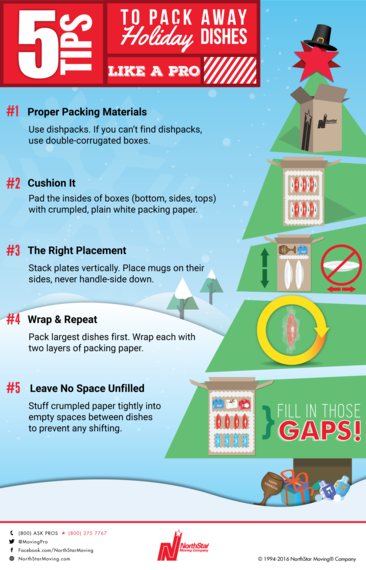 1. Proper Gear - To properly pack your dishes start with a dishpak. Dishpaks are specially designed boxes to handle and protect fragile items such as glass containers, plates, cups, glassware, vases, etc. You can find dishpaks at moving companies, box stores, and home improvement stores. If you can't find dishpaks use double corrugated boxes. You will also need lots of recyclable packing paper and packing tape.
2. Cushion and More Cushion - Before placing any dishes in your dishpak, cover the bottom with crumbled packing paper. Crumbled paper will provide cushioning for your dishes and therefore prevent breakage. You should use plain white packing paper instead of bubble and newspaper. Newspaper will leave ink all over your dishes and bubble takes up too much space in boxes. You will be doing more cushioning on the sides and top. Just for the cushioning on the bottom, sides and top you can be super green and reuse old wrapping paper from the holidays!
3. Vertical Not Horizontal - Most of us have always packed plates in a horizontal stack. Right!? Yikes! To prevent breakage always pack dishes vertically. Just like you are loading up a dishwasher after a big holiday dinner. When it comes to your reindeer mugs, still pack them in a vertical row across the box, but be sure to place the mugs on their sides and not handle-down.
4. Wrap and Repeat - After you've laid down cushioning, start packing your largest and sturdiest dishes first. Wrap the dish completely with two layers of packing paper. Lay the dish vertically on top of the stack of crumbled paper. Tuck in the sides and really make sure the dish is secure. Continue placing individually wrapped dishes vertically across the box. After you've finished a row of dishes, place crumbled packing paper in open spaces in the dishpak. Put a few sheets of crumbled paper on top of the row for cushioning and repeat. Pack your lightest and most fragile at the top.
5. No Space Left Unfilled - The rule of thumb is there should be no gaps for your dishware to shift. Don't place one layer of dishware directly on top of another; separate with a layer of stuffed paper. Cushion the top and sides with paper to prevent shifting. The steadier the contents, the less chance of damages. Tape it with two layers of tape and label! Make sure to mark which side is UP and write FRAGILE on each side of the box.
Now your holiday dishes are safely packed for next year and we all know the holidays will be swinging back around again faster than we can sing the twelve days of Christmas or Jingle Bells!