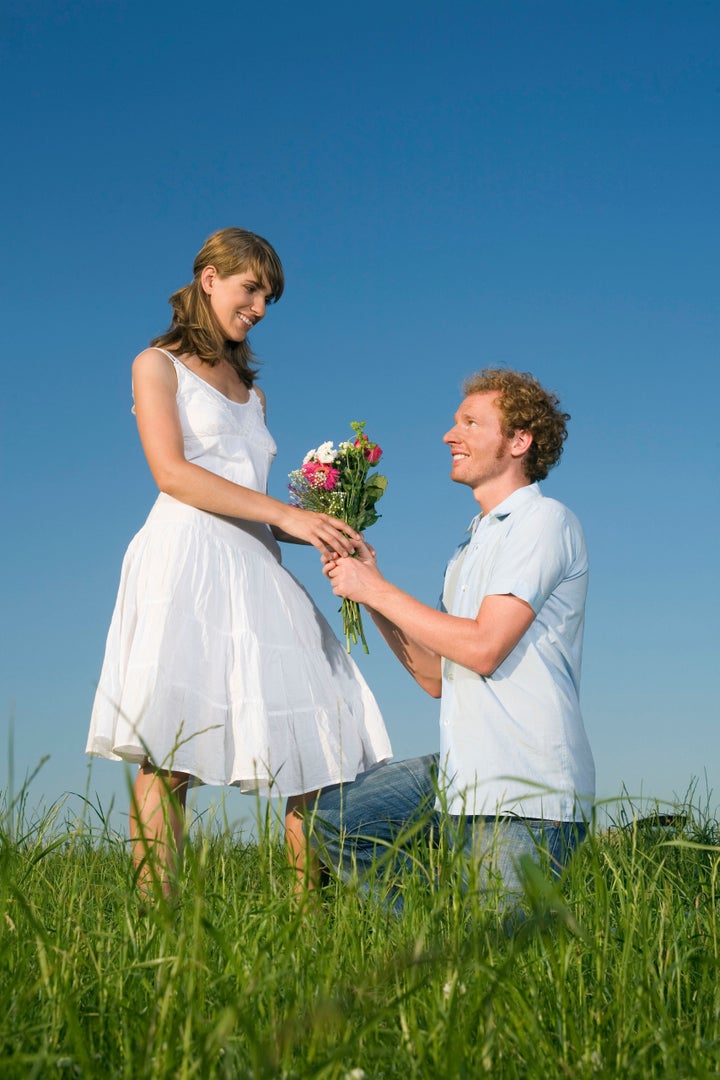 Love makes us do crazy things. If you've ever found yourself standing outside your girlfriend's window wearing a trench coat and holding a boom box above your head, you know what I'm talking about. Spontaneity in your relationship is great, until it comes to getting engaged. The planning and execution of your marriage proposal should be something that's meticulously thought out. It's a moment that's will be relived through photos and stories for the rest of your life, so it's in your best interest to nail it.
Men will drive themselves crazy over the proposal. To help calm some nerves, here are five things to think about before you take the plunge:
1. First and foremost: Are You Ready for Marriage? - It goes without saying that unless you're being paid $19 million by E! for the rights to air your wedding, the decision to get married should be given plenty of careful thought. If you're even considering popping the question, you're hopefully at a point where you've found "the one." That being said, there are plenty of external factors that come into play. The most important ones are finances, thoughts on children and readiness to settle down. To quote Elvis Presley, "Only fools rush in." And you'd be foolish to get engaged without discussing these topics with your bride-to-be beforehand.
2. Put a (Meaningful) Ring on It - I've never been a huge fan of the saying "diamonds are a girl's best friend." If you scrape away all of the marketing slogans that have been used to peddle engagement rings over the years, you're actually left with a custom dating back to the 1400s that symbolizes the desire to commit to one woman for the rest of your life. Because she'll be wearing the ring for the rest of her life, you should do your homework on what style she prefers. This can be as simple as taking a window shopping trip with her or interrogating her friends and family on whether or not she's mentioned which specific stones and settings she's a fan of. Finally, do yourself a favor and don't succumb to the pressure to spend several months of your salary on the ring. Your financial decisions are yours and yours alone to make. Remember, the ring symbolizes commitment rather than the size of your wallet.
3. The Importance of Tradition - Call me old fashioned, but I've always been a firm believer in the tradition that lies behind marriage proposals. This starts with speaking to her parents before the proposal. We've obviously moved past the days where women were viewed as the property of their fathers. To me, you're not so much asking permission to propose, but rather extending a courtesy and sharing your thoughts and beliefs about marriage to the parents of the woman you love. Once you've reached this point in your relationship, it should be obvious to them how much their daughter means to you. Letting them know that you view marriage as a one-time deal and plan to give her the love and respect she deserves seems very gentlemen-like to me. If you don't happen to live in the same city as her family, there's always the magic of Skype and other video chat services.
4. Will the Proposal Wow Her? - The Internet is full of elaborate marriage proposal videos. Whether it's a flash mob, live TV or a stadium jumbotron (not recommended), men have certainly been getting uber-creative with their plans for popping the question. You might feel some pressure to compete with the proposals that her favorite wedding blogs are sharing on Facebook and Twitter, but don't stress. There's more than one way to wow your girl. The proposal should be unique to your relationship. I always suggest picking a spot that holds significance in your relationship, for example the location of your first date or first kiss. Incorporating aspects of your relationship such as a favorite movie or song can also go a long way toward making your proposal an original. Remember, she'll be telling this story to friends, family and strangers for years to come.
5. Relax - I'll leave you with the simplest, most important tip I can offer. Relax. It's natural to get stressed out with all the details. But remember, at the end of the day, the proposal is all about you and your future-bride. Do your homework, go with the flow and be confident. It'll be great!