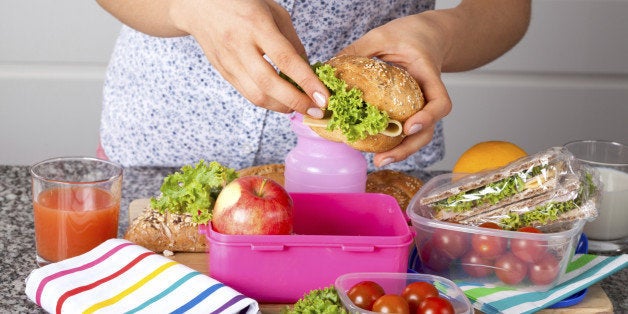 Healthy snacks for kids is important because they provide their daily nutrients, energy and help control hunger between meals. Teaching kids to make healthy snack choices now is not only good for the health but it will also help set the stage for a lifetime of healthy eating.
Buy only healthy snacks such as fresh fruit and vegetables and preferably organic which are packed with nutrition and not loaded with any artificial preservatives and artificial flavors. Your kid won't clamor you for cookies, candy bars or chips if you don't keep them in the house. It is also important to set a good example by choosing healthy snacks yourself.
Take snacks with you when you go to appointments or running errands and provide snacks that are easy to eat. Make them small, fun by having kids choose a few foods and mix them together for a colorful snack and mix and match. Also decide what snacks you will allow and when.
Be mindful of foods marketed as low-fat or fat-free can still be high in calories and sodium. Likewise, foods touted as cholesterol-free can still be high in fat, saturated fat and sugar. Check nutrition labels to find out what's really in the product. If you don't recognize an ingredient don't but it.
Below are five tips for making healthy snack choices for kids:
1. Include fresh fruit and vegetables
It is important to include a rainbow of fruit and vegetables (preferably organic) in your kid's diet to ensure they are getting a rainbow of vitamins and energy. Make the snack colorful and appealing visually. Keeping a fruit bowl visible in the kitchen is a great way to encourage kids to eat more fruit.
Serve celery, or other raw veggies with hummus or tzatziki, spread some almond butter on apples or bananas or place a variety of chopped fruits in season and make a fruit souvlaki.
2. Include healthy whole-grains
Include whole grains and breads such as whole-grain tortillas, wraps, pita, cereals and bread or brown rice crackers. Wholegrains provide high-fiber and energy with some staying power.
Serve whole-wheat crackers or whole-wheat tortilla or baked whole-wheat pita chips with salsa or any other healthy dip. Make mini pizzas using wholemeal pita pockets and add tomato sauce, vegetables and top with some cheese such as mozzarella.
3. Include diary and/or non-dairy options
Include milk, cheese and yoghurt made from animal milk or nut milks such as almond, and coconut. The protein in these snacks will keep energy levels high until dinnertime.
You can make a fruit and cheese souvlaki, fruit smoothies or serve some Greek yoghurt with honey and fresh or dried fruits (nuts can also be added).
4. Include Proteins such as eggs and lean meats
Include items such as nuts, eggs, turkey, chicken and other lean meats. Once again the protein in these snacks will keep energy levels high until dinnertime.
You can make a trail mix, roll some cheese in turkey slices, mini Greek filo cheese pies or mini quiches with some vegetables added inside.
5.Include healthy sweet treats and fun food options
It is important to strike a balance and to occasionally include some sweet treats such as chocolate and popcorn however be mindful and make sure that they are healthy. The best way to ensure they are healthy and have healthy ingredients is to make them yourself. Although they may not be packed with high nutritional value it is important to occasional incorporate a sweet fun treat into the mix.
You can include chocolate such as dark chocolate and you can make this by incorporating raw cocoa powder, coconut oil, coconut sugar and grated coconut, refrigerate and the make fun shapes together. Home-made popcorn with olive oil to which you can then add cheese or nutritional yeast or other healthy toppings is another option. Popsicles are also great and easy to make at home. If you prefer to buy them look for ones made from 100% fruit juice with no added artificial sweeteners and sugars.
Related