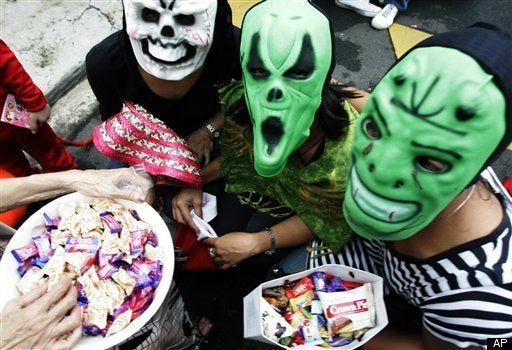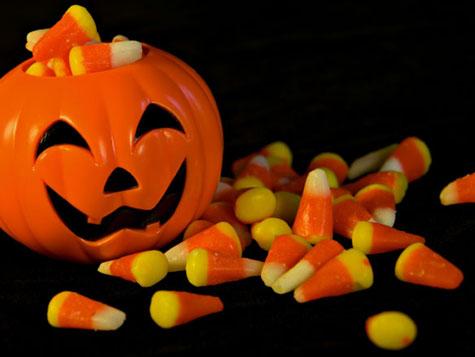 With Halloween coming soon, it's expected that millions of children and their parents will do candy hoarding and sugar gorging, which will inevitably hurl them into Sugar Shock. Let's just face it -- with all the forces urging us to go for sweets (think: attractive Halloween displays and tempting temptations galore), most children (and their parents) will do just that.
But even if we assume that you and your kids are going to indulge -- or possibly over-indulge -- you can do a few things to not toss your poor body into a complete tizzy.
5 Tips to Soften Sugar Shock:
1) Treat Yourself to a Good Meal First.
Before you or your kids head out for trick or treating, make sure to eat a nourishing meal of quality protein (free-range chicken, fish, etc.), healthy fats (like a little olive drizzled over your dinner), and quality carbs (a salad and veggies). You can even top off your meal with a small slice of pumpkin -- not the pie but the actual cooked pumpkin! It's quite tasty! (Just sprinkle some cinnamon on top and maybe a dash of flax oil, and enjoy.)
2) Boogie On!
After you get back from trick or treating, put on your and your children's favorite tunes -- as high energy as possible -- and dance. (This can help to bring your kid "down" from the sugar "high.")
3) Cut Yourself and Your Kids Some Slack!
When you or your kids go into sugar shock after all the candy eating, expect some behavioral changes right afterward and for up to about three days. But please do not hold that against that person! And don't berate your kids for eating too many candies either. They're just following the Halloween norm. But be prepared. For instance, your children -- or even you -- may snap with no good reason, lack focus or direction, and konk-out despite already having had eight hours of sleep. These sugar shocked symptoms will pass -- provided you stay away from sweets in the days after harrowing Halloween.
4) Ration and Then Toss the Sweet Stuff
It's time for your Sugar Truth. Candy in the house can be dangerous! Just think about it: Do you know anyone who can just have one tiny little piece and then stop? I dare you to come up with 10 people who can do that. Instead, just be forewarned. Ahead of time, decide that you or your kids will allow "X" number of pieces per day -- I recommend two to four tops (and we're talking tiny pieces after eating
a good meal. But save only one or two days' worth. Then take the rest and toss them down the
disposal. You read right. Yeah, you may think it's simply awful for me to suggest being so wasteful, but it's far more dangerous to your innocent body to keep shoving it full of empty-calorie, sugar-filled "treats" that can, over time, trick it into health hazards galore, from obesity to diabetes to heart disease to an early death.
5) Become a Cautious Candy Detective.
If Tip #4 still bothers or annoys you, then go on a label reading excursion. Check out the food labels on your favorite candies and your kids' must-haves. I guarantee that you'll be stunned at what they contain. Just knowing how nutrient-deprived they are will make you more inclined to want to toss the sweet stuff, because your wonderful body deserves better, right?
Please know that I'm actually a fan of Halloween. Have a sweet, safe Halloween. And remember, Halloween is about fun, dressing up (costumes), laughter, friendship and NOT candy!
Connie Bennett is author of the book "Sugar Shock!" (Berkley Books). She is now writing her next book, "Beyond Sugar Shock: The 6-Week Plan to Break Free of Your Sugar or Carb Addiction & Get a Slimmer, Sexier, Happier, Sweeter Life" (Hay House). She is an experienced journalist, former sugar addict-turned Sugar Liberator, Sweeter Life Coach, Radio Host (Gab with the Gurus), Certified Life Coach, Certified Health Coach, Speaker and Frequent Guest/Interviewee. She is founder of the groundbreaking Break Free of Your Sugar Addiction in 6 Weeks Program. Discover how to Halt Halloween Havoc with special guests "FlyLady" (Marla Cilley), Dr. Lisa Hark, nutritionist Lee Ann Ely and Dr. Jill Baron.