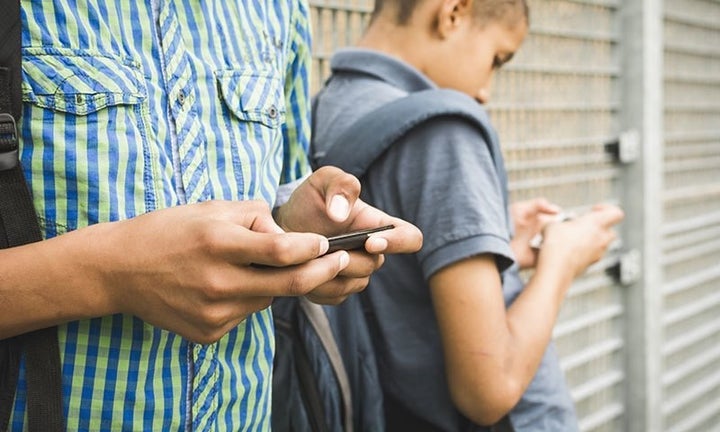 Any parent who gives their child a mobile device knows they're entering a slippery slope of digital parenting. Lieu of physically taking the phone away, it can be very difficult to manage how much time kids spend on their gadgets, and more importantly, what they're doing on them. Parents aren't immune to screen time dependence either, judging by the 9.22 average hours we spend on our devices each day.
Previously, there were more defined guidelines about screen time and kids, but as of last October, even the American Academy of Pediatrics adapted its recommendations on digital usage. While it still encourages limiting screens for ages 2-5 to one hour per day, there is no set guideline for the over 6 category other than a recommendation that "media does not take the place of adequate sleep, physical activity and other behaviors essential to health."
As the first generation of digital parents raising digital kids, no one has all the answers - we are all figuring it out together. Thankfully, there are companies that are coming up with smart solutions for this unchartered territory. Here are five services that offer a range of options for delving into your child's digital habits.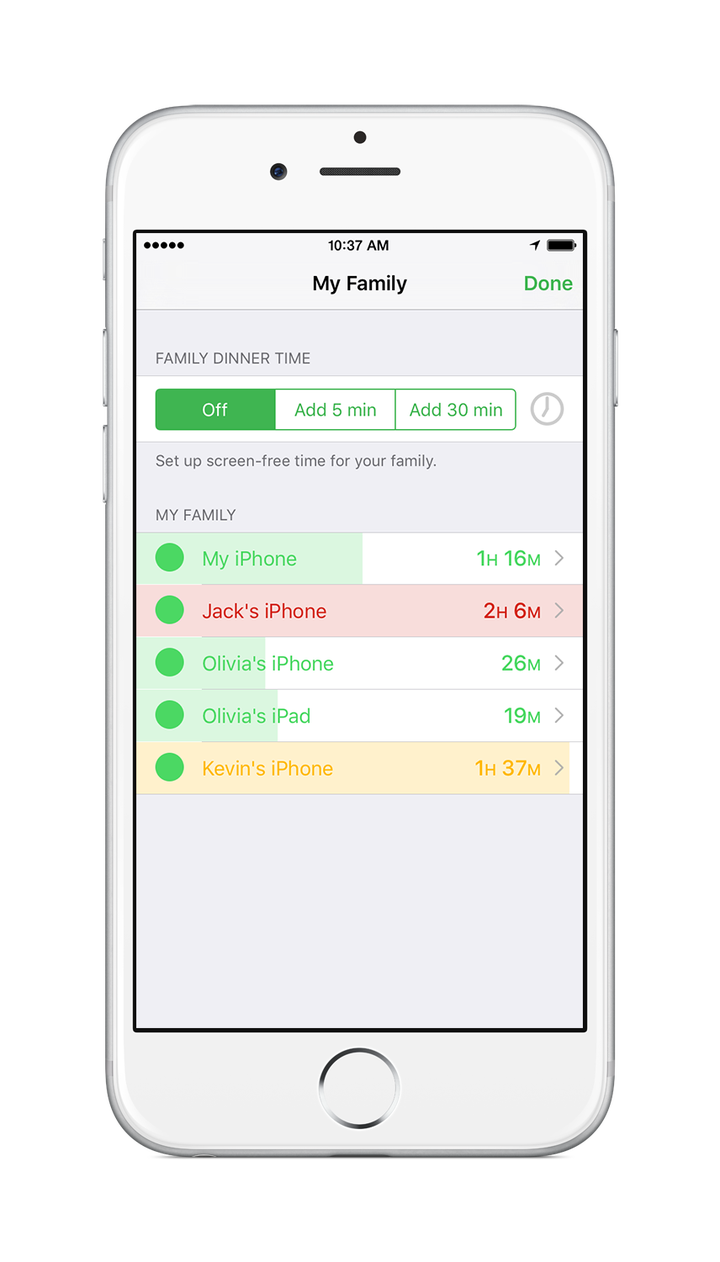 We all know the feeling of getting sucked into something on Instagram or reading about the latest Twitter feud, and then bam, it's two hours later. Moment helps you keep track of your own time (and set limits), or those in your household with Moment Family. It logs things like how many times you've picked up your phone, which apps are most frequently used and of course, how much overall time is spent on the phone. To scale back, you can set time limits and even turn off devices for 'Family Dinner Time.' The interface is very straightforward and provides a quick snapshot of your own or your family's mobile habits, if you so dare to know more. (Note: this app uses location services in order to work, which may be a turnoff for some.)
Good for: Tracking individual time or family members' usage
Cost: Free for individual use ($3.99/month for Pro features); $14.99 for three months of Moment Family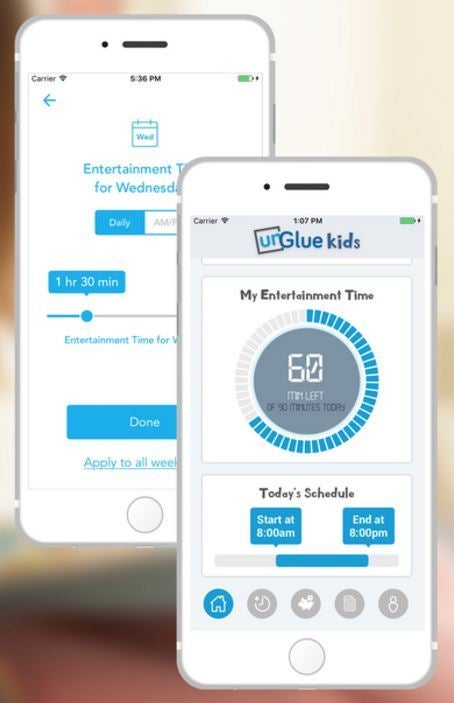 unGlue puts more responsibility onto the kids' themselves in managing their own screen time. unGlue works on smartphones, tablets and computers and allows you to set time parameters on each device, Internet schedules and even gets as granular as how much time you're allowing for social media, gaming, videos, etc. Parents can be the overall time keepers (ex. two hours of 'Entertainment Time' per day), but kids then decide how they want to spend that. Kids can also bank unused time and also complete special chores/tasks via the unGlue Kids app to earn more time (if the parent chooses to grant it). The service extends outside of the home via VPN, but intermittent connectivity makes it more consistent and accurate when used at home.
Good for: Younger kids with smartphones
Cost: Free if you have a networked desktop computer, otherwise $30 for a piece of hardware that connects to router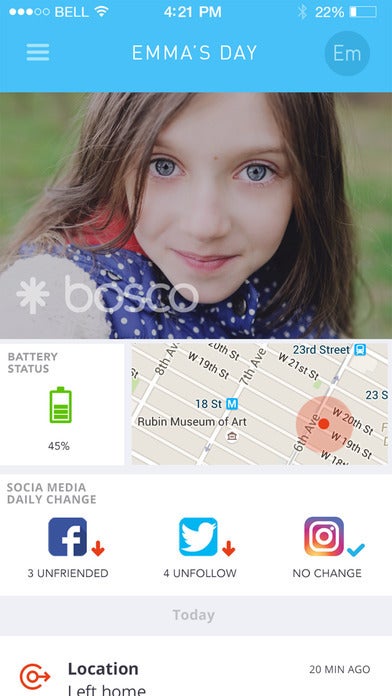 Supporting the idea that parents shouldn't be hovering over their kids' every digital move, Bosco relies on a unique algorithm that flags "irregular" events on your child's phone that might indicate something out of the ordinary. Things like changes in sleep patterns, unusual social media activity, geo-location that identifies atypical routes are examples. And future updates claim to offer features like detecting mood from images, videos and texts. It relies on this irregular behaviors and activities to alert you, without giving you access to all content on their phones and requiring you to read every text or status update.
Good for: Older kids on social networks who are more autonomous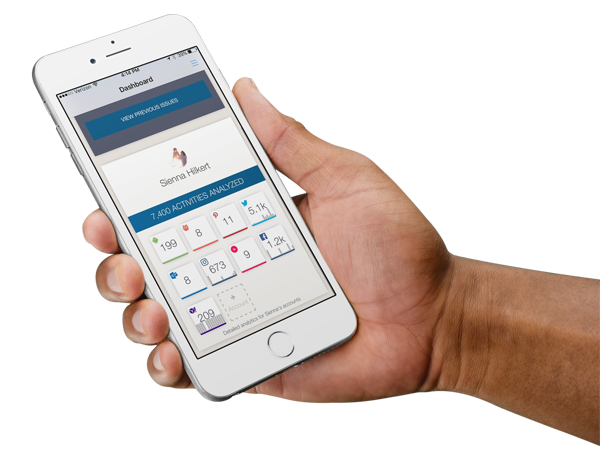 Bark follows a similar philosophy as Bosco about taking a more hands-off approach to digital monitoring, but is much more comprehensive in what it tracks. It covers all major email platforms; social media platforms; popular group apps like WhatsApp, Kik and GroupMe; and even has the ability to detect nudity on images/videos sent via text. It relies on very sophisticated deep learning technology to holistically view conversations, exchanges, searches and overall activity and alert you to anything suspicious. The algorithm can even decipher a 'you suck' comment made in jest about getting a new iPhone vs. one with malicious intent.
Good for: Older kids on social networks who are more autonomous
Cost: $9/month or $99/year (first month free) for unlimited number of kids' devices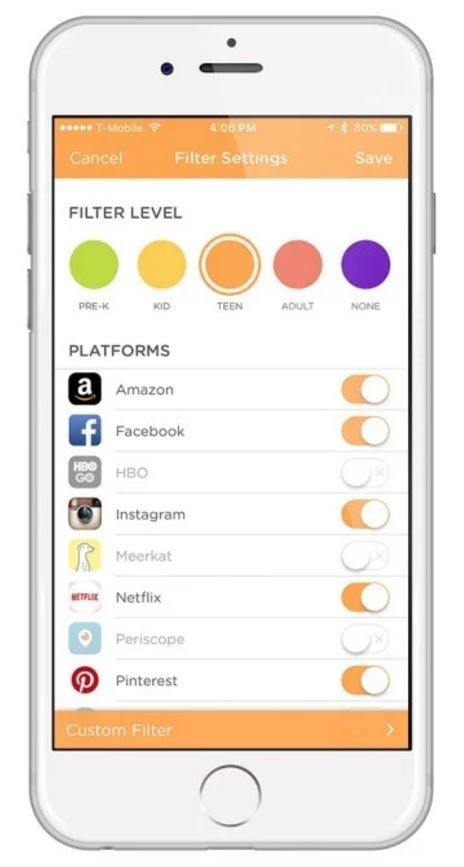 When this launched in 2015, Circle was one of the first gadgets that provided really comprehensive monitoring for all gadgets in the house. Aimed for everyone in the family, Circle provides a combination of features from all that have been previously mentioned, and offers comprehensive monitoring, tracking and filtering for all age groups. The general age categories are Pre-K; Kid; Teen; and Adult, for parents who want to monitor their own (or each other's screen time). You can get very specific with controls, enabling or disabling certain websites and apps after a certain amount of time (e.g. 45 minutes of Minecraft). There are almost too many options that you can enable, though you can always just opt for more general time guidelines like two hours per day. Circle is a piece of hardware that connects to your router. The cost is $99, but then there are no subscription fees or additional charges (unless you want to continue monitoring outside of the house with Circle Go).
Good for: Everyone in the family if you want to get very specific with monitoring
Cost: $99 for hardware, no subscription needed for in-home use; additional fees apply if you want to continue monitoring outside of home with Circle Go
Ultimately, the decision on which service to use comes down to the level of detail you want to have and how much you want to be controlling their screen time. Every family is different. What's most important when introducing technology to kids and giving them the responsibility of a mobile device, is keeping those lines of communication open, having inherent trust and making sure that kids understand the power of social networks (both for good and bad).
Popular in the Community