Even the best of employees find themselves distracted from time-to-time, pinning photos on Pinterest, updating their status on Facebook, or multitasking to the point where a task meant to take an hour ends up taking twice as long. While there are a growing number of sites and services that we could easily spend hours of the workday on -- from browsing The Fancy to comparing products and services on FindTheBest -- there are also a number of tools to help keep us focused. Below are five tools to keep you on task and productive at work.
1. Task Timer: Track how much time you spend on various tasks
Ever wonder how much time you spend responding to emails at work, how long it took you to finish a presentation, or why 5 p.m. has rolled around and you haven't finished your priority to-do list? Task Timer, available at Chrome's web store, can help you manage your time more efficiently.
The tool allows you to create a list of tasks you need to complete and then lets you allot a time to complete each individual job. Once you click "start," the progress bar begins running and once your time is up, it sends you an alert. If you need to pause or take a break in the middle of a task, the tool allows you to pause the timer. Another great feature is that it shows you, via pie chart, the breakdown of how you spend your time.
A few additions would make the tool even more effective. First, it would be helpful if the progress bar continued even after the goal time had been reached so users know exactly how much time they have spent on a particular task. Second, and this is a feature that is reportedly coming soon, the tool would be even more useful if it could be integrated with Google Tasks.
2. Asana: Manage tasks you've assigned and tasks assigned to you
The web app Asana allows you to easily track the tasks you've assigned and the tasks assigned to you, in one place. Asana allows you to assign deadlines to specific people, attach and share files, add notes, view tasks assigned to you, order tasks by priority and also sends daily alerts for tasks that are still pending. The tool is free for up to 30 members, and can be upgraded for larger groups.
The addition of a way to automatically track progress -- aside from simple notes and tags -- would be helpful.
3. Google Drive: A simple way to store and share docs
Google Drive allows you to store data, upload and share content across all of your devices, and also lets you easily share files with co-workers who might be collaborating with you on a project. Once a document or spreadsheet is uploaded or created and shared, all the people with access to the content can edit simultaneously, and edits appear in real time. Drive is especially great for files that are too big to share via email. The first 5 GBs are free, and there is an option to upgrade to 25 GBs.
One issue with Drive that could be improved is that depending on the file type uploaded -- specifically Excel docs and PDFs -- sometimes the document is not editable.
4. SoundGecko: Text-to-audio service that lets you listen to articles while working
We spend a large portion of our time at work reading articles and blog posts that, though oftentimes highly relevant to our jobs, consume a large portion of our day. SoundGecko allows those of us who are multitaskers to stream articles via the tool's text-to-audio transcription service while continuing on with our work.
The tool is also great outside of the office, during runs, road trips or during your daily commute, if you download the App to your mobile phone.
Two improvements would make the tool even more useful. First, the option to select the text you want read; currently the text-to-audio transcription covers everything on the page, including text not directly related to the article. Second, the extension would be hugely improved if it offered the ability to stream the article straight from the extension icon rather than having to go open the SoundGecko email to get the audio stream.
5. Pulse: Save articles to your mobile device for later reading
Within the course of a day, we can accumulate dozens of saved articles we want to read in our bookmarks or on our growing number of tabs. Pulse helps users aggregate and store all the articles they want to save for later, and then allows users to access the content across multiple devices, even offline (so long as the content has been previously loaded). Pulse also allows you to store your favorite blogs, and then offers offline access to them -- perfect for reading on the train or when your connection is slow.
The UI of the App is also very functional: Blogs and publications are ordered vertically, while individual posts and articles can be accessed by scrolling horizontally.
One thing to be aware of with this App is that just because you've pulsed an article doesn't mean you will be able to access it without an Internet connection. If you want to save an article for later reading when you're en route or don't have Internet access, make sure you refresh your saved article list while you do have Internet access, or your content won't appear.
Which tools do you use at work to increase your productivity?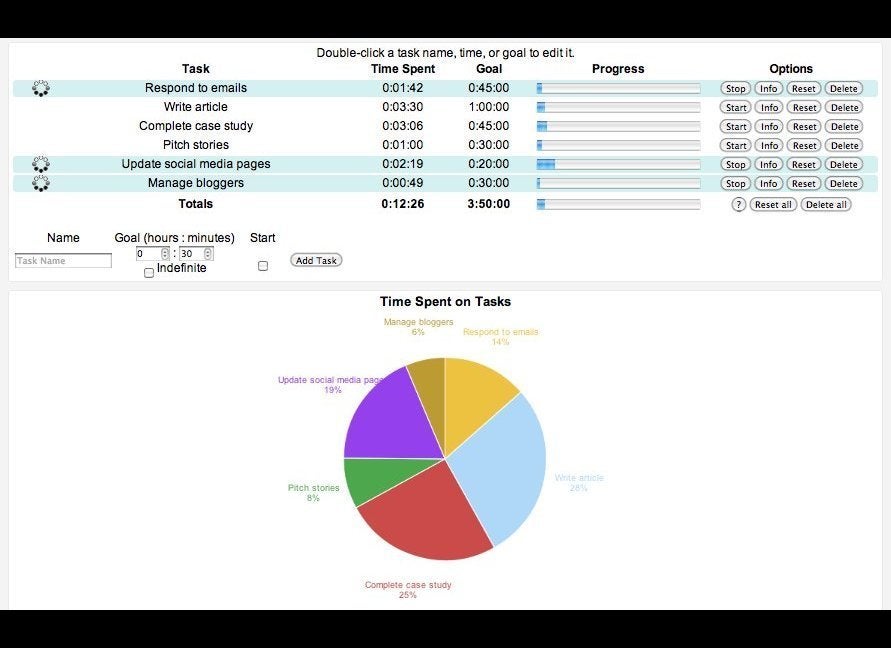 5 Productivity Tools
Popular in the Community