Happy Bones. Photo by Amy Chan.
Upon moving to New York, I thought the best way to get to know the city was to discover the different coffee shops in the various neighborhoods of Manhattan. I set out to try a new cafe a week, and naturally, came across some favorites. With a world-class city comes an upscale coffee culture, and New Yorkers definitely take their coffee seriously. But every coffee connoisseur knows that a good cafe isn't just about a decent cup of joe - it's also about the ambience, the service, the charm... Fueling the city that never sleeps, here are my top five coffee shop picks you must try: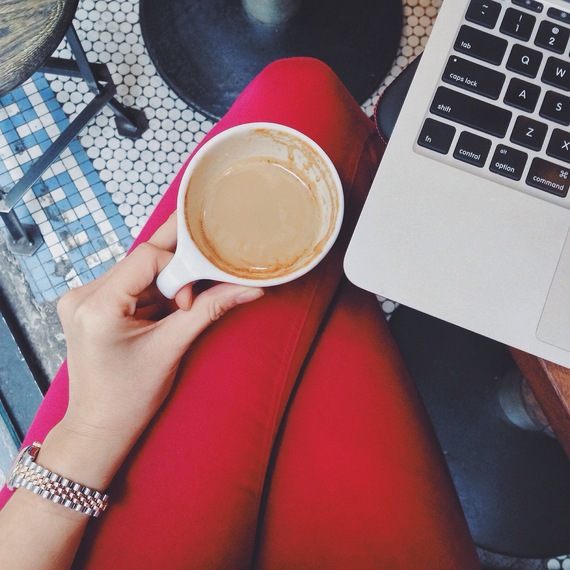 Cup half full. Birch Coffee. Photo by Amy Chan
Not only do they serve what's arguably the best coffee in town, the service is warm, authentic and inviting. The vibe is bustling with a mix of corporate types to friends gabbing over a cold brew. There's a quaint library nook in the back where patrons can take or leave a book. Birch works with a local roastery to roast their own beans. They have four locations, and my personal favorite location is the one on 21 East 27th (at Madison). In the spirit of encouraging conversation, small signs with interesting questions are available for you to place on your table. The idea here is to put the phone down, meet someone new and spark some real talk.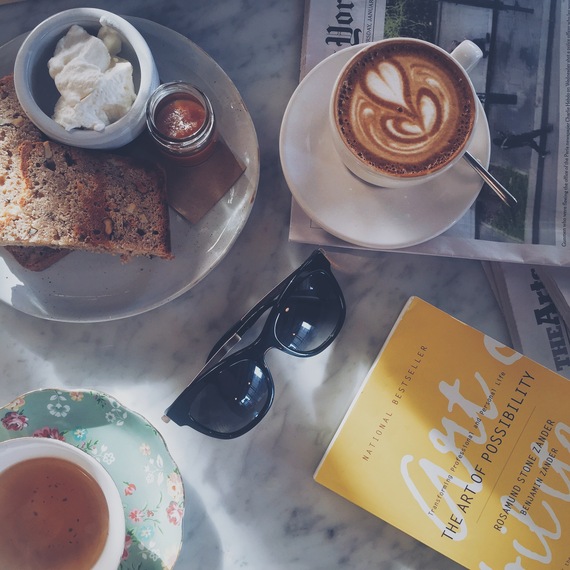 Griddled banana bread with salted caramel and cream perfectly paired with a cappucino at Toby's Estate in West Village. Photo by Amy Chan
The first United States outpost of the Australian coffee company opened in Williamsburg, Brooklyn. There's always a buzz at Toby's Estate Coffee - the cafe is full of patrons ranging from creatives working away on their Macbooks (free Wi-Fi is available), to families and friends gathering over a flat-white, and of course, social media types positioning their cappuccinos for that perfect Instagram snap (guilty). They now have 3 locations, with the latest addition a quaint and charming spot in the West Village.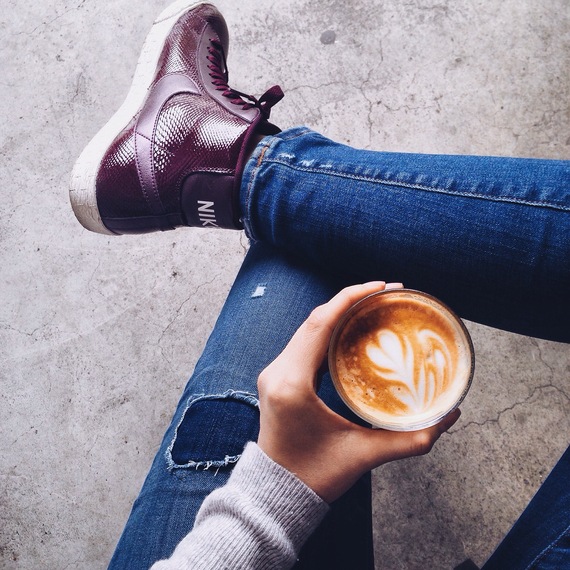 Kickin' it at Happy Bones. Photo by Amy Chan
This small, but quaint cafe has charmed the streets of Little Italy. Their beans come from Counter Culture Coffee, which works directly with coffee farmers, and they ensure that all their ingredients are ethically sourced. Happy Bones also cultivates a culture of arts, and the cafe has books and local art for sale (they donate a percentage of their profits to Free Art NYC). With roots in New Zealand, you can be assured that they know to make a proper Flat White. They also offer free Wi-Fi, but note that the space is quite small.
4) La Colombe Torrefaction
If bold coffee, an energetic vibe, and lively baristas are your cup of coffee, La Colombe is the cafe for you. Hailing from Philadelphia, La Colombe has four cafes in New York. They've done a great job of creating unique, naturally lit spaces. No wonder the line is out the door during the morning rush.
5) Stumptown Coffee Roasters
With its roots originally from Portland, Stumptown first broke into the New York market with an espresso bar at the Ace Hotel. The second location on 30 West 8th is my favorite. From the bench seating made from old church pews, to the free Wi-Fi and rack of magazines available, the West 8th location is definitely designed for coffee drinkers to stay a while. The shop also includes a separate brew bar, where you may order any coffee in the catalog prepared on your gadget of choice (including Chemex, AeroPress, French press, siphon and more).
Amy Chan is a lifestyle and relationship columnist. To read more of her articles, visit www.JustMyType.ca
REAL LIFE. REAL NEWS. REAL VOICES.
Help us tell more of the stories that matter from voices that too often remain unheard.